Hello beauties!
NYX Cosmetics opened earlier this month its first store in Bucharest, but I already told you all about it yesterday when I also showed you my NYX goodie bag with new and exciting things to try out (watch out for upcoming reviews). I absolutely loved the store and product's presentation, not to mention that I've always been crazy over NYX lip glosses, so while I was there at the opening event, I carefully made my wishlist. Last week, after all the buzz was gone I thought it will be a great time to go check the products on my wishlist and do some shopping in silence, taking advantage of NYX 20% discount. Bellow you can see what I purchased, but honestly I will need to come back next week and I'll tell you why in a bit.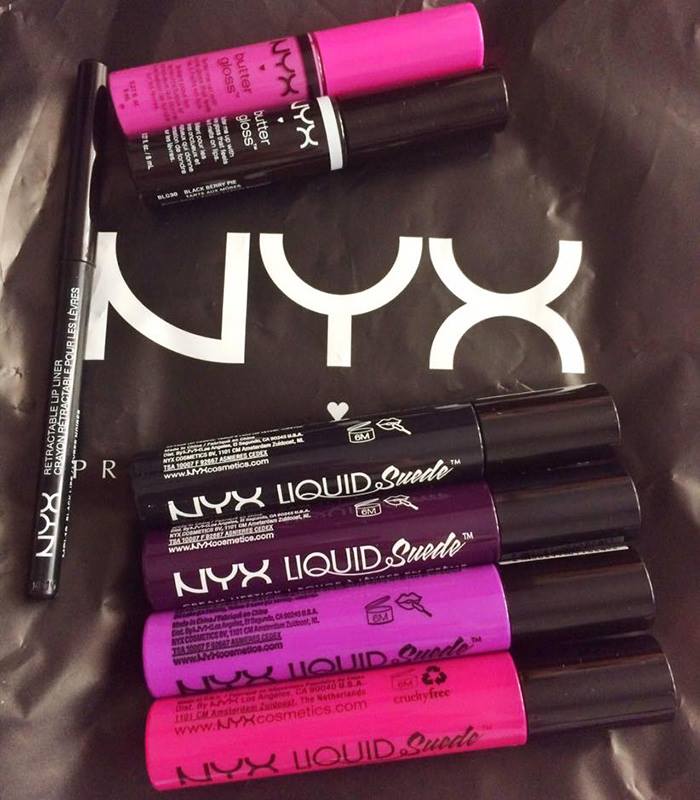 Where to buy:
Romania – Now at ParkLake Mall (Bucharest) | City Park Mall (Constanta)
International – @nyxcosmetics.com
I was definitely prepared for an entire evening of shopping, not only at NYX Cosmetics but also at Sephora and Douglas. Well, my first stop was at NYX counter as I badly wanted to check some Liquid Suede (34.00 Lei / $7.00) cream lipsticks off of my list. I picked up only four shades but if I'll like them, I'm definitely prepared to go back for more. You can check out more Liquid Suede swatches on my Instagram, as these matte finish cream lipsticks have been on my mind since the store opened. I'll be testing these for a while but I couldn't left you hanging so take a look at the swatches bellow. Insanely pigmented and gorgeous looking but I'll have to see how long they'll last on my lips. I know there's this hype going on about matte lip products this season (stretching way into holidays), not a big fan of matte textures myself but I'm going with this trend for the sake of blogging and along the way I try to enjoy pink and violet shades (and black most recently…Gothic makeup?! ) and compare different matte formulas. Who knows perhaps I'll find my favorite matte lip product this season…wish me luck. 🙂
I actually got three shades of NYX Soft Matte Lip Cream (swatches) (29.00 Lei / $6.00) after the event and I've been wearing them last week so I can't wait to tell you more in my upcoming reviews.
As I said, lip glosses are my thing, so the glossier and shinier the better and who else better suited for the job than the Butter Gloss (34.00 Lei / $5.00). I picked up a bright, intense fuchsia pink in No.19 Sugar Cookie and No.30 Black Berry Pie which comes as a surprise for me as well, as I don't know what's going on lately that I've been craving black or very dark lips. We'll see for how long these will remain on my lips and I'll tell you all about their formula next week. Check out them swatches bellow until reviews are ready.
Along with a black lip color goes a black lip pencil so NYX Retractable Lip Liner ($4.50) was suited for the job.
Enjoy more photos… (Photos were taken with my iPhone so excuse the quality)