Hello beauties!
Natasha Denona Darya Diamond & Blush Palette was a considerable investment for me but I couldn't help falling in love with it. I was actually very curious to see the shades from this palette when I saw the model's makeup on Instagram. Later on Natasha teased both versions of Diamond & Blush Palettes and I knew right then I wanted Darya. Not only because I love all the pink, violet and champagne shades but also because is more suitable for a light skin tone like mine.
Is not very often that I want a strong glow on my cheeks or a burst of color, but this palette has so many finishes and textures that wearable for everyone. You can still see on her Highlights from Instagram the steps on how to use Natasha Denona Diamond & Blush Palettes. Is up to you how much color you want to add and how much glow you want to have on your cheeks. I personally managed to add just a flush of color during the day with a more tamed glow, very easily. For a night time look it's easy to go overboard with the sparkle and 3D effect so be careful so much color you are adding.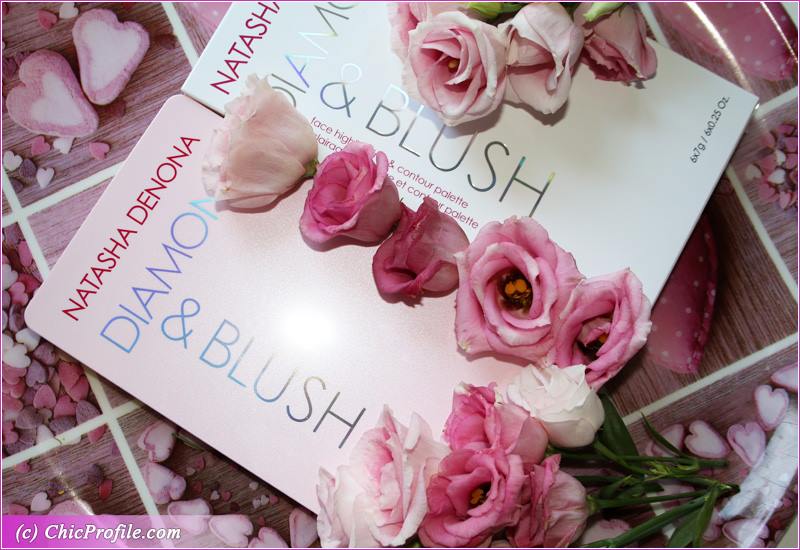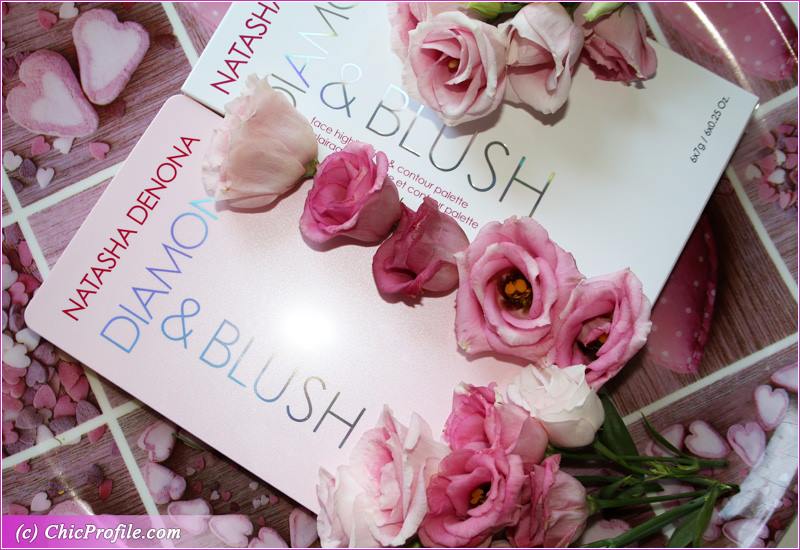 Where to buy:
U.S. & International – Now at Sephora, Beautylish, Natasha Denona
Natasha Denona Darya Diamond & Blush Palette ($89.00 for 6 pcs x 7g / 0.25 oz) includes six shades in creamy and powder formulas. We have a creamy base highlighter, cream blush, powder blush and three highlighters with different texture. I will tell you right here that this palette is pricey so make sure to check out swatches, reviews and see the mini tutorials she posted on Instagram before you decide to get it.
You should know this new Blush & Highlight Palette features intense shimmers containing containing rich pearl powders for an extreme glow effect and diamond powders with a new, never seen before, innovative formula packed with crushed crystals for sparkling diamond-like cheeks!
How to use Natasha Denona Darya Diamond & Blush Palette
Not everyone likes an intense glow or super pigmented blushes on their cheeks but I'm telling you this palette can work for anyone. Make sure to have a beauty blender standing by to blend well those shades for a more diffused look.
The palette is actually designed to be layered, but you can also wear the shades alone. It's up to you if one day you prefer to use only the creamy blush and the other day the powder one, but gosh they look so beautiful mixed together. 🙂
My favorite way to apply it is to tap the creamy blush on my cheeks with my fingers and then use the beauty blender to tap on the powder blush. It gives me a softer hue that I can wear throughout the day. I just make sure to blend the powder blush very well as I don't want an intense shade during the day. You can see me HERE wearing it. Then is easy to tap on a bit of that Duo Glow or Glow Extreme highlighters. Who doesn't love those effects.
I said many times that I'm rarely into extreme glow, super sparkling highlighters as my skin is very light. I don't want to look like a disco ball but with Darya Diamond & Blush Palette I get that beautiful 3D effect without over doing it.
For an intense look and different reflections I like to add the Glow Cream Base on top of my cheekbones and follow up with Duo Glow. Or I can layer Glow Extreme on top of that. I posted several looks on my Instastories since I got this palette. Make sure you are following me on Instagram as you'll see me wearing these shades a lot in the future as well. 🙂
Natasha Denona Darya Diamond & Blush Palette as an Eyeshadow Palette
For me this palette is multi-functional really. In the beginning I used it only on my cheeks but after that I started using it as an eyeshadow palette as well. The creamy textures double as an eyeshadow based while the Pink Champagne Duo Glow and Golden Pink Powder Blush make wonderful eyeshadows. I create a simple look the other week only by using this palette. The effect was a fresh and youthful look that made me smile the entire day and feel 10 years younger. Well, you know I'm hooked on pink so this palette comes easy for me.
The light Glow Extreme is the perfect illuminator to use on the inner corner or the lid or on the brow bone. It does the perfect job.
Natasha Denona Darya Diamond & Blush Palette Review
Now let's finally move on to the most important part. The shades breakdown and separate reviews. First of all let me get the packaging out of the way. I absolutely love the light rose plastic packaging. It's sturdy, has a magnetic closure, it's easy to hold and use and not to mention that it has a huge mirror inside. A mirror like this is everything you need if you take this palette when you travel. The top row has a clear, plastic lid which I find it very useful. It separates the creamy textures from the powdery ones and I love this idea. This way you'll never get a messy palette. Oh, wait, you'll say! But there's one powder formula underneath that plastic cover. Indeed it is, but the formula is very dense so it doesn't kick out any powder so it stays put.
This palette can take you from daily wearable shades to an editorial-level finish and extreme glow so easily. The ideal way to use this palette is by layering the shades. It was created to give you that intense metallic look and extreme high-shine. If you are into intense pigmented shades, sparkles and high-shine you'll love this palette even more.
Even though the year just began I can easily call Natasha Denona Diamond & Blush Palette one of the best 2018 palettes. I don't care how many other great palettes will follow this year, Darya Diamond & Blush will surely be in top 5.
Natasha Denona Darya Diamond & Blush Palette Shades Breakdown
Light Glow Cream Base is a luminous, yellow gold with warm undertones and a soft glow. It has a semi-sheer coverage in one layer but it's easily buildable. I use it on both my cheeks and eyelids as a base. It gives a beautiful dewy sheen with a bit of sparkle. It mades the powder highlighters adhere better onto the skin and intensifies their pigmentation. Is not tacky on the skin, doesn't emphasizes my pores and is so easily blendable. I can easily use my fingers to apply it or my beauty blender. For a day time I like to use my damped beauty blender as I get a more natural, sheer coverage. If I want something more intense then patting it on with my fingers will do. You've seen me wear it on bare skin and over foundation on my Instastories so many times. It performs great every time. On me, it usually lasts for about eight hours.
Pink Cream Blush is a bright coral-pink with slightly warm undertones and a matte finish. It has a great pigmentation and I need just a touch to get a burst of color. It's easily buildable so you can get a more intense color if you want. I like to use it also an eyeshadow base sometimes. Or I can wear it on its own on my cheeks or lids. As I'm fairly light, I like to use my beauty blender to get a softer look. I absolutely love the light creamy formula. It doesn't feel tacky or slippery at all. Stays put on the cheeks and doesn't emphasizes pores. Having a matte finish is what I love about it.
Pink Champagne Duo Glow is a medium, lilac-pink with cool undertones, a golden sheen and a high metallic finish. This is by far my favorite shade from this palette. I'm totally in love with it and how beautiful and unique it looks on different lights. It gives not only a nice lightly sparkly finish but if I also layer it on top of other shades I can easily get a 3D effect. The pigmentation is on point, a perfect color payoff. It has a dense but smooth consistency, somewhere between cream and powder. I'd better not keep it on my makeup table anymore, otherwise I can successfully hit the pan only from swatching it so often. 🙂
It is so easily blendable that makes it easily to wear it as a day or night highlighter if you want. Just make sure you blended nicely with a damped sponge or beauty blender. My combination skin and pores are not my forte, but this product didn't emphasized my pores or skin texture. I would wear this shade anytime, everywhere. I love it as a blush, highlighter and eyeshadow. Gosh I can wear it as a nail polish if I tried. It is so beautiful and gives different effects depending on how the light hits. I got almost 10 hours wear with this formula without creasing or any fall-out.
Icy Nude Diamond Powder is a light, gold beige with a dense silver sparkle. This is the most sparkling shade of the entire palette. I honestly rarely use it. It can easily pass for glitter as the shimmer is so intense. But is not glitter at all and has a medium coverage. The formula is again very smooth and easily blendable. It didn't feel gritty for one second and I couldn't believe how easily the sparkles were dispersed on my skin. Apply it on top of a creamy texture and you won't have any fall out. I got around nine hours wear.

Golden Pink Powder Blush is a light, coral-pink with golden sheen and a satin finish. It has a rich pigmentation so make sure to apply it with a light hand if you want a sheer coverage. I blend it easily with a powder brush or a damped beauty blender. The consistency is very smooth and silky and gives no fall out during the application. I love it as an eyeshadow as well as it give a fresh touch. It looks gorgeous and adheres well on the skin. It doesn't emphasizes my pores or skin's texture. On me it wore well for over nine hours.

Light Glow Extreme is a luminous champagne beige with warm undertones and metallic finish. It has an excellent color payoff with a strong shine and fine shimmer. You can easily get an opaque coverage out of this one without emphasizing your skin texture or pores. The consistency is so smooth and silky to the touch. You can blend it out easily for a softer look. I like to wear it as a highlighter during the day but also as a luminous eyeshadow. My favorite way is to layer it on top of the Duo Glow but only after I have the Glow Cream Base. It got me close to nine hours wear.
SHOP THIS POST