Hello ladies!
They say there's long wear and then there's NARS Radiant Long-wear Foundation. This one has up to 16 hours of fade-resistant wear, and features medium-to-full, buildable coverage. It is oil-free, fragrance-free, non-drying, dermatologist-tested, and noncomedogenic. The transfer-resistant, sweat-resistant formula stays color-true all day, and continues to look fresh and vibrant, as if it was just applied.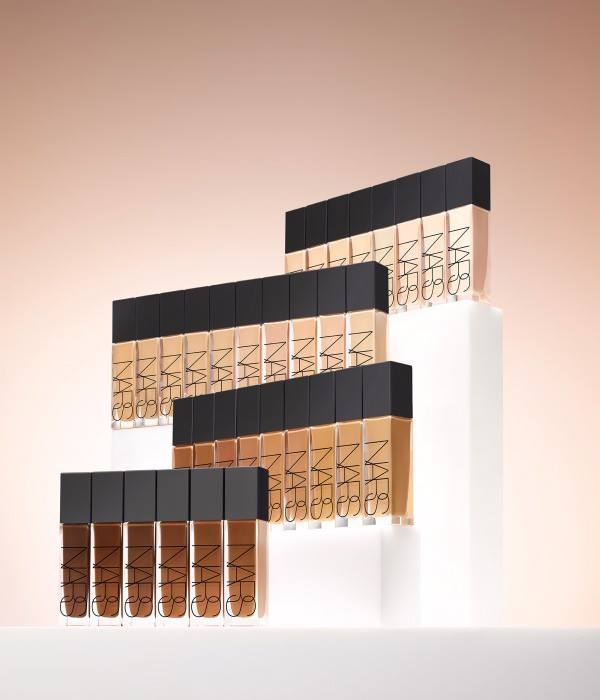 Availability
U.S. Launch Date – soon at Sephora, NARS Cosmetics
Japan Launch Date – 2 March 2018
NARS Natural Radiant Longwear Foundation Spring 2018
The brand's first 16-hour foundation has a lightweight, breathable, fade-resistant formula. It's infused with raspberry, apple, and watermelon extracts to help smooth and improve the look of your skin for full-powered radiance. It wears longer, stays stronger, and looks better with each hour. Specialized skin-matching technology ensures your truest match yet. It's untraceable, unstoppable, and unlike anything else.
NARS' Skin Optimizing Complex is a blend of raspberry, apple, and watermelon extracts. It helps support skin's elastic fibers to smooth and improve skin's texture over time for optimal radiance.
Patent-pending technology delivers a uniquely weightless and breathable texture. This formula features superior blendability for an imperceptible effect that looks natural, like skin. It doesn't look or feel cakey, heavy, drying, or masking. A unique combination of translucent base with micronized amino acid-coated pigments and mineral tone-balancing powders mimic skin's tone, fusing with it for the closest match. It comes in 33 skin-matching shades to fit all skin tones and undertones.
Shades:
Oslo – Light 1 – fair with pink undertones
Mont Blanc – Light 2 – light with pink undertones
Yukon – Light 2.5 – light with peach undertones
Gobi – Light 3 – light with yellow undertones
Salzbourg – Light 3.5 – light with golden undertones
Deauville – Light 4 – light with pink and yellow undertones
Vienna – Light 4.5 – light to medium with peach undertones
Fiji – Light 5 – light to medium with yellow undertones
Punjab – Medium 1 – medium with golden peachy undertones
Patagonia – Medium 1.2 – medium with light peach undertones
Vallauris – Medium 1.5 – medium with pink undertones
Santa Fe – Medium 2 – medium with peach undertones
Sahel – Medium 2.5 – medium with golden peachy undertones
Stromboli – Medium 3 – medium with olive undertones
Vanuatu – Medium 3.5 – medium with yellow and pink undertones
Barcelona – Medium 4 – medium with golden peachy undertones
Valencia – Medium 5 – medium with golden undertones
Aruba – Medium 6 – neutral for medium-dark complexions
Syracuse – Medium Dark 1 – medium-dark with brown undertones
Tahoe – Medium Dark 2 – medium-dark with caramel undertones
Moorea – Medium Dark 2.3 – medium-dark with golden olive undertones
Huahine – Medium Dark 2.6 – medium-dark with peach undertones
Cadiz – Medium Dark 3 – medium-dark with caramel and red undertones
Caracas – Medium Dark 3.3 – medium-dark with red and golden undertones
Belem – Medium Dark 3.6 – medium-dark with red and brown undertones
Macao – Medium 4 – medium-dark with yellow undertones
Marquises – Medium Dark 5 – medium-dark to dark with yellow undertones
Manaus – Dark 1 – dark with caramel undertones
New Caledonia – Dark 2 – dark with golden olive undertones
Iguacu – Dark 3 – deep with olive undertones
Nambia – Dark 4 – deep with red undertones
Zambie – Dark 5 – deep with neutral undertones
Mali – Dark 6 – espresso
SHOP THIS POST