Hell lovelies!
Last month I was invited by Noblezza Beauty Salon to try out some of their full-body therapies, so based on my needs, goals and requirements I choose to treat myself with a couple of Cyrosauna Therapy sessions. I was advised to test the CryoSauna experience after an evaluation and a long chat with one of Noblezza's assistants, who knew everything about this therapy and answered all of my questions. I never go ahead blindfolded and try out every body therapy out there just because I heard it was good for others, so I did my own research, and came prepared to this beauty salon to hear the official information about CryoSauna. Only after all of my questions were answered and I had no doubt about this therapy I decided it's the kind of body therapy that would help me out as for a couple of months I've been having some health issues.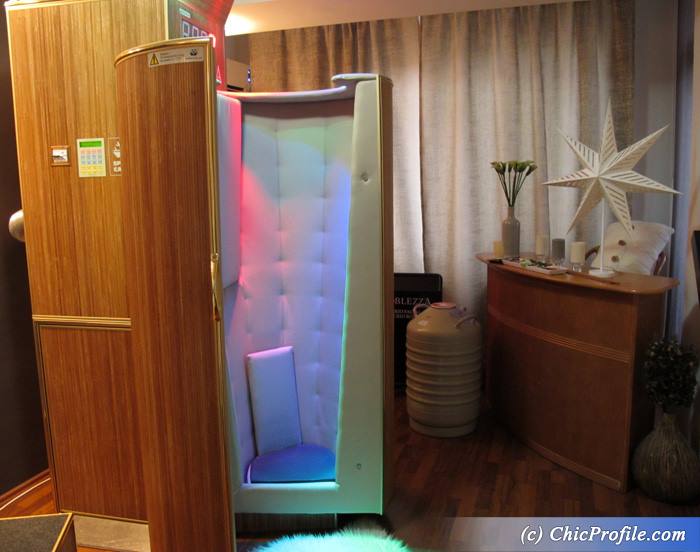 Being a full-time beauty blogger is no secret anymore for many of you but maybe not everyone knows that sometimes I get to spent even 16 hours at my desk, working, which results in some serious back-pains. Going to gym and having a special therapeutic massage always helped but these are things that relieve my pain after a couple of sessions. Last year I also had an accident (you probably remember that I stopped blogging at the end of the year) and I had a severe ruptured ligament at my left foot which caused not only heavy pain but pinned me to bed for about 2 weeks and make walking almost impossible. I stopped going to the gym around May and two months after, these pains slowly started to come back. I'm against taking pills in this situation so I wanted to try something new that could take away my pain without waiting too much. I wanted to start going to the gym again but at this point I couldn't as I was afraid I would injure myself if I were to workout because of the back-pains and leg pain that I was feeling.
Noblezza came as blessing to me with its CryoSauna offer as I've heard about its amazing benefits but honestly after tying so many body therapies over the years I was really skeptical that this would really helped me out. They say this is the fasted and most effective way to reduce inflammation and speed muscle recovery, without any discomfort of sitting in the cold. I was not afraid of getting a bit cold, especially since we were in the hot season with crazy high temperatures out there and thinking about winter was really bringing me so fresh breeze. I lived in Siberia a few years ago so trying out CryoSauna at Noblezza beauty salon was like going back in time, a wonderful time for me, when I remember how healthy I was, with no pain whatsoever and waking up with plenty of energy everyday.
This therapy can be used by everyone for health, wellness, skincare and beauty benefits but also by athletes, people who go to the gym on a regular basis or want to reduces post traumatic treatment period.
Cryosauna benefits are more than you can think about, as myself I couldn't believe this is actually a therapy that so many can benefit from. I will tell you what to expect from it, how it can help you out and then I'll share with you my personal experience.
CryoSauna Skincare and Beauty Benefits
Aids in activating production of collagen which leaves skin in a firmer and smoother condition.
Cellulite Reduction
Manages Body Weight
Improves Collagen production
Improvement of skin condition
Skin and body tightening
Slowing of the aging process
Metabolism acceleration
Revitalization of hair
Reduces discoloration
Nail strengthening
Enhances reactivation of cells and natural biolog. regeneration
Cryosauna Sports & Fitness Benefits
Reduces pain (including muscle pain)
Increases muscle strength
Reduces injury recovery time (allows quicker return to training)
Improves joint function
Reduces DOMS (Delay Onset Muscle Soreness)
Inhibits inflammation
Reduces the length of regeneration phase
Reduces post traumatic treatment period
Maximizes sports performance
Increases energy
Boosts lymphatic and blood circulation to enhance detoxification
Optimizes intensity and volume of training
CryoSauna Health and Wellness Benefits
Decreases fatigue.
Cures psoriasis and dermatitis.
Improves blood circulation and speeds up surgical recovery.
Alleviates the symptoms of rheumatoid arthritis and osteoarthritis.
Increases hemoglobin levels.
Treats mental health disorders including depression.
Improves psychological competitive edge.
Alleviates the symptoms of multiple sclerosis.
Increases libido and sexual stamina.
Treats fibromyalgia.
Treats osteoporosis.
Treats degenerative disease of the peripheral joints and spine.
Stimulates immune system – decreases incidence and severity of colds and flu.
Treats central nervous system disease with increased muscle spasticity.
Heals nerve damage.
Treats psoriatic arthritis.
Treats chronic pain syndromes.
Reduces pain sensitivity.
Treats injuries – acute sports injuries.
Enriches blood creating favorable conditions for internal organ regeneration, causing every organ to be affected positively.
Treats arthritis associated with inflammation of the spine.
Treats inflammation of the tendons, bursa and joint capsules.
Treats ankylosing spondylitis.
My Cryosauna Experience / Review
As I said before, I personally wanted to try out CryoSauna to get ride of back and leg pain, but I was also curious to see if it'll help alleviates PMS as it promised. On that special "period of the month" there's this second day, which I believe many girls have, with incredible pain, when all you want to do and all you can do is stay in bed. I always hated this day and it's the only time I'm willing to take one painkiller to be able to function and get over that day.
I must say I was impressed but extremely happy to have noticed that it relieved the pain in back right after the first session, my leg pain was gone completely after the second session and on that special day I could function normally without even taking the pill. Indeed my PMS came a bit earlier that was normal. I started going to the gym right away and I was expecting to have a serious muscle soreness since it has been more than 3 months since I've worked out, but guess what, it didn't happen to have those serious pains so I went to gym everyday as Cryosauna helped reducing pain sensitivity, increased muscle strength, increased my energy so it maximized my sport performance. I went to gym everyday after my Cryosauna therapy.
If you are asking me how cold was in this Cryosauna chamber I would say I reached temperatures as lowest as −180 °C but as scary as this might sound it wasn't like this at all and you only have to stay there for maximum 3 minutes. What it actually does is reducing your skin temperature to +3 – +12 °C in 60 seconds of less maintaining it at this lever for up to 3 minutes. This is done by bursting the mix of surrounding air and the vapor of liquid nitrogen inside the cryosauna and lowering the temperature inside.
In one session you can burn between 1000 and 3000 calories, which will help you loose weight, increase your metabolism and improve your skin condition. I wasn't fixed on loosing weight really, as I personally have to workout 3 times harder than a normal person would so I could have at least 50% of their results, so this was not my expectation when I stepped into Noblezza salon but I was surprised to see during Cryosauna sessions I had no appetite for sweets or eating during nights when I was actually blogging. I was pleased to realized I had no pain in my back or leg, I was happy to feel that energy everyday that helped me go to gym and have no muscular pains, and last but not least I always left Noblezza beauty salon with a smile on my face and a feeling of euphoria as CryoSauna also helps the body release endorphins into the system. I also have a skin condition, a contact dermatitis which is accentuated by stress, and during the sessions I noticed an improvement in my skin condition but once I stopped the therapy things went back to "normal".
I had only 5 session of CryoSauna so I believe it takes more sessions to notice the other benefits as well and since we are all different it also depends from one human being to another.
PRICES
First Session (100 seconds) – 80 Lei
One Session (3 minutes) – 150.00 Lei
10 Sessions – 900 Lei
20 Sessions 1790 Lei
30 Sessions 2690 Lei
Enjoy more photos…