Hello beauties!
In order to complete the empty slots from my MustaeV 24 Eyeshadow Palette (review, photos) I still needed 5 eye shadows so I choose Smoke, Pink Mist, Peacock, Bambi and Scales single eye shadows for this job. I'm simply mesmerized by MustaeV eyeshadows and this season I'm more into dark colors so I also got MustaeV Smoky Quad Eye Shadow Palette to go along with the brown, pink and silver white shades. This month I realize that's been actually two straight years since I first got to use my first MustaeV products and I can't tell you how many wonderful products I discovered and got to use but I'm still trying to find that one MustaeV product that I don't like. 🙂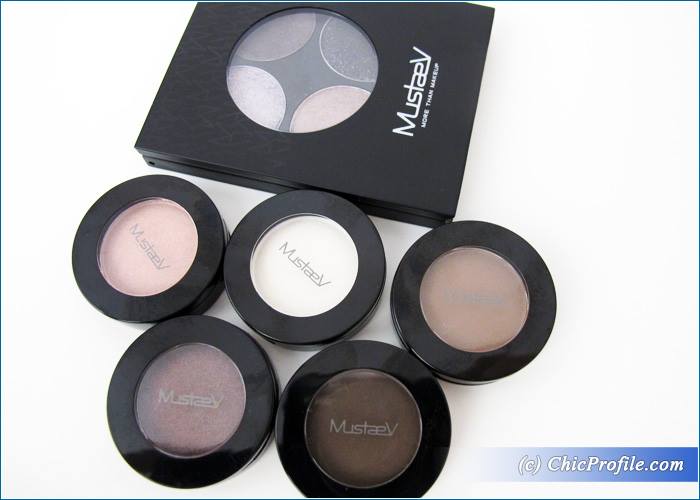 Availability
International – @mustaevusa.com (15% Discount using discount code: chicprofile), @mustaev.co.kr (International Shipping)
I used the colors from MustaeV Smoky Quad Eye Shadow Palette ($52.00) for my New Year's Eye Party but unfortunately I didn't took any photos. I will try to re-do this makeup again and post a tutorial in the following days.
Shades:
MustaeV Aura Eyeshadow is a glitter texture shadow that is a light purple grey with a beautiful, golden pearl reminiscent of a mysterious aura shining on the cool evening sky.
MustaeV Nightmare Eyeshadow is a purple, brown and black hue glitter textured shadow, perfect for various makeup looks.
MustaeV Brown Stone Eyeshadow is a soft grey brown pearl textured shadow with a discreet sheen.
MustaeV Dybbuk Eyeshadow is a glitter textured deep black shadow with iridescent pearl shining like finely milled night stars.
The rest of the single eyeshadows I didn't got to use that much, just the other day I played a little with Scales and Bambi, but I will start to use them in the upcoming days.
MustaeV Bambi Eye Shadow is a warm chestnut brown shadow with a matte texture
MustaeV Scales Eye Shadow is a white-gold shadow that is infused with a pearl texture
MustaeV Pink Mist Eye Shadow is a delicate pink hue with shimmering pearl that changes from pink to light brown according to the angle of the light
MustaeV Smoke Eye Shadow is a deep, rich brown shadow with a matte texture
MustaeV Peacock Eye Shadow is a dark brown shadow, with a hint of red, infused with a brilliant deep red, dark burgundy and gold glitter
Enjoy more photos…