Hello pretties!
MustaeV Smoky Quad Eyeshadow Palette (preview & more eye shadows) is one of the best eyeshadow quads I've ever used, in terms of quality, pigmentation and color choice. The four color hosted in this palette are exactly what you need for a smoky, dramatic, glamorous and seductive makeup look. I used some of these shades for my New Years Eye Makeup and I just love how that look turned out, not to mention it lasted all night. Keep on reading if you want to find out all there is to know about this MustaeV smoky quad.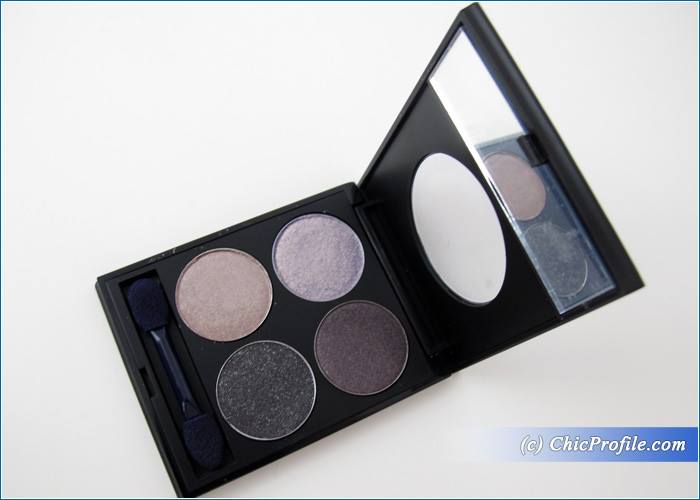 Availability
U.S. & Worldwide – @mustaevusa.com (15% Discount using discount code: chicprofile), @mustaev.co.kr (International Shipping)
MustaeV Smoky Quad Eyeshadow Palette ($52.00) consists of four alluring, deep hues with splendid pearl perfect for creating a sexy and confident look. If you are more comfortable in seeing live swatches then take a look at my video right here.
Besides Smoky, MustaeV offers two more eyeshadow quads in Skin and Nude (review, swatches, photos), the perfect combination of shades to be used in a different moments of the day or for different occasions.
Shades:
MustaeV Aura Eyeshadow is a glitter texture shadow that is a light purple grey with a beautiful, golden pearl reminiscent of a mysterious aura shining on the cool evening sky.
MustaeV Nightmare Eyeshadow is a purple, brown and black hue glitter textured shadow, perfect for various makeup looks.
MustaeV Brown Stone Eyeshadow is a soft grey brown pearl textured shadow with a discreet sheen.
MustaeV Dybbuk Eyeshadow is a glitter textured deep black shadow with iridescent pearl shining like finely milled night stars
They all feel very smooth, soft and silky to the touch, they apply and adhere well onto the skin without any fall out and they are easily blendable. The formula is long lasting and has sebum control properties which makes the eye shadows suitable for those with oily lids as well and ensure a long lasting color without creasing throughout the day.
They are so pigmented, intense and rich even when layered without an eyeshadow primers (swatches bellow). They are glamorous colors with a glitter shimmering texture that makes the more appropriate for a smoky eye makeup, a more glamorous, intense and sexy makeup look.
You get quite a great deal for your money as well, since one MustaeV eye shadow retails for $13.00 and by purchasing the Smoky Quad you actually get the palette for free. You can choose to depot the eye shadows just as easy (I showed you how to depot MustaeV eyeshadow in this video) and insert them in a more larger palette of your choice or you can simply keep them as they are and make MustaeV Smoky Quad perfect for on the go.
The palette is quite sleek but firm, lightweight and has a lid that snaps shut. It fits the palm of my hand so it's quite travel size friendly but it also can easily fit in any clutch or small purse if you want to take it with you for quick retouches.
The colors last throughout the day (or night) without creasing or showing any fall out. The formula is quite long lasting so you won't have to worry about them fading away for at least 10 hours.
Enjoy more photos…