Hello beauties!
I've wanted MustaeV Scales Eyeshadow to be part of my collection for quite a while now, as I'm trying to expand my collection of white shades. White eye shadows with different tones and reflexes are so versatile and there's no makeup look where I won't reach out for a shade like this, either to blended in the crease or to apply it on my brow bone, on the inner corner of my lid or even use it as a highlighter as MustaeV Scales right here.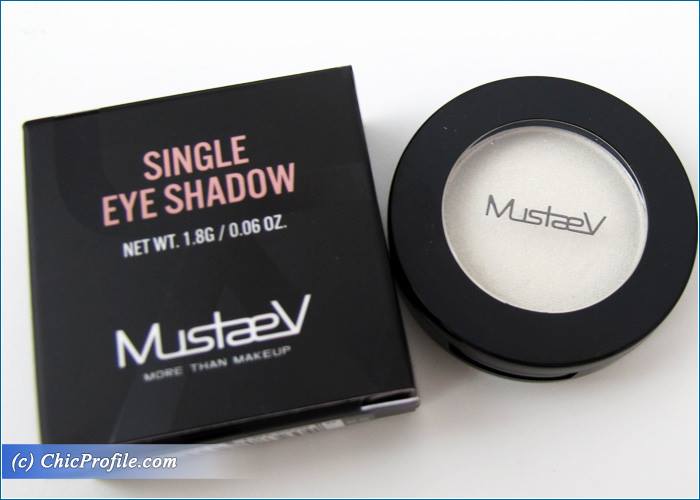 Availability
U.S. & Worldwide – @mustaevusa.com (15% Discount using discount code: chicprofile), @mustaev.co.kr (International Shipping)
MustaeV Scales Eyeshadow ($13.00 for 1.8 g / 0.06 oz) is a light warm toned white-gold infused with pearl particle that deliver a shimmering sheen. It has a good color payoff and it's pigmented even without an eyeshadow primer.
It has such a smooth silky texture, that applies and adheres well onto the lid without any fall-out. Its formula has sebum control properties so it's definitely suitable for those with oily lids as well. It is a beautiful, luminous color that can be used as an eyeshadow but also as a highlighter.
As an eyeshadow I like to use it to add luminosity and brighten up my eyes so I apply MustaeV Scales on the inner corner of my lid and under my brow bone. When I want to add radiance to my complexion I use MustaeV Scales as a highlighter and gently dab it on the upper parts of my cheeks, just lightly as this color is very intense.
I like the beautiful light golden reflexes this color shows in the light and it's such a perfect shade to add luminosity, freshness and a glowing look.
It is easily blendable, without no fall-out during the application or afterwards and it has a long-wearing formula which lasts the entire day without creasing. Is the kind of color that is suitable for everyone, regardless their skin color or age.
I get about 10 hours wear with this formula before I see it is starting to diminish its intensity a little bit.
I absolutely love the packaging as well and I mean even the little black cardboard box that has such an easy opening. The packaging is a classy and simple one, very easy to open as it has a transparent lid that snaps shut.
MustaeV Scales Single Eyeshadow will occupy an empty slot in my favorite MustaeV 24 Eyeshadow Palette (review, photos) as it is so easy to depot it (video tutorial).
Enjoy more photos…