Hello beauties!
Eye brows define our appearance, they can easily and always make the difference in the way we look so it's important to have the right eye brow shape which complements our face shape. Therefore our brows needs special care and a good brow pencil in the right color that would look very naturally on us. MustaeV Silky Sketch Brow Pencil came into my life in the right moment, like he knew I was on the look out to purchase a new brow pencil and try out something different than my MAC Lingering Eye Brows.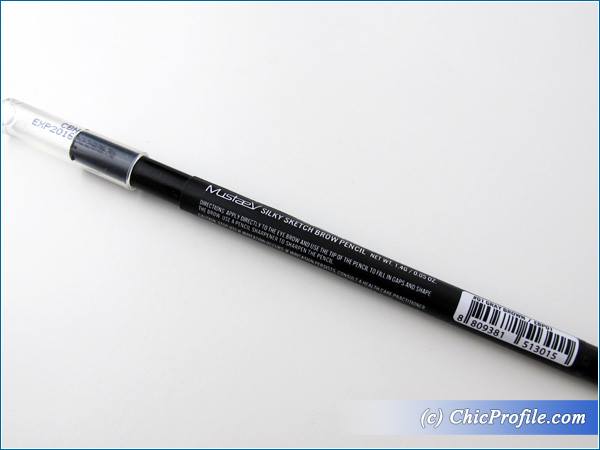 Availability
International – @mustaevusa.com (15% Discount using discount code: chicprofile), @mustaev.co.kr (International Shipping)
MustaeV Gray Brown Silky Sketch Brow Pencil ($13.00 for 1.4 g/ 0.049 oz) is a natural gray brown with cool undertones which leans a bit more towards the gray side. It provides a true color in a single application which fills the eyebrow.
Initially the pencil comes unsharp so you'll need a pencil sharpener to get things going. I admit I would preferred an automatic brow pencil just like my MAC Lingering Eye Brows just for convenience and comfort as I may not always have my sharpener nearby when I need a pointed tip.
The consistency is neither hard or soft, just very well balanced so the pencil glides easily and evenly across the brow without pulling the skin or needing to press hard to get some color. It offers just the right hardness and soft touch to easily line your brows and deliver the right amount of color. If you have a light skin tone like me it's very easy to line your brows in a single move if you apply it with a light hand, while for those with medium and darker skin tones they can easily build up the color if they find it necessary.
Unlike my favorite MAC Lingering Brow Pencil, MustaeV Gray Brow Silky Sketch Brow Pencil leans more towards the gray rather than brown so it will be suitable for those with a cool skin tone.
It's a compressed powder pencil which provides a long lasting wear so once your done lining and refining your eye brows you won't need any retouches during the day. It has a slim size and it's easy to carry it around in your makeup kit or whenever you travel.
I've already used this product several times and for sure you've seen me wearing it in my makeup looks but in case you missed any of those, please take a look at Red Wine Makeup (tutorial, photos) or Soft Plum Summer Makeup (tutorial, photos) just some of the makeup tutorials I've done using MustaeV brow pencil.
Enjoy more photos…