Hello beauties!
Jill Stuart launches a limited edition of Pastel Lipsticks and Nail Colors just one month after the release of their Spring 2016 Makeup Collection (info, photos). I can't take my eyes off of these new lipsticks, not only because of the gorgeous peachy and pink colors but would you just look at those gorgeous lipstick cases?! They look absolutely amazing to me, at least here in the promo photos and the seem to reveal the matching lipstick shade.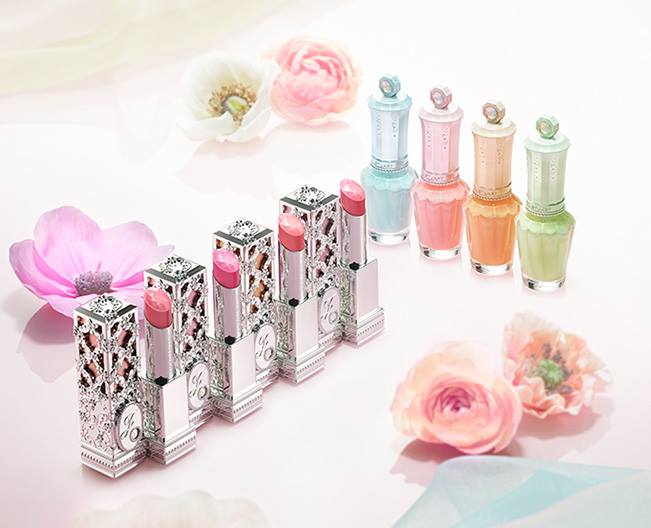 Availability
Japan Launch Date – 5 February 2016
Jill Stuart Spring 2016 Lip and Nail Pastels
Jill Stuart Rouge My Dress – New & Limited Edition
The new melting creamy texture gives a rich moisture while the formula is floral scented. Luxuriously and elegant the new Jill Stuart Rouge My Dress lipsticks will be available in four shades. The packaging lipstick case design was inspired by the motif of a vintage dress, with a simple but luxurious silhouette.
Shades:
12 Lucky Charm – Azalea pink, like a blessed lucky charm (Non-pearl)
13 Berry Tutu – A sweet coral pink, like a berry colored tutu
14 Bustier Dress – A romantic coral pink, like a bustier dress (Non-pearl)
15 Fluffy Scrunchy – A cute orange coral, like a fluffy scrunchy
Jill Stuart Neon Pastel Nails (10 ml) – Limited Edition
Colorful and pastel nail colors available in 4 variations, which provides a glossy finish. The formula was enriched with lavender oil and avocado oil, while the cap bears a Swarovski white opal stone which symbolizes the spring snow.
Shades:

No.1 My Clover – Pastel green, evocative of happiness-bringing clover
No.2 Birds Singing – Pastel orange, like the cheerful singing of small birds
No.3 In Bloom – Pastel pink, like the charming blooming flowers of spring
No.4 Fair Sky – Pastel blue, like an endless clear sky
Enjoy more photos…