Hello beauties!
My MustaeV eyeshadow collection has gotten bigger so I'm eagerly expecting the launch of the new 15 Shadow Pro Palette so I can host all of my colors but until that will happen I thought to give a try to MustaeV Quad Shadow Palette. Like any other eyeshadow quad this will hold up to four single eyeshadows but if you follow me right after the jump I'll tell you why I think it's special.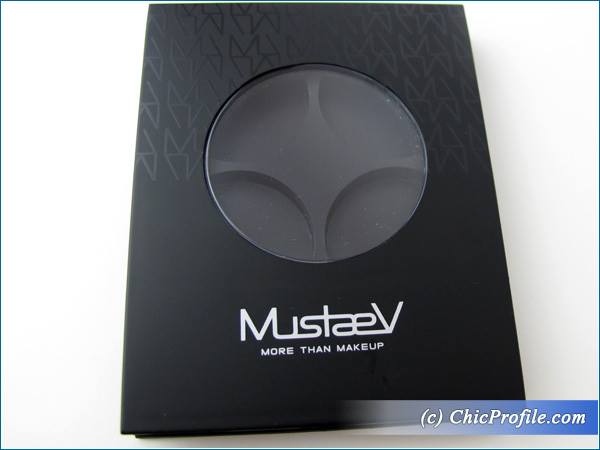 Availability
International – @mustaevusa.com (15% Discount using discount code: chicprofile), @mustaev.co.kr (International Shipping)
MustaeV Quad Shadow Palette ($5.00) comes as a black plastic quad with a small transparent plastic glass in the middle where you can see your eyeshadows. The lid opens and closes easily and I really like the matte effect of the packaging but somehow I would love to see a more transparent lid so it will give me a better view at the eyeshadows inside.
Comparing to MAC Quad Shadow, the Mustaev is slimmer and slicker and more rectangular in shape rather than square as the MAC one is.
Inside the quad you will find a duo-sponge applicator which can come in handy when you are on the go and you need a quick retouch, as well as the small mirror inside, a detail that many other empty eyeshadow quads don't have.
Here are the sizes: Width 65 mm, Length 82 mm, Tickness 10 mm.
What I also like about this palette is that MustaeV has also included a note as a small tutorial how you can depot your eyeshadows. Unlike other single eyeshadows, the MusteV ones can be so easily depotted using only the tip of a needle.
How to depot your MustaeV eyeshadows:
Gently pull back the top part of the label from the back of the eye shadow. After doing this there will be a small visible hole.
Insert the end of a paperclip into the hole and gently push the shadow pan out of the case.
Place a small piece of double sided tape or hot glue to the back of the shadow pan and insert the shadow pan into a palette insert.
The only reason why I haven't depotted my eyeshadows yet and insert them into the quad is that I can't decide which one of them deserves the place as I use all of them on a regularly bases so each eyeshadow helps me create a new makeup look at least 2 times a week.
I have one more mention to make regarding this quad as I would loved to have a magnetic insert so the single eyeshadows wouldn't have to be taped or glued to the insert.
Enjoy more photos…