Hello beauties!
MustaeV Champagne Moonlight Powder arrived recently in my life along with some new Mustaev makeup products (photos, swatches) that I mostly already reviewed in the past few weeks. Champagne (030) is one of the five shades of color powder moonlight that MustaeV has. This is actually a versatile, multi-use product as it can be mixed with other products to create a dimensional glow.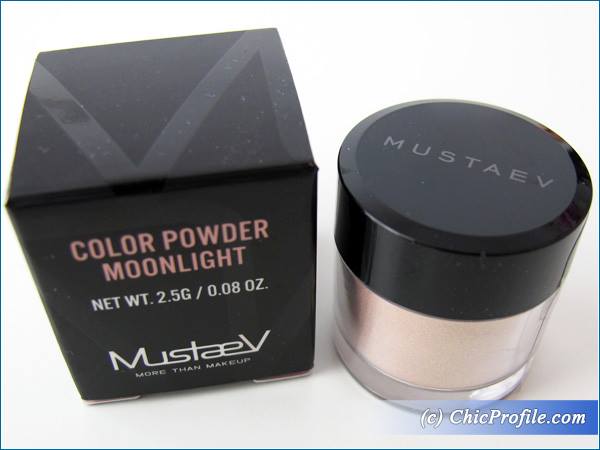 Availability
International – @mustaevusa.com (15% Discount using discount code: chicprofile), @mustaev.co.kr (International Shipping)
MustaeV Champagne Color Powder Moonlight ($15.00 for 2.5 g/ 0.08 oz) is officially described as gold micro sized pearl particles that provide an alluring radiance. I see it like a medium gold with very fine gold shimmer and an incredibly shiny effect. Depending on the angle of the lighting this color emits different iridescent luminous effects.
It's a fine pearl powder with a luminous glow, very similar to a pigment and can be used in so many ways. Applied over an eyeshadow base it loose more pigmented and intense and I like to apply it over an eyeshadow just like I did in this Soft Plum Summer Look (photos, tutorial) to add a pop of shine right in the middle of the lid or gently applied in the inner corner of the lid for luminosity like I did in this Red Wine Makeup Look over here (tutorial, photos).
Depending on what eyeshadow color you choose to layer Champagne Moonlight Powder, you will get a different effect and the color will change.
Applying it over eyeshadow or simply an eyeshadow base is not the only option as you can also mix it with you lip gloss or liquid lipstick to create voluminous, shimmering lips. You can mix it with your loose powder to create a three-dimensional shimmer and I will definitely try it with MustaeV Loose Powder (review, swatches).
As summer has now began, tan skin can be enhanced by mixing your favorite color Moonlight Powder with the Lustrous Cream Base (review, swatches, photos) and apply it to your shoulders, collarbone and legs for a radiant shimmer glow.
This is a product that can illuminate, add shimmer and a radiance to your  makeup. It has a high adherence, without any fall-out or creasing and it will last for hours on your skin. I personally prefer to use this particular shade for the eye makeup only but once I'll get some tan I will be definitely pairing it with my body lotion, cream base or body oil to enhance my tanned skin and make it sparkle.
As for the packaging this little one comes in a small rounded transparent jar so you can easily see the color and has a black cap which needs to be rotated to be open. Attention to detail is thing I appreciate when it comes to MustaeV products and this time as you can see from the photos bellow is how they made the packaging, the black little box that includes the jar. I love it how easy I can open it and I know for some this doesn't mean too much but for me it really does as sometimes I struggle when I try to open the packaging of pigments, single eyeshadows or lipsticks.
Enjoy more photos…