Hello pretties!
If you are looking for a new pink hue for summer, MustaeV Lovable Eyeshadow might be just the one. A long-wearing shade like this one with a special powder formula could be just what you need in the upcoming hot summer days. Recently I received new MustaeV Makeup Products (swatches, photos) and I was so enchanted by all those lovely pink eyeshadows, which can make anyone appear younger and easily give that fresh, carefree look.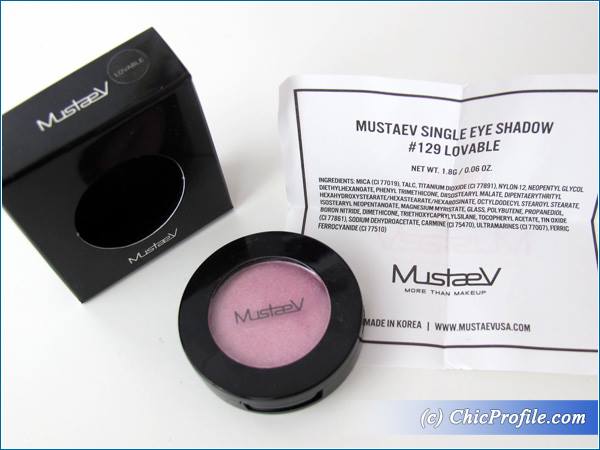 Availability
International – @mustaevusa.com (15% Discount using discount code: chicprofile), @mustaev.co.kr (International Shipping)
MustaeV Lovable Eyeshadow ($13.00 for 1.8 g / 0.06 oz) is officially described as a pink hue infused with holographic white and pink satin pearl that provides a velvety smooth application. I see it more like a soft light pink lilac with cool undertones, fine satin pearly particles which gives an intense pearl shimmer finish.
The formula is lightweight, super soft and velvety and feels incredibly smooth while swept across the skin. It has a good adherence on the skin and reveals a good color payoff, pigmented even without an eyeshadow primer. The color is absolutely gorgeous, light and soft, the perfect one for any skin color and will add luminosity and a fresh appearance. I used it in several makeup looks and it looks amazing in combination with nudes and especially burgundy, plums and purples.
The formula has a sebum control powder which absorbs the sebum, a great quality to keep in mind especially if you have oily lids. It maintains a hydrating, non-drying feel.
It applies smoothly and evenly across the lid, without any fall-out or creasing and it blends amazingly well and easily.
The packaging is a classic rounded plastic case with a transparent lid that snaps shut. It can be so easily depotted just by inserting the tip of a pin in the back of plastic case and make that eyeshadow pill pop so you can added in a Z palette or the upcoming MustaeV Shadow Pro Palette.
I had more than 8 hours wear with this formula without experiencing creasing, fall-out or fading and even yesterday I did a new makeup look and applied MustaeV Lovable eyeshadow over Illamasqua Resolute Liquid Metal which I used as a base.
In case you have missed it, take a look at my MustaeV Lovely Pink Summer Makeup (tutorial, photos) and see how MustaeV Lovable looks in combination with other colors.
Enjoy more photos…
MustaeV Lovable Eyeshadow Swatch – LEFT: without primer RIGHT: over TFSI primer