Hello sweeties!
MustaeV Dazzle Pink eyeshadow came into my life only last month with a bunch of new MustaeV products and pink hues (photos, swatches). This is the lightest MustaeV eyeshadow I have in my collection and it's a truly beautiful and innocent shade that can be used to give luminosity if you applied it just over your brow bone or in the inner corner of the eye but also works as a highlighter gently applied above the apples of your cheeks.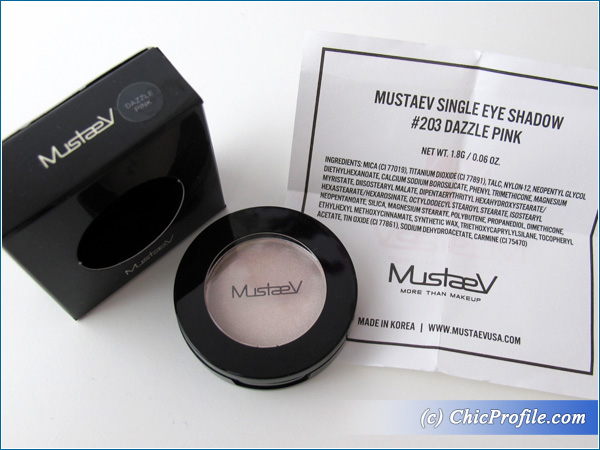 Availability
International – @mustaevusa.com (15% Discount using discount code: chicprofile), @mustaev.co.kr (International Shipping)
MustaeV Dazzle Pink Eyeshadow ($13.00 for 1.8 g / 0.06 oz) is officially described as light, peachy, baby pink shade with gold tones and a pearl texture that provides a velvety smooth application. I see it as a very light luminous champagne white with gold shimmer and a pearl texture that flushes hues of soft pink and peach.
The formula is the same amazing velvety, soft formula that every Mustaev eyeshadow has, which feels so smooth and silky to the touch, I can barely resist swirling my finger into the pan. It has a good color payoff and the swatches bellow prove this as it has the same intensity with or without a primer.
The consistency is very light, buttery and smooth and applies and adheres very well onto the skin without any fall-out or creasing. The special powder formula controls sebum (a plus for oily eyelids), maintain a hydrating and non-drying feel while it provides a long-lasting wear.
Check out my MustaeV Lovely Pink Summer Look (photos, tutorial) to see how MustaeV Dazzle Pink looks applied over my brow bone and how much luminosity it adds to the entire makeup. I will post more makeup tutorials using this shade in the days to come as only yesterday I used this color in a new combination of plums and pinks.
Applying MustaeV Dazzle Pink eyeshadow is a pleasure, as it glides easily and effortlessly across the lid or the brow bone, has a good color payoff and it's easily blendable.
The packaging is practical, easy to use and classic I would say as it comes in a rounded plastic case with a transparent cap that snaps shut. It can be easily depotted if you wanna added to your makeup palette or quad but I will tell you more about this in an upcoming article about the new MustaeV empty eyeshadow quad that I got.
I had more than 8 hours wear with this formula without creasing, fading or noticing any fall-out. The color is beautiful, light and luminous and can be used in so many ways not to mention it successfully doubles as a highlighter.
Enjoy more photos…
MustaeV Dazzle Pink Eyeshadow Swatches LEFT: without primer RIGHT: over TFSI primer