Hello beauties!
MustaeV Lilac Single Eye Shadow arrived into my life about two months ago along with other MustaeV single eyeshadows (swatches, photos) and just in time before my trip to London. It came at a perfect time as I still had a couple of empty slots in my MustaeV 24 Eyeshadow Palette (review, swatches) that I wanted to fill before going in vacation as I wanted to have all of my MustaeV shades with me.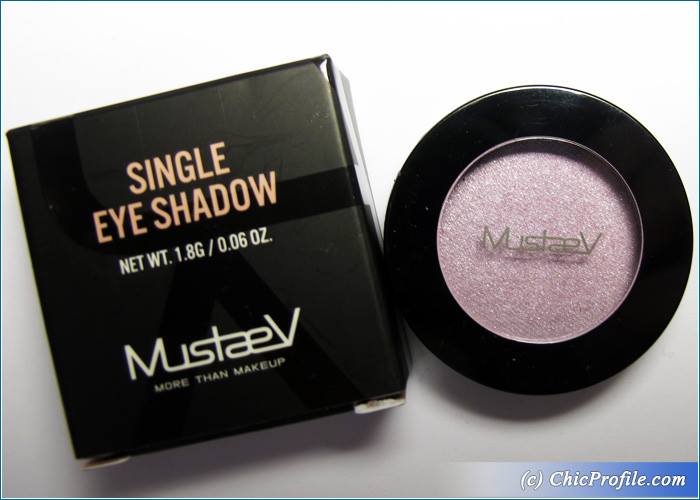 Availability
International – @mustaevusa.com (15% Discount using discount code: chicprofile), @mustaev.co.kr (International Shipping)
MustaeV Lilac Eyeshadow ($13.00 for 1.8 g / 0.06 oz) is a pale lilac infused with holographic glitter and an intense silvery metallic finish. The color is so easy on the eyes and can complement even the lightest skin tones.
I would see myself wearing this quite often as I'm green eyed and lilac shades tend to complement my eye color the best. It's pigmented but it's not meant to be a very intense color so it will give you more of that intense glitter metallic sheen. I love to apply it on the inner corner or the lid for luminosity or gently pat it across the lid for a soft fresh makeup effect.
The formula is very smooth and soft and it provides a super velvety application, without any fall-out. The silky texture has shimmering micro-sized pearl glitter particles that provide a sparkling luster.
You know that MustaeV has put Lilac on its summer eyeshadow palette? Well, I simply won't agree to that as I would see me reaching out for this color also in spring as it is like a pastel sparkling glitter but also now in the winter and during the holiday season as it gives such a nice sparkling finish.
I tested it with an without an eyeshadow primer and as you can see the difference is quite small. When I applied it over Too Faced Shadow Insurance Primer, MustaeV Lilac eye shadow tented to give more of that sparkling glitter effect and look more shiny. It has a non-drying feel, it's crease-free wear and the sebum control powder makes it an excellent choice for those who have oily lids.
The packaging is one of my favorites, when it comes to single eye shadows as you can notice bellow the easy opening right from the box. The small rounded black plastic case has a transparent lid that snaps shut and keeps the product in place but it's in the same time easy to depot it (video on how to depot MustaeV eye shadows).
The color is long-lasting, as I had around 10 hours wear without creasing or fall-out.
Enjoy more photos…