Hello beauties!
I just love the intense color of Estee Lauder Fuchsia Fever Pure Color Long Lasting Lipstick so before I'll give you more details I want to mention this is a limited edition release as part of holiday 2015 Estee Lauder The Makeup Collection (unboxing video) so it might still be available at some counters.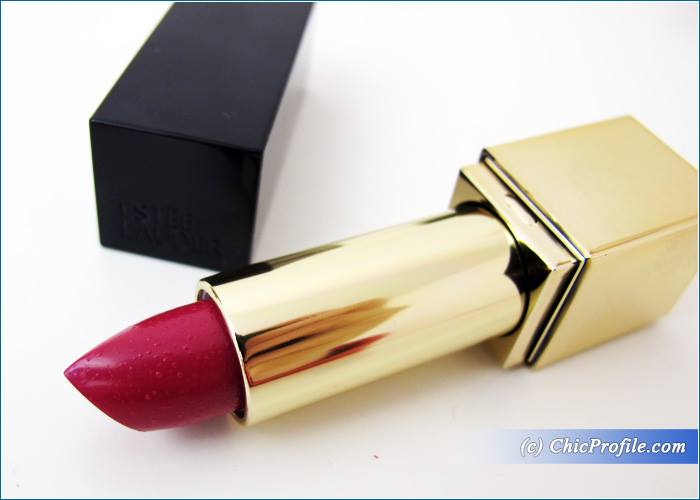 Availability
U.S. | UK & International – Released in a limited edition as part of Estee Lauder The Makeup Artist Holiday 2015 Collection (photos, swatches) – at Estee Lauder counters
Estee Lauder #60 Fuchsia Fever Pure Color Lipstick ($30.00 / £25.00 for 3.8 g/ 0.13 oz) is a cool toned bright fuchsia with blue undertones and a shiny finish. The color is buildable from medium to full coverage so it's up to you to get the intensity that you desire. During the day I like to damp it on my lips so I can get a medium intensity while for a evening look I apply it in two coats and get that full opacity.
It has a creamy, non-drying formula that applies easily and evenly across the lips without sinking into lip lines and giving a comfortable feel. It's rich and heavily pigmented but in the same time it's suitable even for those with light skin tones as you can see me wearing it here in this Deluxe Makeup Tutorial (photos). It doesn't feel sticky or tacky on the lips and looks luxurious on the lips.
You know me, I rarely wear lipstick but I do have a couple of favorites in my makeup collection and Estee Lauder Fuchsia Fever has become one of them. It's such a gorgeous, elegant and classy color on one side while it also manages to be sexy and edgy, attracting attention on your lips.
The color wore well on me for about 4-5 hours without eating, but when I did have a meal it faded pretty quickly and left an even lip stain which gave my lips quite a natural rosy look.
The packaging I believe it's limited edition as well, looking simple, yet elegant.
Enjoy more photos…