Hello pretties!
MustaeV Gold Color Powder Starlight review was long overdue. Not because I have forgot about this product or I haven't used it but as you know I took a small break from blogging from April until July 2017. I'm trying to catch up on reviews for products that I bought months ago and used in the meantime, but is hard. I got this shade along with other MustaeV products (swatches) back in March and took it with me to London. With Gold my MustaeV Color Powder Starlight collection is complete, as this one the only shade I was missing. You can check out my reviews for the other shades in Pink, Opal, Champagne Moonlight Powder and White Moonlight Powder.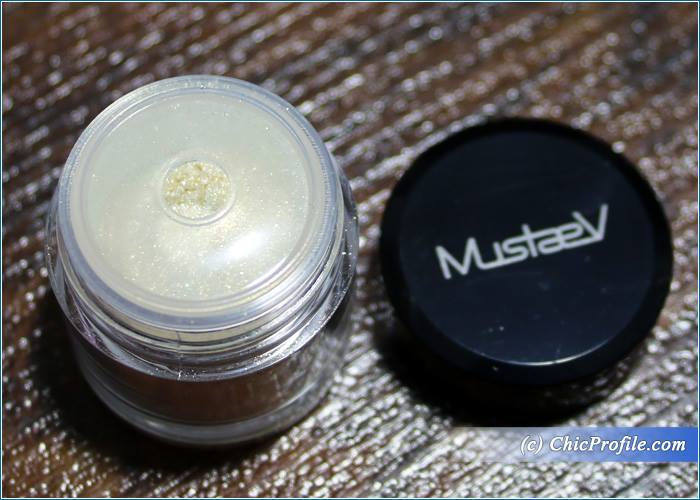 Where to buy:
U.S. and International – Now @mustaevusa.com (15% Discount using discount code: chicprofile) Worldwide Shipping, @mustaev.co.kr
MustaeV Gold Color Powder Starlight ($18.00 for 2.5 g / 0.08 oz) is a sparkling and colorful glitter pearl powder that has dazzling and distinct characteristics, like the stars of the night sky. It has a semi sheer color coverage but an intense sparkle. It's a multi-use product because you can mix it with powder or lip glosses. You can give a new touch to your lip gloss just by adding a bit of a golden sparkle. You can mix it with cream shadows or powders to add a glamorous sparkle.The texture is a powder with micro size glitter particles that feels so smooth to the touch. It doesn't feel gritty or glittery (just look like it) and it's just finely milled. You can wear this gold glitter powder on its own for a luminous finish or mix it as you like.
It comes as a loose powder that provides high adherence (is best to use a primer though) while its micro sized particles have a long endurance. I personally prefer to mix it with my lip glosses or liquid lipsticks. You should see how amazing it looks paired with MustaeV Clear Glazing Lip Gloss (review, swatches)!
Is up to you if you want to use it as an eyeshadow for a pop of color on the inner corner of the lid or mix it with your nail polish to add a lustrous shimmer. I mean this product can basically go with any other makeup product.
It shows mostly a luminous, very light gold with yellow undertones but it all depends on the angle of the lightning. It emits different different iridescent luminous colors so you can see it totally different than me.
I just love beautiful and versatile products like this one. You are actually getting one product but there are endless ways to use it, depending your mood and imagination. It won't even go wrong anywhere. 🙂
Enjoy more photos…