Hello beauties!
I discovered Aveeno active naturals products thanks to my friend Gio from Beautiful with Brains, who sent me the moisturizing lotion, last year, to try it out. Once I like it a lot and it came natural to wanna try out more Aveeno products. I know I'll be using Aveeno Active Naturals a lot from now on  so I wanted to share with you what I'm currently using. I admit that I wasn't use to pay much attention of my body skin and use lotions, body creams and hand creams that often.
Well things have dramatically changed in the past three months. I can't say that I'm applying body lotions daily but I'm proud of my progress and I do pamper my skin about three times a week. I like to use body mists a lot (I'm quite abusing them in the summer) so after shower this how I'm hydrating my body, especially if I'm in a rush.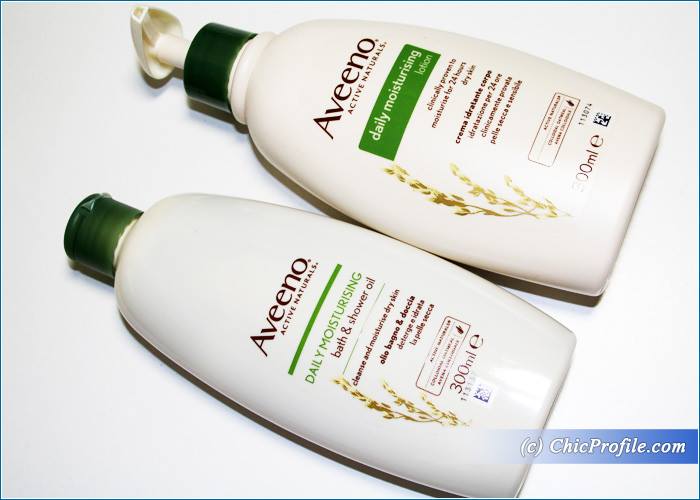 Where to buy:
UK – Now at Boots, Superdrug, Amazon, Asda, Sainsbury's
When it comes to shower gels things are different. I'm saying this because I'm very picky when it comes to the fragrance but I also like my shower gels to be hydrating. This one of the reasons why I turned to Aveeno Daily Moisturizing Bath & Shower Oil (£7.99 for 300 ml).
I can't stress enough the fact that since I moved to London I had to completely change my hair, body care and skincare routine. Not only because there's a different climate here, more humid and rainfall is fairly regular, occurring throughout the year but also because of the hard water. My entire skin and hair noticed the change in water from the first few days, so I had to replace most of the products that I brought with me from home.
This has made me to use more shower oils rather than shower gels because I needed that extra hydration and to try and use body lotions more than just one time a month.
Aveeno Daily Moisturizing Bath & Shower Oil cleanses my skin very well but also moisturizes while protecting it from the drying effects of water dry skin. Basically what I'm doing is using the shower oil when I want to follow up with a body mist and I don't have time or the energy to apply lotion. I used it to shower every night before bed and I like that it has a very gentle formula and leaves my skin feeling soft while maintaining that moisturizing feel. It's soap free so there's another bonus, because the last thing I need is soap that will dry out my skin. It is suitable for sensitive skin. The formula contains colloidal oatmeal and softening oil which are sure thing if you want smooth, super soft skin.
It doesn't leave my skin feeling greasy at all even though we are talking about a shower oil. I can simply describe it as my secret weapon for a quick hydration in the shower that will last the entire day. If you were like me and you don't really give too much attention to your body skin then you can compensate by using rich and natural shower oils that will do the work for you. The scent is a bit sweet but not very powerful and it lingers gently on my skin, especially if I follow up with Daily Moisturizing Lotion.
Aveeno Daily Moisturizing Lotion (£4.99 for 300 ml) is a body lotion formulated especially for dry skin (and not only). It is clinically proven to moisturise your skin for 24 hours. The same formula with naturally active colloidal oatmeal, was clinically proven to significantly improve the condition of dry skin in just 2 weeks. It's a fast absorbing lotion which I absolutely love.
This one is something in between a lotion and a body cream. I'm saying this because it has a milky, medium-thick consistency which you might not expect from a lotion. Penetrates the skin in just seconds and it doesn't leave a greasy film. I can dress right after I applied the lotion, if I'm in a hurry, without needing to wait for my skin to absorb it. It has the same scent as the shower oil, but doesn't linger on my skin for too long when applied on its own.
These two products are the perfect couple, so if you can use them together regularly (you can cheat your way in some days, I guess) your skin will surely thank you. 🙂
Have you been using Aveeno Active Naturals products as well? I'm curious to know how do you find them. I want to get Aveeno Daily Moisturizing After Shower Mist, as a new method to cheat on applying body lotion everyday.
Enjoy more photos…