Hello beauties!
I get to discover and play with more and more Eyeko makeup products and Eyeko Skinny Liquid Eyeliner is one that surprised me to the max. You may know I don't use liquid eyeliner as much as I'd want too but when I do, it must be one very easy to work with. Gel eyeliners, liquid eyeliner or pencil eyeliners, you name it…that perfect cat eye depends on your skill. All you need to do is practice a lot and then some more go master the art of lining a perfect crisp line. Eyeko Skinny Liquid Eyeliner promises precision, smudge proof and a pitch black shade. Follow me after the cut to see if it keeps to the promise!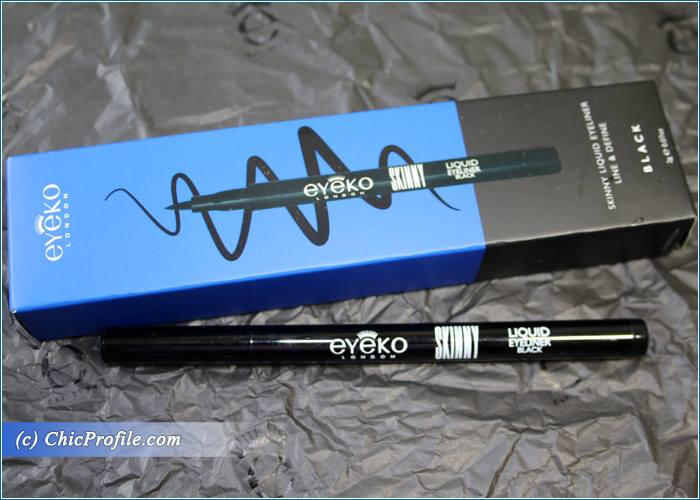 Where to buy:
UK – Now at Eyeko.com, Selfridges, Net-a-Porter
U.S. – Now at Nordstrom
Eyeko Skinny Liquid Eyeliner ($22.00 / £16.00 for 2 g / 0.07 oz) come in pitch black universal shade. The color is rich and super pigmented to an opaque coverage in just one swipe. If you want to get that super dark shade in just one flick then this is your eyeliner.
It has a pointed tip that allows a perfect and precise application. I bet he nib just last ages before it dries or wear down. On a first look the tip seems to be stiff but when you actually use it you notice it has a lot of bend to it. I got to wear this three times already in the past two weeks, which is a lot for me, and the result was always the same. It's one of the best eyeliners I've every tried. It applies on so easily, doesn't budge and stays on all day.
You can use it to create a crisp line fine line or a thicker line just as easy. I'm recommending this one for more advanced beginners if you want to take your eyeliner skills a bit further away.
You can use it both on your lash line and waterline which makes it special. I didn't encountered to many eyeliners that are safe to use on the waterline. The formula is water-resistant and humid resistant which I can definitely confirm since I'm living in a humid climate now.
It comes in this black and sleek packaging, resembling a pen which is very easy to put in your bag or take it with you when you travel.
SHOP THIS POST
Enjoy more photos…