Hello beauties!
There's been a long time since I've been looking for the perfect Contouring Brush so when I tried MustaeV Easy Go Angled Contouring Brush I knew it was the one. You can actually get this brush in normal size but I specially wanted the travel size version which MustaeV calls it Easy Go. You can choose from the three available versions which are: So Pink, The Chocolate and Glam Wine. For me So Pink was an obvious choice as you know my passion for this color. The fact that I wanted the travel size version was that I wanted a smaller brush, with a smaller handle which is not only travel friendly but it can also fit easily into my makeup pouch and it takes up a smaller space.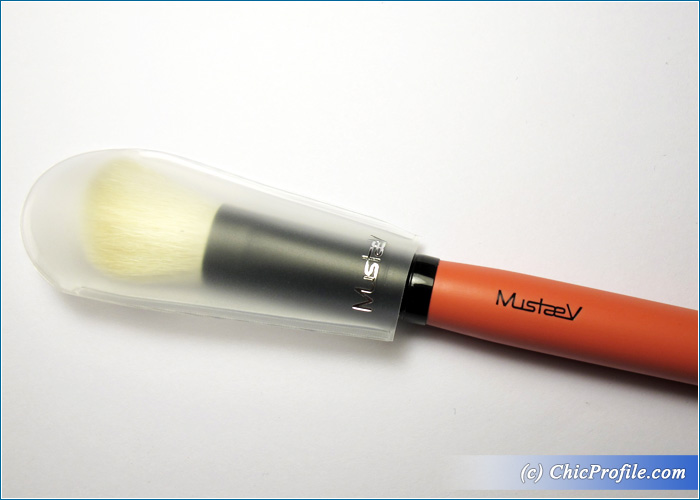 Availability
U.S. Launch Date – Now @mustaevusa.com (15% Discount using code: chicprofile), @mustaev.co.kr (International Shipping)
MustaeV Easy Go Angled Contouring Brush ($25.00) in So Pink comes in with a pink birch wood handle which is resistant to chipping and it's lacquered with high quality enamel and decorated with the MustaeV logo in black letters.
It's made from goat hair, which is a high quality natural hair and feels so soft to the touch and gives a smooth, precise and even application. The fact that it's an angled shaped brush allows you not only to contour but also to apply a highlighter on the top of your cheekbones.
I love the fact the hairs are smaller than a normal contouring brush so I can have a more precise application and a more defined look. I can easily blend the contouring powder and create a smooth nice looking finish. It works wonderful as a highlighting brush as well so you get one brush for two purposes.
MustaeV Easy Go Brush has a durable Aluminium ferrule in a black glossy color which looks luxuriously, elegant and lightweight for a convenient portability.
I posted on Chicprofile's Facebook Page the other day that I just washed this brush for the second time around and it dried so fast, the hairs were all in place, the same angled shape was kept. I've been using this brush for weeks now and it never shedded once, unlike other brushes I own which tend to loose some hairs in the beginning.
My MustaeV So Pink Easy Go Contoured Brush also came with a Head Protector ($1.00) which helps prevents deformation of the bristles and cross-contamination between cleanings. Its bristles are so soft and they have been even after I washed it and I believe they will remain so as I trust this brand completely when it comes to making high quality makeup brushes. I also own a MustaeV Easy Go Medium Shadow Brush ($17.00) which I'll be reviewing next and for over a year now I've been applying blush with MustaeV V31 Blush Brush (review, photos) which kept its incredible soft bristles at all times.
Enjoy more photos…