Hello beauties!
Guerlain Orange Hibiscus is a new lip liner shade which was released as part of Guerlain Bloom of Rose Fall 2015 Collection (live blogging, swatches, photos). #46 Orange Hibiscus is one of the eight shades of Guerlain The Lip Liner which are currently available.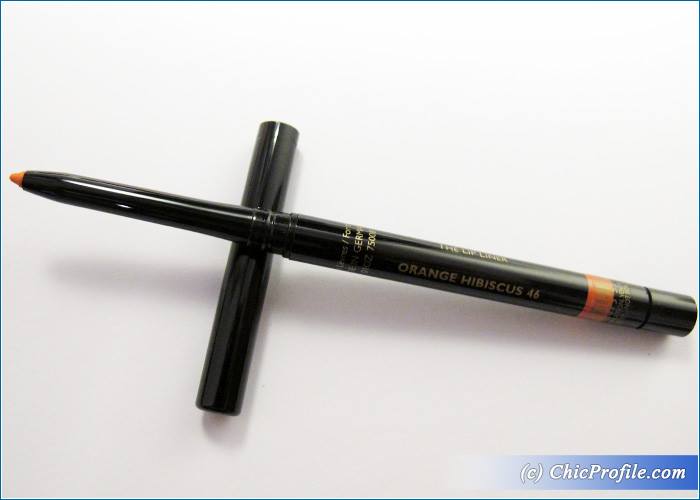 Availability
U.S. & International – Now at Guerlain counters (Nordstrom, Sephora, Macy's)
Romania – Now at Sephora, Douglas
Guerlain #46 Orange Hibiscus Lip Liner ($32.00 0.35 g / .01 oz) is a bright orange with subtle satin matte finish. I find the color to be very bright and vivid, the kind of shade that will instantly give you that fresh lip appearance and could perfectly be used in combination with a natural or subtle eye makeup.
This lip liner has a soft formula that glides easily and effortlessly across the lip delivering a medium color coverage. It feels light on the lips but I find the formula to be a little bit drying so before using this product I advise to moisturize your lips with a lip balm.
I like to use Guerlain Orange Hibiscus Lip Liner to line my lips as thanks to its pointed tip I can trace an impeccable line, as a base for my lipstick or before applying Guerlain Nahema Smack Gloss D'Enfer (upcoming review) which made the color last longer. It looks wonderful applied all over the lip and also improves any lipstick color making it last longer and prevents the color from feathering.
Being such a bright an intense color, it enhances lips or accentuates them and can be used as a summer shade but also during the fall season when you need a pop of color on your lips. It doesn't accentuates lip lines but having this soft matte finish I find the formula to be a little bit drying which can suck the moisture from your lips if you are going to wear it for more than 4 hours just as a simple color without any lipstick or lip gloss on top.
It comes as a black sleek and slim retractable lip pencil with a pencil sharpener included so it assures a pointed tip at all times which will allow you a precise application every time.
I have 4 hours wear with this formula when I decided to wear it as a matte color and I've applied it all over my lips and even when I drink or ate the color didn't fade completely but I felt my lips a bit dry. Applied underneath a lipstick or a lip gloss it definitely improves its long-lasting effect and can boost the color hold for another hour or more.
Enjoy more photos…