Hello beauties!
Lately I've been using MustaeV Charcoal Eyeshadow quite a lot in my makeup looks along with some of my new MustaeV products (photos/ swatches) and just the other day I did a smokey eye makeup using this shade.
As I'm sure you've already noticed by now if you are a frequent reader of my blog, I've easily and certainly became a MustaeV fan as this brand is quite similar with MAC Cosmetics when it comes to packaging, but some of the products have even a higher quality not to mention more affordable prices. If you haven't yet tried MustaeV I truly recommend you to star with their Face Architect Powder (Blush) (review/ swatches) and eyeshadows but also to try MustaeV Skinny Tint Foundation (preview, swatches) as they are currently working on expanding their color range.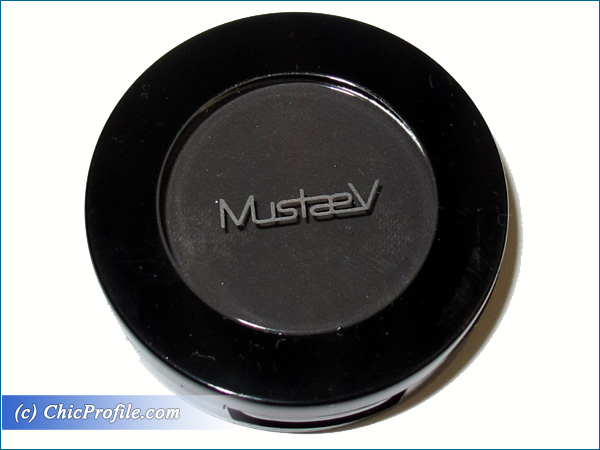 Availability
Now @mustaevusa.com (15% Discount using discount code: chicprofile), @mustaev.co.kr
MustaeV Charcoal Eyeshadow ($13.00 for 1.8 g) is officially described as a rich charcoal with a deep pigment. I see it like a deep greyish black with a matte finish. It has an incredibly smooth texture that is easily applied on the lid but with a bit of fall out so I advise you to use a loose powder underneath your eyes when you are working with this shade.
It's truly a perfect shade for creating a smokey eye makeup (tutorial, photos), dramatic looks or as a substitute for an eyeliner. It works great applied over a creamy eyeshadow, NYX Jumbo Pencil in Black Bean (review, swatches) or even a black kohl or eyeliner.
It's definitely pigmented having a good color payoff but I didn't quite see it like a truly intense black. It looks more intense applied over an eyeshadow primer but even wore on its own it certainly has a good pigmentation. The texture is super soft and smooth feeling like a semi-cream eyeshadow. It feels lightweight once applied, it doesn't dry out the lids but it works well on oily lids as well.
The only thing I can say I didn't like about MustaeV Charcoal eyeshadow is that I noticed a bit of fall-out when I applied but this is usually common among black eyeshadows but also it tended to cake up a little bit when I swatched it on my arm. I wore it several times paired with other eyeshadows of different textures and finishes and it lasts beautifully for about 5 to 6 hours before it started to fade. After 8 hours the color doesn't look so intense like in the beginning and it tends to crease a bit when it's applied over a creamy base.
MustaeV Charcoal comes in round plastic case with a transparent lid that snaps shut, a similar packaging of MAC eyeshadows but more subtle and elegant.
Enjoy more photos…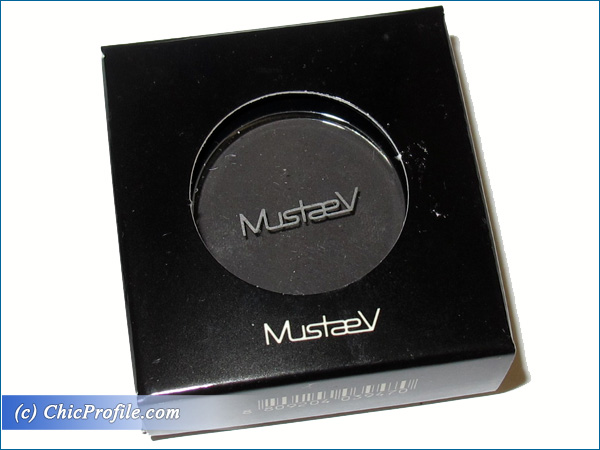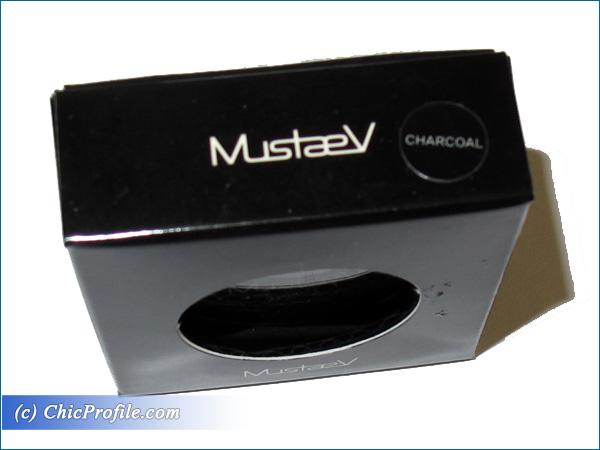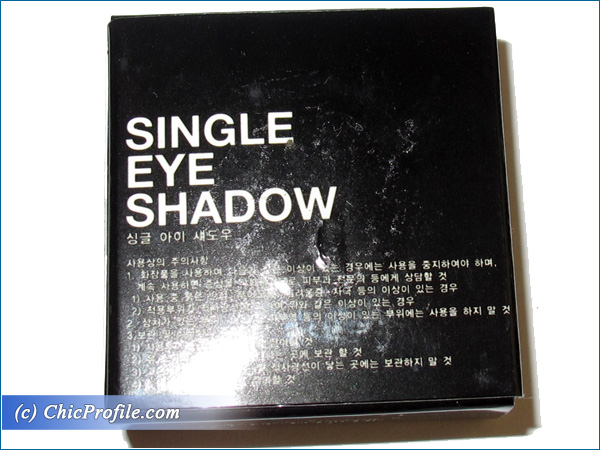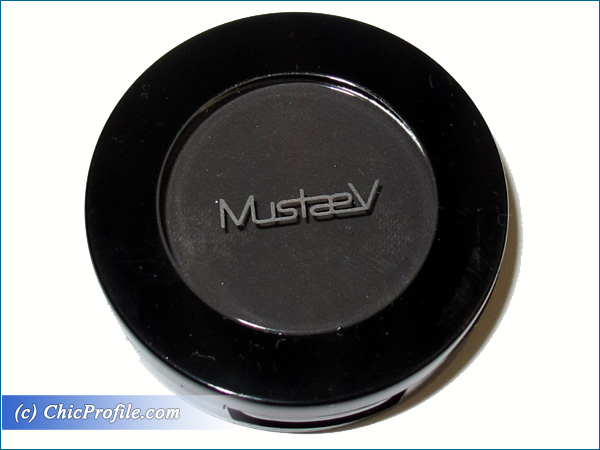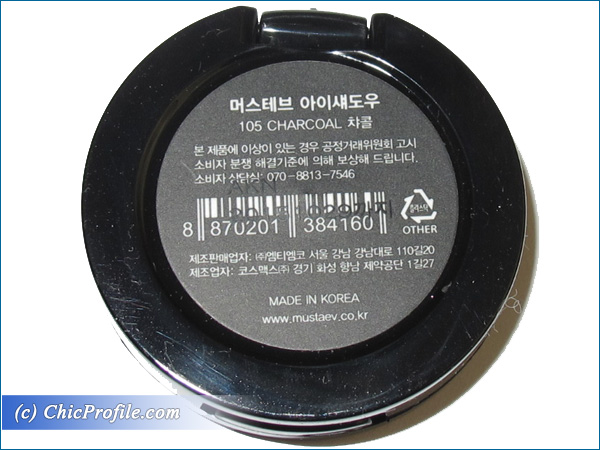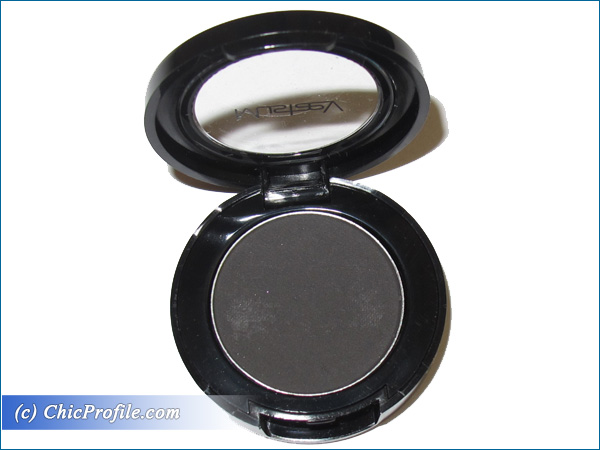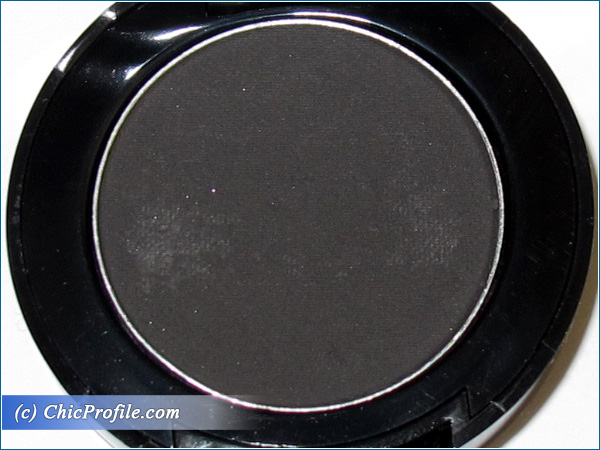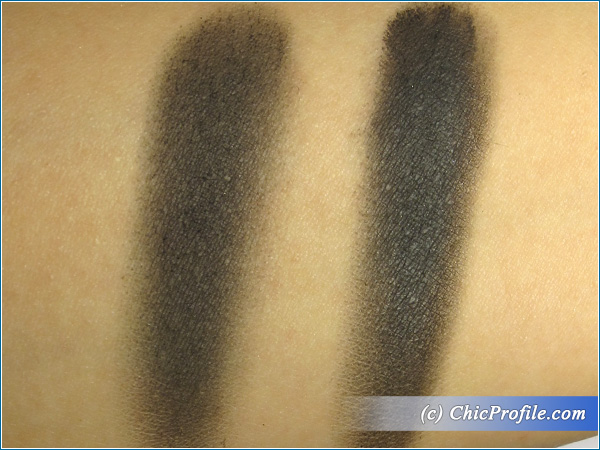 MustaeV Charcoal Swatches – LEFT: without primer – RIGHT: over Too Faced Shadow Insurance