Hello pretties!
It seems like today I'll be posting reviews of the products long forgotten in my un-posted folder. Makeup Academy Matte Lipstick in Pouty Pink was a last year acquisition from the beauty swap event I told you earlier today. I'm not always into matte texture lipsticks but I do love MUA products and I can't pass on a pink lip color.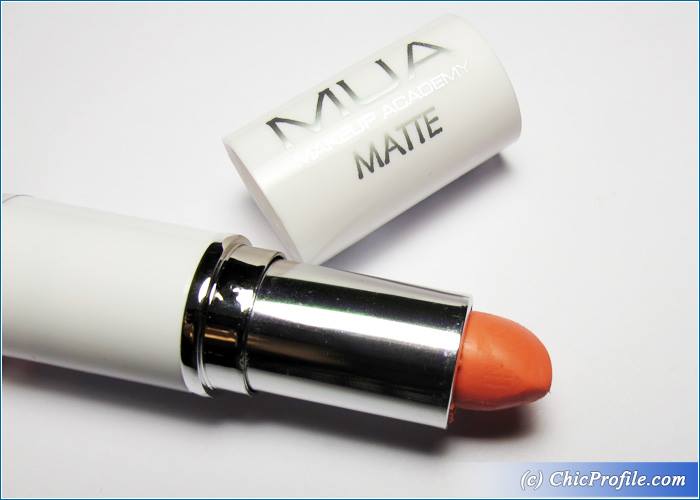 Where to buy:
International – Now @muastore.co.uk
UK – Now at Superdrug and online @muastore.co.uk
MUA Pouty Pink Matte Lipstick (£1.00 for 3.8 g) shows as a nice light-medium peachy pink with warm undertones and a matte finish when swatched on my arm. When applied on my lips the color totally changes into a light pink with cool undertones.
It has a medium opaque color coverage, as it does changes the natural lip color and it reveals a flash of pink but it's not completely opaque. The color is not very bright, rich or pigmented so it's more like a soft shade that you want to use on a casual day, probably during the first part of the day as well.
I like that it has a soft matte finish as it doesn't look to harsh on my lips and emphasize my lip lines, creating that aspect of dry lips. I do need to moisturize my lips prior applying this product so I'm always careful to use a lip balm. It glides smoothly and evenly across the lips providing a non-glossy finish.
I did use this shade a couple of times but I can't say it's one that I'm reaching for very often. Later today you may see me wearing it in a full face makeup look, paired with a pink eye makeup as well.
The packaging is pretty simple, drugstore appropriate, as it comes in a plastic opaque white tube and at the bottom it also holds a small jar with a small quantity of the product, in case you might want to use your lip brush or finger to apply the product. I personally like to use it for swatches.
I had about two hours wear with this formula without drying out or staining my lips.
Enjoy more photos…