Hello beauties!
While I was browsing through my folder with un-posted beauty articles this morning, I stumble upon the photos of H&M Smoky Eyeshadows Palette in Smoky Pink. I remember getting this one about a year ago at a beauty swap event between beauty bloggers and even though I used it a couple of times ever since, I didn't manage to review it. Obviously the combination of pink colors was what it made me get it in the first place but also my interested to test at least one of H&M Smoky Palettes that I heard so much about.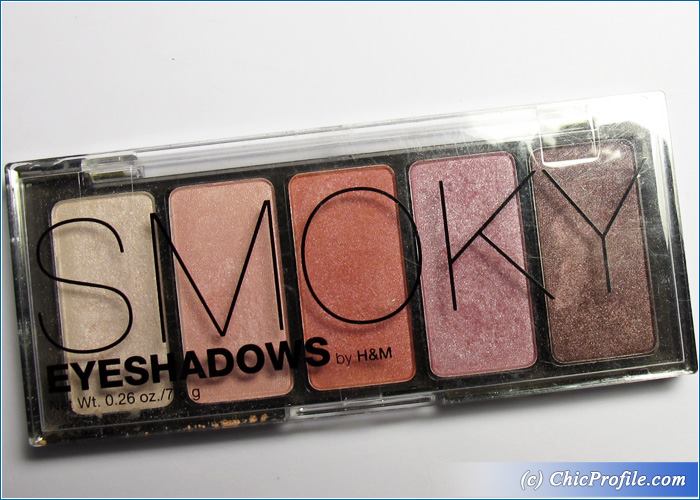 H&M Smoky Pink Eyeshadow Palette ($5.95 / £3.99 / €5.00 for 7,5g or 0.26oz) offers a variety of five shades ranging from light pink to dark and plum. There is a combination of pinks, peachy, light violets and plum shades, all with a frosty, metallic finish.I used H&M products in the past, mostly lip glosses I have to admit and I wasn't pretty impressed with the quality as they lasted no more than one, two hours on my lips.
This time H&M Smoky Palettes offers not only a great price, but also great quality eyeshadows. The swatches bellow were taken without any eyeshadow primer so you can see for real how pigmented these colors really are.
I was impressed to see they provide such a metallic finish on their own, with a good color payoff. They are completely opaque when applied but offer a nice luminous sheen. They are very easy to work with, apply and blend. I had no fall-out during the application.
The formula is quite smooth, glides easily across the skin and feels very soft. I'll be back later today with a makeup tutorial where I used the shadows from this palette, but just as a sneak peek, I attached bellow a photo with the eye makeup.
They colors lasted on me for about 8 hours before showing signs of fading.
The packaging is quite common for a drugstore brand but quite resistant. The colors come in a plastic compact with a transparent lid that snaps shut. I once actually dropped the palette by accident on my woody floor and it came out intact, without breaking the colors inside.
Enjoy more photos…