Hello pretties!
This is a sponsored post for Micro Beauty Essentials

Make room in your makeup collection because the Micro Bomb Highlighters are coming! Wait…actually scratch that because Micro Beauty Essentials Micro Bomb Highlighter Trio will fit in any makeup collection, purse, bag or travel luggage. 🙂 Yes, that super travel friendly they are.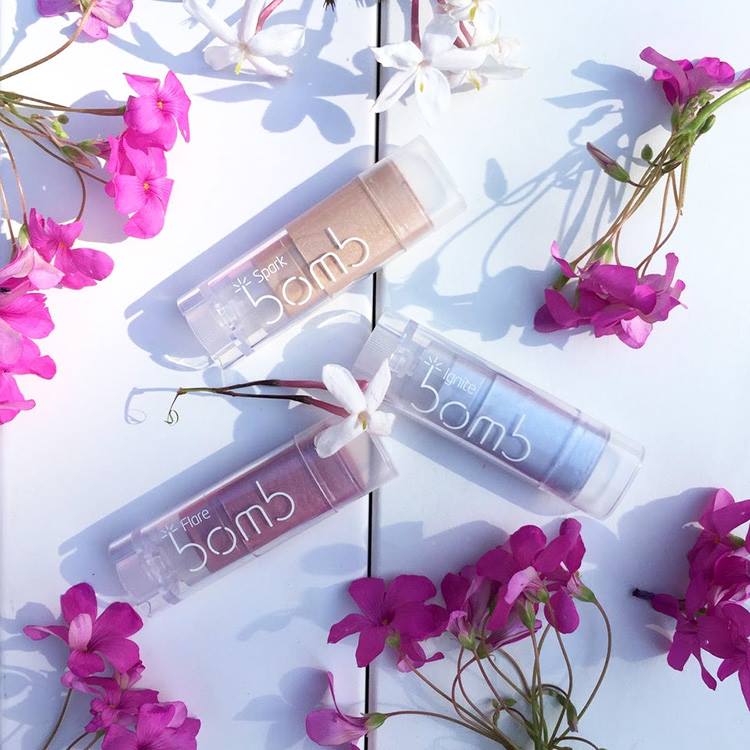 Availability
U.S. & International Launch Date – Now at @microbeautyessentials.com (International Shipping)
Micro Beauty Essentials Micro Bomb Highlighter Trio
I'm happy to introduce Micro Beauty Essentials, a new innovative line of quality, budget-friendly, micro/mini makeup that gives a modern "anytime
anywhere" beauty experience.
You've seen me unboxing and showing you the new Micro Bomb Highlighter Trio on Instagram (check Instastories) about a week ago. Ever since, I've been using these cuties and I bet you all noticed that in my makeup looks. I've been playing with all of them so watch out for reviews pretty soon.
Oh I just got super excited and ahead of myself and didn't give you enough details yet. 🙂
What you should know about Micro Beauty Essentials
We also founded the "Micro Makeup Movement" as a result of our mini makeup obsession, and our approach to using smarter cosmetics. This concept involves using lightweight, compact, mini size makeup designed for universal skintones, with multi-tasking techniques, while maximizing the beauty experience, and minimizing the waste & space footprint. Join us in the movement!
Founder Sharon Simpson, has a longtime love affair with cosmetics, and has
expanded her cosmetic knowledge by working with community & university stage
productions and experimenting with her own products. She stays current with
global beauty trends, industry publications and beauty influencers. She earned a BA, MA and PhD in Marketing & Communications, with a career serving various roles in PR, Marketing, Communications and teaching. She is thrilled to have the experience to share her vision with the world.
Spark: golden metallic;
Flare: pink rose pearl;
Ignite: duo-chrome lavender
They are multi-use cream highlighters that come in a very friendly travel-size format. If you love minis, you'll have to give these ones a try. They can fit easily even in the smallest bag. 🙂
Say "Hello" to this new trio of beautiful cream micro highlighters that give a triple power shot of sheer pearlescent color for cheeks, lips, & eyes! Innovative flat oval roll-up packaging is designed to deliver lightweight portability, making these multi-use wonders super easy to stash in pocket, clutch, desk, or gym bag.
For a pop of sheer color, apply cream highlighter to cheeks, lips, eyes and body. For best results tap highlighter on with fingertips, makeup brush, or damp sponge. May also be applied directly to bare lips or as a lip topper over other lip shades. For cheeks and eyes, tap on top of bare skin, powder blush, eyeshadow, or primer. Cream can also be layered underneath powder highlighter, blush, or eyeshadow for an enhanced glow.
I guess is not hard to guess which one is my favorite but I'm keeping my opinions for the upcoming reviews. In the meantime you can check out my makeup looks on Instagram and see where I was wearing these shades. 🙂
About Micro Beauty Essentials Products…
We design all of our own game-changing, right-sized, micro makeup products with
innovative packaging & delivery systems. Our quality formulas are paraben free,
vegan, cruelty-free, and EU compliant, with full FDA compliance review. We are
also a participating member of PETA's Beauty Without Bunnies program. Our
products are offered in the spirit of providing convenient, portable, travel friendly
cosmetics.
Are you into mini makeup items as well? I started to love them more and more since I moved to London where I'm always on the go. I wear small bags most times and I don't makeup items to take a lot of my space. So, I'm usually keeping multi-use products that I touch up during the day on my cheeks, lips or small face mists to refresh my look.
Look out for my reviews of these super adorable, creamy highlighters very soon on the blog! 🙂
Enjoy more photos…