Hello beauties!
Melkior Tropical Green Eyeshadow is one of the new Melkior summer makeup products (preview, photos) part from Indian Summer 2015 Collection which was released last month. Tropical Green is definitely not for those who are color shy as you'll definitely attract some attention on your makeup while wearing it. It's the perfect color for those who like to wear brights during the summer.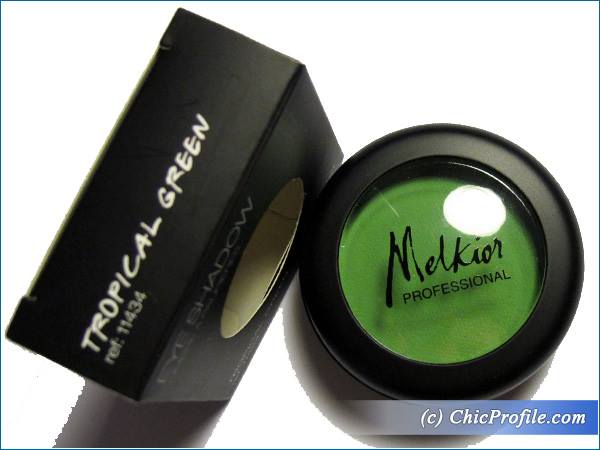 Availability
Romania – Now @melkior.ro and at all Melkior Locations
Melkior Tropical Green Eyeshadow (27.00 Ron for 3.2 g / 0.11 oz ) is a vibrant intense medium grass green with yellow undertones and a matte finish. It has a good color payoff, being pigmented and bright. It has a nice matte finish without a powdery formula.
The texture is smooth, fine but it feels a little bit dry. It applies and adheres well onto the lid but because it's truly a matte finish it doesn't blend that easily. I prefer applying it onto my lid, on the inner corner or right in the middle for a pop of color but when I applied it in the crease it was a bit more difficult to blend the color.
It applies well, without any fall-out, doesn't crease and will definitely stay in place even on those with oily lids. I played with this shade for a while before posting this review, I wanted to test it more and see how it behaves when it's applied onto the lid or blended in the crease so you can take a look at my recent Tropical Green Summer Makeup (tutorial, photos) to see how it looks like.
It has a long lasting formula, as it lasted on more for about 8 hours before I saw the first signs of fading.
The packaging is quite interesting as it comes in a black plastic round case with a transparent lid but underneath the eyeshadow you'll find a mirror lid.
Enjoy more photos…
LEFT: Swatch without primer – RIGHT: Swatch applied over Too Faced Shadow Insurance Primer