Hello beauties!
Summer is usually the season when we tend to wear brights and more colorful nuances on our nails. If normally so many women tend to reach for their neons I wanted to choose something in between spring and summer. Kinetics Mint Sky nail polish is one of the summer shades of last year Kinetics Magnolia Collection (preview, swatches, photos) but I just didn't have time to wear it until recently.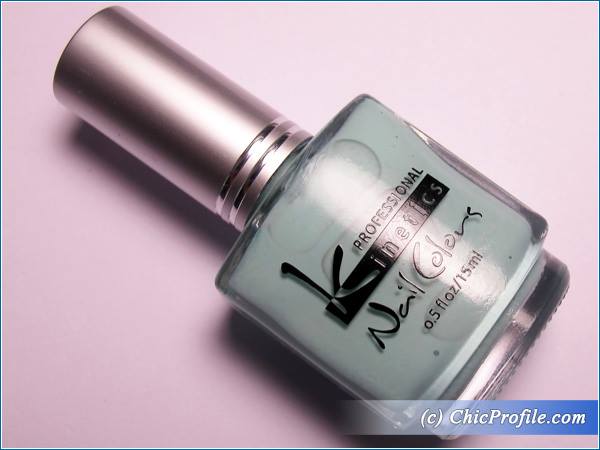 Availability
Now @kineticsnails.com, @margaritabelska.com, @kiriloff.ro
Kinetics Mint Sky Nail Polish (€6.00/ 25.00 Lei/ £3.60 for 15 ml/ 0.5 fl oz) is a very light mint turquoise with a natural shiny finish, something very close to that sparkling transparent sea water. Since it's such a pastel turquoise this could work also as a spring shade. It has a very thin creamy formula, which glides easily and evenly across the nails.
The color is intense, pigmented and looks totally opaque in two coats. It had such a nice shiny finish that made the glossy top coat only optional. The application went flawlessly without streaking, bubbling or pulling along the edges of the nail. I still applied Essence Gel Nail Polish Top Coat on my left hand nails just for the sake of comparison with the other nails which I kept in only two coats of Kinetics Mint Sky.
Five days later the photos shows the results. On the nails where I've applied top coat the color is opaque, intense and still has a bit of that shiny finish left while you can notice some minor tip wear at the limit of chipping. On my right hand nails the polish looks a bit mattified but that's only natural when you use soap and lotions. You can see very minor tip wear without chipping.
Enjoy more photos…
Kinetics Mint Sky Nail Polish Swatch – 1 coat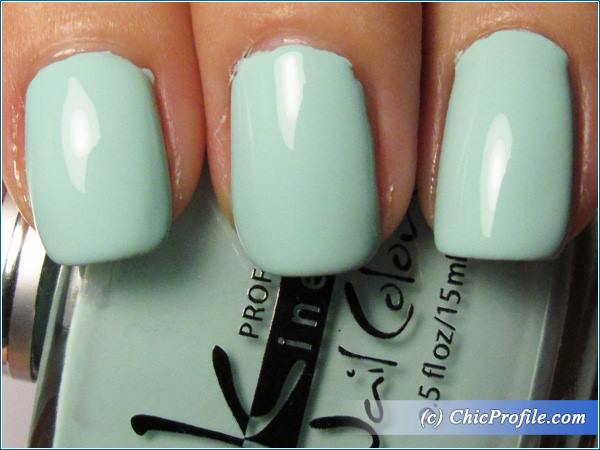 Kinetics Mint Sky Nail Polish Swatch – 2 coats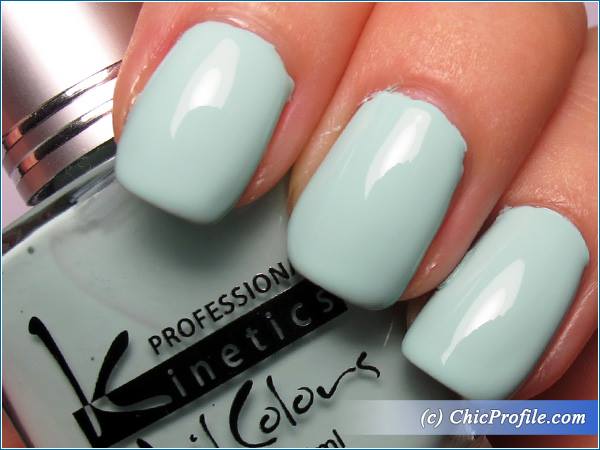 Kinetics Mint Sky Nail Polish Swatch – 2 coats + top coat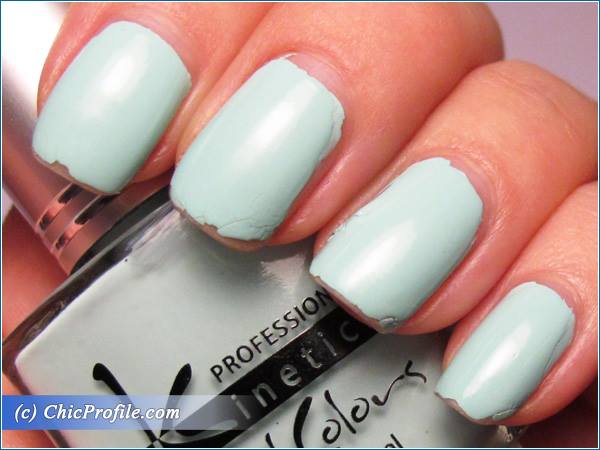 Kinetics Mint Sky Nail Polish Swatch – 5 Days Later (with top coat)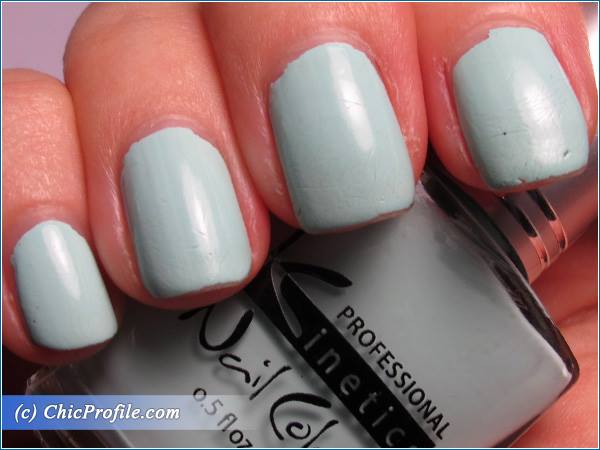 Kinetics Mint Sky Nail Polish Swatch – 5 Days Later (without top coat)