Hello beauties!
Melkior Mystic Lip Pen came into my life in early fall 2014 when Melkior launched this new line and even though I did use it quite a few times back then, I kept forgetting to review it. I won't go easy on this product, but I will honestly tell you what I like and especially what I don't like about it.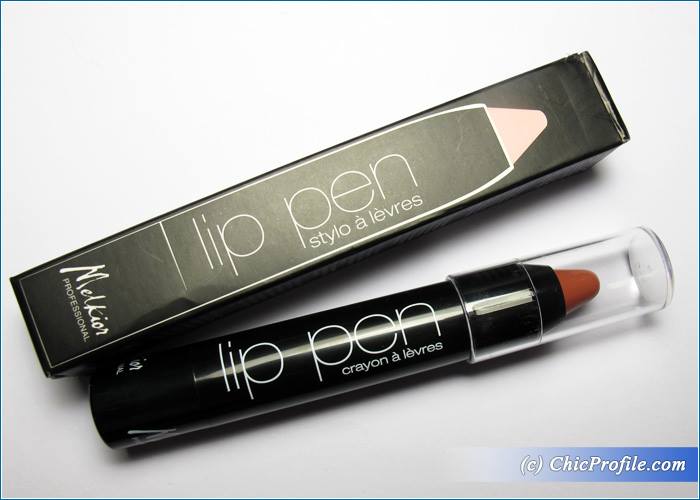 Availability
Romania – Now @melkior.ro and at all Melkior Locations
France – Now @melkiorprofessional.fr and at Melkior boutiques
Poland – Now online @melkiorprofessional.pl
Moldova – Online shop @melkior.md
Melkior Mystic Lip Pen (35.90 Lei for 2.5 g / 0.09 oz) is a medium reddish brown with warm undertones and a satin finish. It has a good pigmentation, delivering a semi-opaque up to a buildable full opaque coverage if you layer it.It is the kind of color that will look a little bit too dark on fair to light skin tones, medium and day time appropriate for medium skin colors and like a totally wearable nude with red undertones on those dark and olive skin colors.
For me is the kind of color that I wouldn't reach for too often, but I did wore it a couple of times, mostly in the evening, paired with a golden, bronzy makeup look.
Because it is a lipstick that offers a good pigmentation but comes in the shape of jumbo eye pencil, allows more precision during the application. It glides easily and evenly across the lip, leaving the smooth and soft, with a natural shine and quite a light hydration feeling. It doesn't emphasizes lip lines, doesn't bleed. It has no discernible scent to me.
It's a retractable lip pen, so you won't need a pencil sharpener to go with it.  It has quite a creamy formula but with a lighter consistency. It's very easy to use and hold, the kind of lip product that is very practical as you won't need to use a lip liner as well. Has the size of a jumbo eye pencil (you know the famous NYX Jumbo Pencils) and comes in a black shiny case with a transparent cap.
I can't say that it has a long lasting formula but it did wore on me for about 4 hours without leaving a stain. After the color wore off it left my lips neither drying nor hydrating.
Overall it's a good lip product, very practical, a 2-in-1 product (lipstick and lip liner) which has an average price and delivers quite a nice color on your lips.
Enjoy more photos…