Hello beauties!
Max Factor Just Deluxe Lipfinity is one of the six new shades the brand launched last year as part of Lipfinity Long Lasting Lipstick Collection (swatches, photos). I guess everyone remembers how long lasting the Lipfinity liquid lipsticks were, but how drying the formula was, so this is quite a new version of those, an improved version in a new product, no more 2 steps application, and a colors that lasts for hours on end without drying out your lips.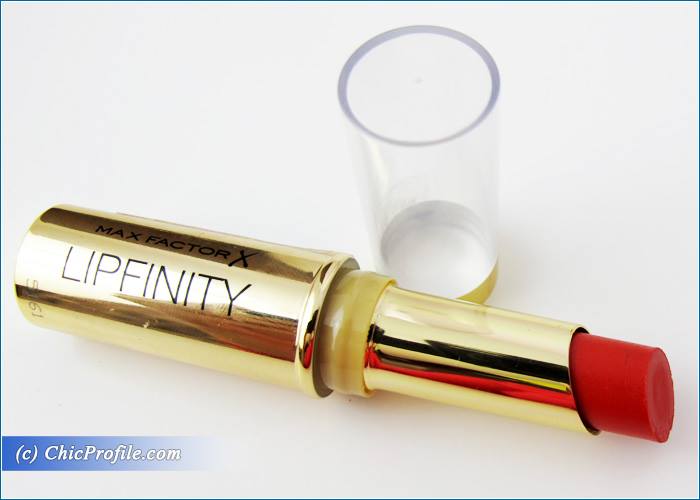 Availability
UK & International – Now at Boots, Superdrug
Romania – Now at Kendra, Douglas, Debenhams
Max Factor Just Deluxe Lipfinity (£8.99 / 60.00 Lei) is a medium but rich orange red with warm undertones and a subtle satin finish. The color as an opaque coverage, it's rich and pigmented and glides effortlessly across the lips.
The formula is creamy, not very thick, very comfortable on the lips. I like the way it applies but even though it tends to show a bit the lip lines, the strong and rich color covers that and the subtle satin finish gives a nice luminosity.
Max Factor Just Deluxe Lipfinity is definitely for those who are not color shy, it's a bold color and will definitely attract attention. The formula is quite nourishing but not extra moisturizing, it's long lasting and oil based.
I'm quite in the middle when I talk about the packaging as I like the golden case which makes it more elegant and high-end, but then the transparent plastic cap makes it look a bit cheap and doesn't go along with the rest of the lipstick case. If you think about it, the transparent cap gives it a plus when organizing your lipstick colors as you can easily see-through and pick up the color easily, but doesn't look so good in combination with the golden case.
Lipfinity does have a long-lasting formula, it wears on me for about 6-7 hours without drying my lips. When the color wears off it doesn't leave a stain and doesn't look patchy.
Enjoy more photos…