Hello pretties!
Dior Celeste (121) Diorshow Fusion Mono Matte is one of the four shades released last spring in a new formula. I love me some soft lavender as a spring eyeshadow and according to Dior, the color suppose to be soft, semi-sheer when applied with your fingertips and more pigmented when using an applicator or makeup brush. I tried it both ways as you can imagine and right after the cut you can read everything about how the application went and enjoy close-up photos.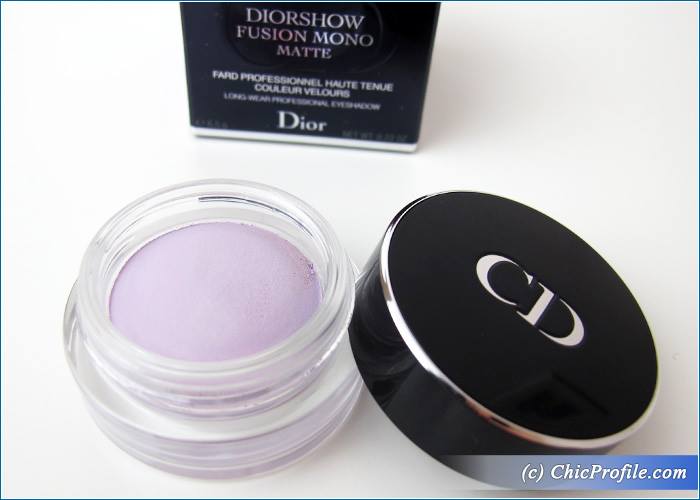 Availability
U.S. & International – Now at Dior counters, Sephora
Romania – Now at Sephora, Marionnaud
Dior Celeste (121) Diorshow Fusion Mono Matte Eyeshadow ($30.00 / 150.00 Lei for 0.22 oz.) is a very light lavender-pink with cool undertones and a matte finish. On me the color had a semi-opaque, medium coverage from the beginning, looking quite sheer when applied and swatched with my fingers.I  love the softness in this hue but it's quite hard to make it look more pigmented, even when paired with an eyeshadow base. It has quite a picky formula I would say, a bit difficult to work with but interesting in the same time.
I have oily lids so I can say I'm among the lucky ones on this aspect as it didn't felt so dry on me like I've heard it felt on others, on the contrary I got along quite well. When I swatched and applied it on my hand it felt dry, indeed but on my lids it was a normal feel.
It's easily blendable and can be sheered out quite as much if you desire. It will give you just a nice, subtle pastel matte hue, perfect for a spring and daily makeup look.
The texture is a cream-gel with a lightweight feel (comfortable for those with oily lids). It comes in a transparent glass jar with a black cap which bares the Christian Dior logo. Inside the packaging you will also find an applicator that you can use to intensify the color if you desire. I personally prefer to use my own makeup brushes, but the little guy does get the job done.
I had around 10 hours wear with this color before I noticed it was slowly fading away. I had no creasing during this time.
Enjoy more photos…