Hello sweeties!
Marc Jacobs Beauty launches new products this spring so I invite you to take a look at the new 6 products for lips, face and nails and also a new brush. Marc Jacobs Beauty Collection for spring 2014 offers bright new colors for lips and new products for your complexion so take a look at all the beauties right after the jump.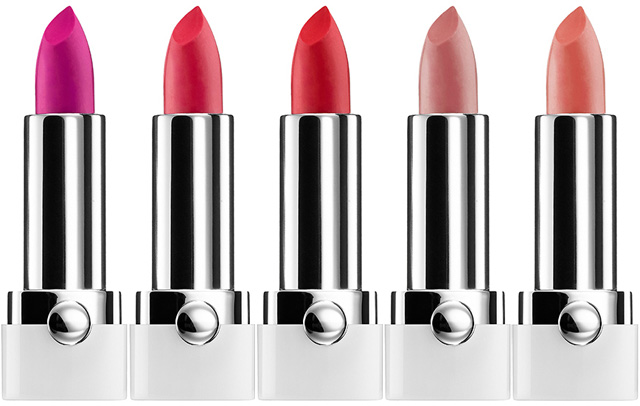 "I love the look of bright color and beautiful, clean skin," says Marc. "For me, it's perfect example of an "effortless" look that anyone can wear."
Marc's 3 new complexion products expand on his philosophy of Smart Complexion: modern, weightless formulas enhanced with innovative ingredients that act as treatments and perfectors, leaving an impeccable finish.
Availability
Now at Sephora and online @sephora.com
Marc Jacobs Beauty Collection Spring 2014
Marvelous Mousse Transformative Foundation – $55.00
This incredibly lightweight formula transforms from a smooth, refreshing mousse into a featherweight, full coverage powder texture thanks to proprietary Melt-on™ Technology. This luxurious formula is enriched with coconut and vitamin extracts to maintain optimal moisture levels, Indian Ginseng to soothe, and essential amino acids to reduce redness and provide anti-aging properties. Select from 12 versatile shades and apply with The Face II – Sculpting Foundation Brush for best results.
Ivory
Ivory Medium
Bisque Light
Bisque Medium
Beige Light
Beige Medium
Beige Deep
Golden Medium
Golden Deep
Fawn
Fawn Deep
Cocoa
Re(Marc)able Full Cover Concealer – $32.00
Richly pigmented and luxurious, this full-cover concealer is infused with anti-aging and nourishing ingredients, including soy protein, Shea butter and coconut oil to help repair, moisturize and rejuvenate the delicate skin under the eyes. The ultra-emollient formula easily blends with skin, fully covering spots, dark circles and blemishes to energize any look. Select from seven versatile shades that complement the range of Genius Gel Super-charged Foundation and Marvelous Mousse Transformative Foundation.
Awake
Alive
Young
Glow
Perfect
Fresh
Bright
The Conceal Full Cover Correcting Brush – $30.00
This first-of-a-kind angled concealer brush lets you sculpt your concealer over imperfections for a perfect, flawless finish. Featuring synthetic bristles, an asymmetrical head with flat tapered sides and a balanced handle, this brush allows for ultimate control and easy, precise application of
Re(Marc)able Full Cover Concealer.
Perfection Powder Featherweight Finish in Finish Line – $46.00
Add the finishing touch to your routine with this compact powder's patented weightless formula and silky texture. Infused with anti-oxidant red seaweed and hydrating bio-lipids, this anti-aging mattifying powder effectively sets foundation in place for all day wear while taking down shine and diffusing flaws. The universal shade – Finish Line – can be used on all skintones.
Lovemarc Matte Lip Gel – $30.00
Shout, gossip or pout like you mean it with these luxuriously matte lip gel shades, only available this Spring. Kokum and Murumuru butters replenish, nourish and moisturize lips for comfortable all-day wear with the silkiest matte finish. Create your own modern lip look with any of the five limited edition shades ranging from vivacious brights to sultry nudes. Designed for this collection only, the new Lovemarcs are encased in a matte black cap with a hi-lacquer white base and Marc's signature metallic button closure.
140 Gossip – Matte hot fuchsia
138 Shout – Matte bright watermelon
136 Scandal – Matte warm red
142 Pout – Matte soft nude
144 Flirt – Matte soft peach
Enamored Hi-Shine Nail Lacquer – $18.00
Get smitten with this fresh take on nail enamel. Inspired by Marc's highly lacquered coffee table, Enamored Hi-Shine Lacquer is formulated with patented bonding agents that deliver a plasticized, wet look, while the color-rich creams and fine glitters ensure vivid, chip-resistant wear.
152 Bark! – tree bark brown
Enjoy more photos…