Hello beauties!
Make Up For Ever Artist Rouge Lipstick collection for fall 2016 looked like a read deal to me. They come up with a variety of shades ranging from nudes to hot pinks, reds and edgy colors like green, blue and black, while they kept the finishes in just matte and cream. I had my eyes set on the pink tones but I wanted to check out a couple of nudes as well. Unfortunately at Sephora they don't have more than just a couple of shades so at my first visit, after doing some swatches I leaned towards C206, a gorgeous bright, magenta pink. Later on when I stepped into a different Sephora store where there were more colors, I found MUFE C207 Artist Rouge lipstick absolutely irresistible so I picked it right up.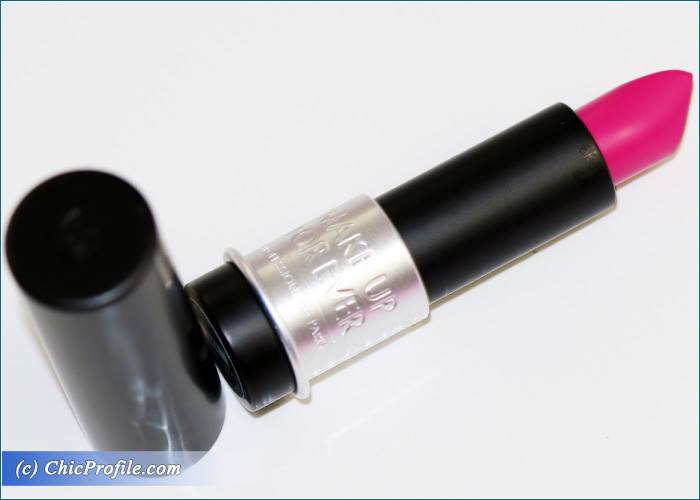 Where to buy:
Romania – Now at Sephora, MUFE Boutique, @sephora.ro
U.S. – Sephora and @sephora.com
Make Up For Ever C207 Artist Rouge Lipstick ($22.00 / 108 Lei for 0.12 oz. / 3.5 g) is a medium-dark super intense fuchsia with cool, blue undertones and a satin finish. It has a gently glossy finish, more like a natural sheen to it which makes this color pop.
The color is absolutely gorgeous, and those who are crazy over intense, hot pink shades will definitely agree with me. It may be too bright for some, being more appropriate for those who are not color shy. It has a great pigmentation, coming very rich and intense on the lips with almost an opaque coverage.
It applied well, gliding easily and evenly without tugging on the lips. It felt so comfortable without any feelings of dryness throughout the wear. It has a creamy formula, slightly thinner but it does makes lips feel soft and smooth. It doesn't sink into lip lines and will make them appear fuller. The formula is creamy but without being too slippery, thick or too emollient. It feels more like a light cream which I definitely enjoy.
I don't know about you, but even if I'm on my 30's I like a bright, intense pink lip and I'm not afraid to wear it even in the middle of the day (it does attract attention) but especially in the evening or when I got to a party or a club.
I found the formula to be long wearing as I had around 7 hours wear and when the color disappeared it left a strong fuchsia stain behind. I personally love lipsticks who leave a pink stain behind as I can get at least one or two more hours wear with the look of a fresh lip. The formula had a very fine rosy scent without any discernible taste to me.
Enjoy more photos…