Hello beauties!
Today I want to talk to you about Make Up Factory Enchanted Earth Eye Colors, a quadra eyeshadow palette which I've been testing for the past few weeks. This new palette is featured in the Make Up Factory Fall Winter 2013 Collection (color story & photos) which is already available on the counters.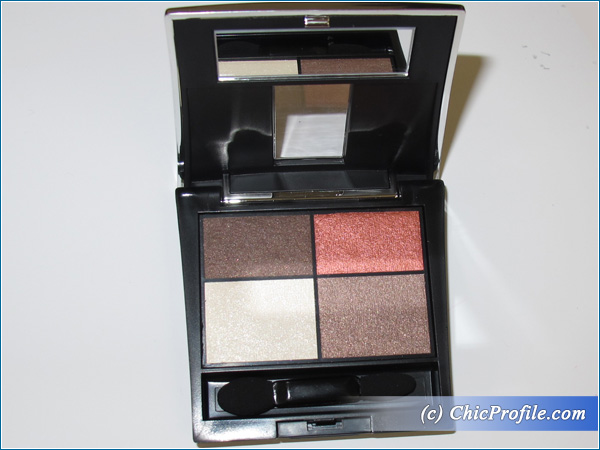 Availability
Now at Douglas
Make Up Factory Enchanted Earth Eye Colors (75.90 Lei) contains 4 eyeshadows in autumnal colors but without individual names. All of them have a silky textures, are easily blendable, apply smoothly without fall-out and are highly pigmented without an eyeshadow primer.
I've swatched and tested each shade on bare skin but also over Too Faced Shadow Insurance Primer and Urban Decay Eyeshadow Primer Potion. On bare skin all of the shades had a good color payoff, were easily buildable and blendable and offered a metallic satin finish. Over each of the eyeshadow primer the shades look obviously more pigmented but over the Too Faced Shadow Insurance they bring out more of that metallic sheen while over the Urban Decay Eyeshadow Primer Potion they tend to look a bit more mattified. I really recommend the Enchanted Earth Palette to all those who like autumnal shades, pigmented and long-lasting colors.
I had almost 8 hours wear with all of the shades from this quad, without creasing or fall out but what I noticed after so many hours was that the metallic sheen was diminished and the shades looked a bit mattified.
Shades:
No. 1 shade is a light dirty white with yellow undertones with slightly gold shimmer. This shade could be used as a highlighter on the brow bone. It is very pigmented used over an eyeshadow primer but it bring out more of that metallic sheen without a primer.
No. 2 shade is medium warm chocolate brown with gold, pink and coral shimmer. It looks pigmented on its own without a primer and has a beautiful metallic sheen while those colorful shimmer particles capture the light and reflect a warm brown.
No. 3 is a very pigmented medium copper with gold shimmer and high metallic sheen. This shade has the most powerful metallic finish which changes depending on the eyeshadow primer used.
No. 4 eyeshadow is the darkest color from this palette, a dark intense brown with delicate gold and copper shimmer. This color has the least metallic sheen from all of the 4 shades which looks slightly mattfied while applied over Urban Decay Shadow Primer Potion.
Enjoy more photos…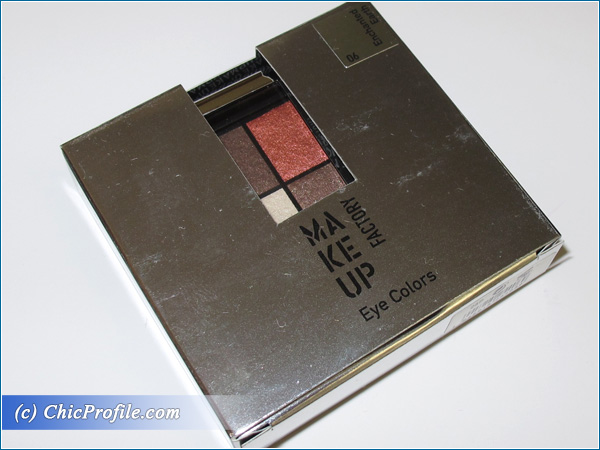 Make Up Factory Enchanted Earth Eye Colors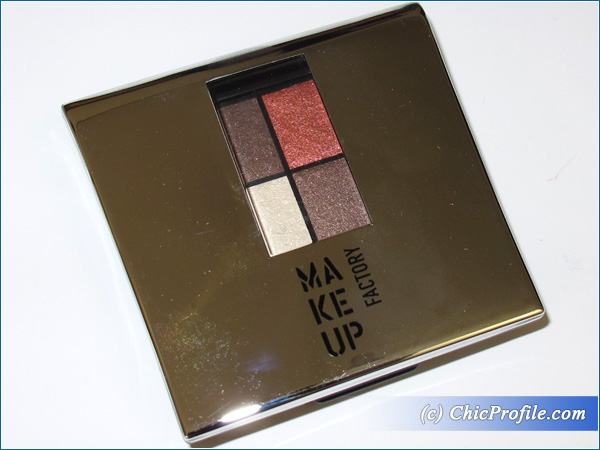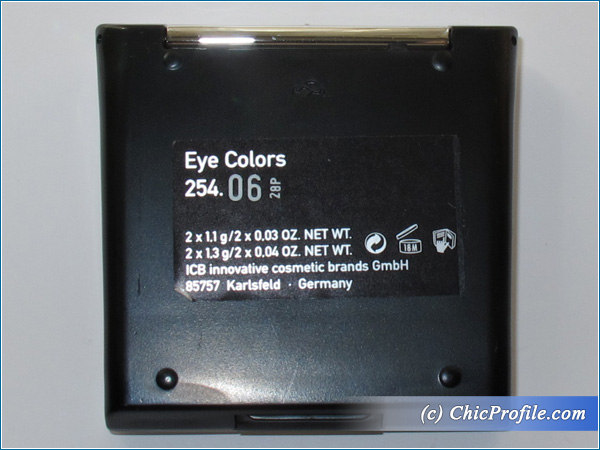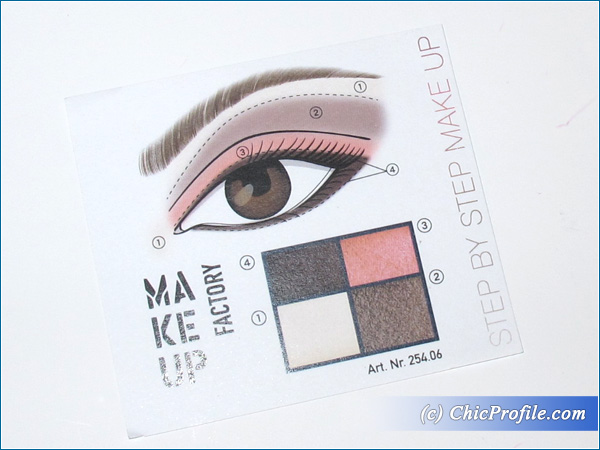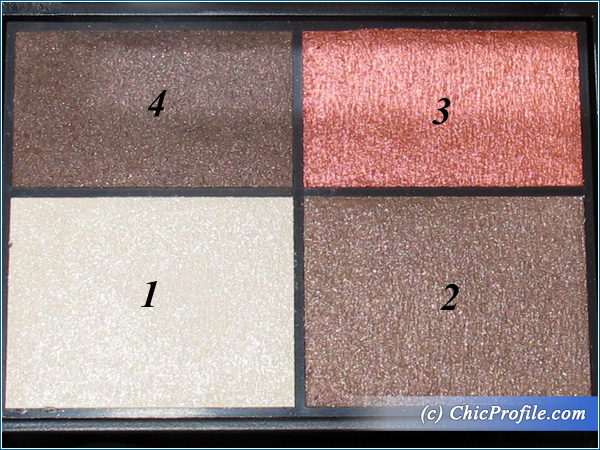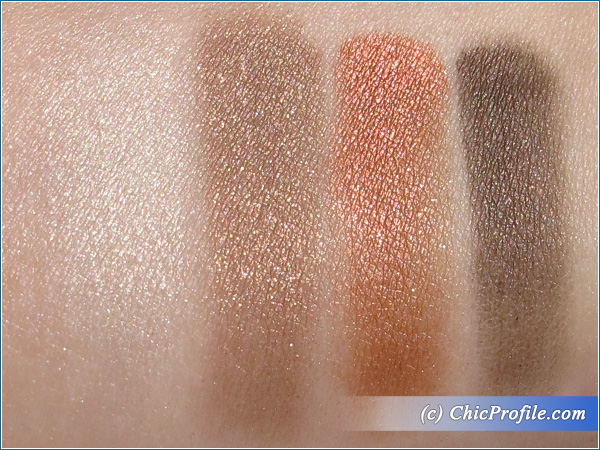 Make Up Factory Enchanted Earth Eye Colors – Swatches without eyeshadow primer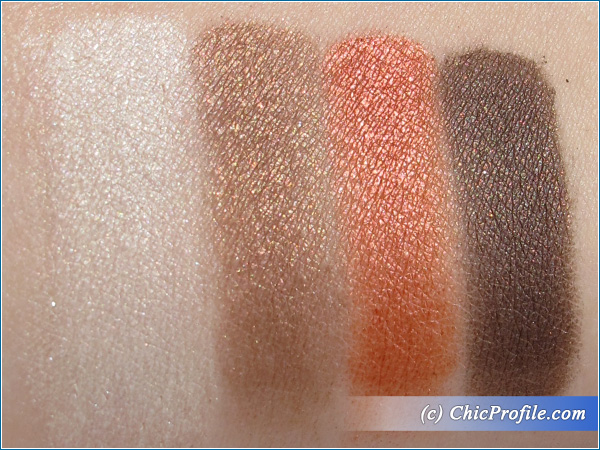 Make Up Factory Enchanted Earth Eye Colors – Swatches over Too Faced Shadow Insurance Primer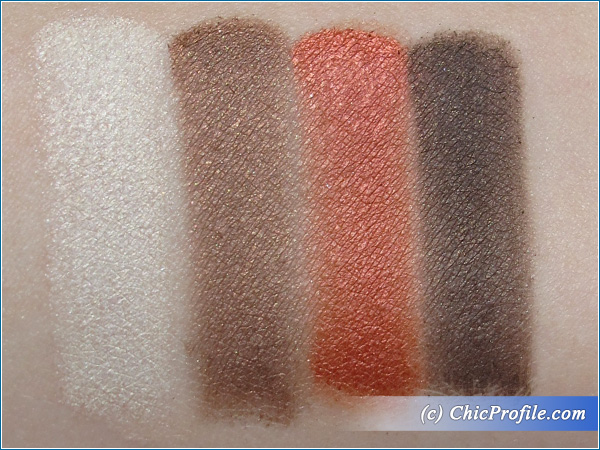 Make Up Factory Enchanted Earth Eye Colors – Swatches over Urban Decay Eyeshadow Primer Potion