Hello beauties!
Today I was spoiled by Tresor Lumineuse Eau de Parfum , a new fragrance for women released earlier this year by Lancome. The legendary bottle of Tresor, was transformed along the years and this new scent reveals an intense pink juice inside a smaller bottle inspired by the luxury glassware and sophisticated jewelery. The nose behind this fragrance is Dominique Ropion.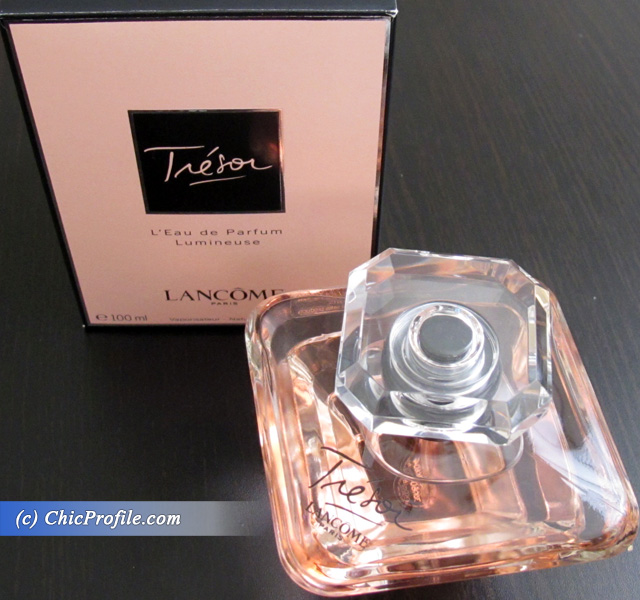 Availability
Now at Sephora, Douglas, Nordstrom and online @lancome.comLancome Tresor Lumineuse Eau de Parfum (€100.00 / $95.00 for 100 ml/ 3.4 fl oz or 318 Lei for 50 ml) is a oriental floral fragrance with praline as top note, followed by Damask Rose and violet leaf as middle notes and closing with vanilla, musk and woody notes.
The new Lumineuse is delicate and feminine and it impressed my olfactory senses right from the first sniff with its strong wave of praline notes making me categorize this scent as sweet but without being over the edge. The praline top note was quickly replaced by Damask Rose and violet leaf accords which were at first strongly felt by my nose on the same proportions as the vanilla base note but after half an hour the strongest fragrance notes to lead the Tresor Lumineuse remained only the praline, vanilla and violet followed discreetly from behind by the delicate rose.
I felt all these notes were harmoniously combined to create the new Lancome Tresor Lumineuse EDP, a light and sweet fragrance inducing a romantic atmosphere an enigmatic, captivating and deep sensuality.
After a couple of minutes from the first spray when the praline notes sunk into the skin, the heart notes entered the scene revealing a strong romantic scent and a fresh sweetness which surrounded me for another 15 to 20 minutes before they melted into the vanilla, musk and woody notes.
This should definitely be perceived as a scent with sweet accords, which instantly induces a romantic atmosphere, making you feel sensual while giving a new twist on the classic Lancome Tresor Eau de Parfum (review & photos).
I would wear this new fragrance especially during summer or anytime I want to be surrounded by a romantic and sensual feeling or why not on those special dates. The scent persisted on my skin between 6 and 7 hours before feeling the need to reapply it for a new dose of light, delicate and romantic accords.
Compared to the classic Tresor the new Tresor Lumineuse has definitely a sweeter twist, easily revealing its star notes which will accompany you for many hours but without being felt like a deep and complex fragrance as the old Tresor. On my skin the new version lasts a little less than the legendary Tresor and does not leave the same strong scent on my clothes.
Enjoy more photos…