Hello babes!
Back in summer a first look at Laura Mercier Holiday 2016 Collection was enough to know that is going to be irresistible and some items should definitely be checked on my wishlist. Laura Mercier has recently unveiled her Christmas 2016 makeup offerings so take a closer look and have fun shopping!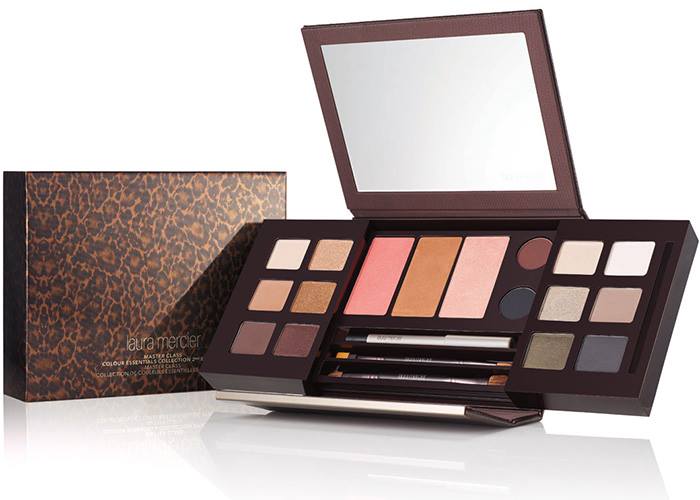 Availability
U.S. Launch Date – Now at Neiman Marcus and online @lauramercier.com
UK Launch Date – Now at Selfridges
International Launch Date – October 2016
Laura Mercier Holiday 2016 Collection
Laura Mercier Master Class Colour Essentials Collection, 2nd Edition – Limited Edition – $125.00 / £90.00
An essential colour collection for eyes and cheeks, complete with the tools to create endless looks for any occasion.
Includes:
12 Eye Colours: Etoile, Bronze Glow, Minx, Pewter Dust, Gilded Pines, Vanilla Nuts, Café Au Lait, Espresso Bean, Poison Ivory, Stone Taupe, Noir, Stellar
Second Skin Cheek Colour: Riche Nectar
Face Highlighter: Pink Haze
Bronzing Pressed Powder: Soleil Bronze
Tightline Cake Eyeliner: Black Ebony, Mahogany Brown
Longwear Creme Eye Pencil: Noir
Double Ended Eyeliner Brush
Double Ended Eye Colour Brush
Laura Mercier Going Glam Palette – Limited Edition – $56.00 / £35.00
A complete look in one convenient compact, this double decker palette features the ultimate classic colour essentials for on-the-go glamour.
Includes:
4 Eye Colours: Vanilla Nuts (matte), Coffee Ground (matte), Steal Pink (luster), Boudoir (luster)
2 Second Skin Cheek Colours: Bellini, Poesie
1 Lip Glacé: Bellini
Laura Mercier Essential Art Eye & Cheek Palette – Limited Edition – $65.00
Laura brings her artistry to this exclusive iconic colour collection of must-have makeup essentials.
Includes:
8 Eye Colours: Posh Plum, Steal Pink, Graphite, Etoile, Fresco, Morning Dew, Butter Cream, Sapphire
Matte Radiance Baked Powder: Highlight-01
Baked Blush Illumine: Rose
Laura Mercier Double Impact Eye Colour Collection – Limited Edition – $58.00 /£45.00
A fabulous palette of hand-selected shades by Laura for high impact colour
Includes:
9 Matte: Dune, Wind, Earth, Bone, Love Potion, Venomous, Poison, Hypnotic, Voodoo
1 Sateen: Spirit
2 Shimmer: Rock, Dust
Laura Mercier Layer Up Holiday Caviar Stick Eye Colour Collection – Limited Edition – $38.00 / £41.00
A collection of Laura's favorite do-it-all sticks for endless holiday looks.
Set includes:
Deluxe Caviar Stick Eye Colour in 4 shades: Rosegold, Amethyst, Aubergine and Tuxedo
Laura Mercier Smoke & Mirros Set – Limited Edition – $32.00
Get a deep, dark sultry eye look with this exclusive duo.
Includes:
Extra Lash Sculpting Mascara in Black Onyx
Kajal D'Orient Eye Liner in Noir Supreme
Laura Mercier Kiss of Shine Lip Glacee Collection – Limited Edition – $52.00 / £35.00
Treat your lips to a kiss of shine with a limited edition collection of five deluxe Lip Glacés.
Shades:
Angelic, Blush, Cosmic, Wildflower, and Black Cherry
Laura Mercier Brush It On Luxe Brush Collection – Limited Edition – $98.00 / £70.00
Professional Makeup Artists know that the right tools make all the difference. The perfect look begins with the perfect brushes. This new Luxe Brush Collection has all you need to sculpt, highlight, contour and define. True artistry at its best and most luxurious.
Set includes:
6 Travel Brushes enclosed in travel-friendly brush roll: Cheek Colour Brush, Secret Camouflage Brush, All Over Eye Colour Brush, Eye Crease Brush, Flat Eyeliner Brush, and Ponytail Brush
Enjoy more photos…