Hello beauties!
I know this review is long overdue since MAC Vamplify Collection (info, photos) was released last year as a limited edition, but is not like I haven't talked to you about this shade of MAC Vamplify Push Some Buttons before. Right when I got it, I gave you a quick peek on Periscope and Youtube and later on I even posted lip swatches when I used it in my Boudoir Makeup Look Tutorial (photos). I stumble upon this shade a few days ago and I was reminded that I haven't quite posted a proper review, so here I'm back with a full disclosure. You know that MAC Vamplify was one of my favorite MAC 2015 Collections and I was so excited to see the products on the counters and even went to shop right away and did some swatches for you guys in a live Periscope broadcast.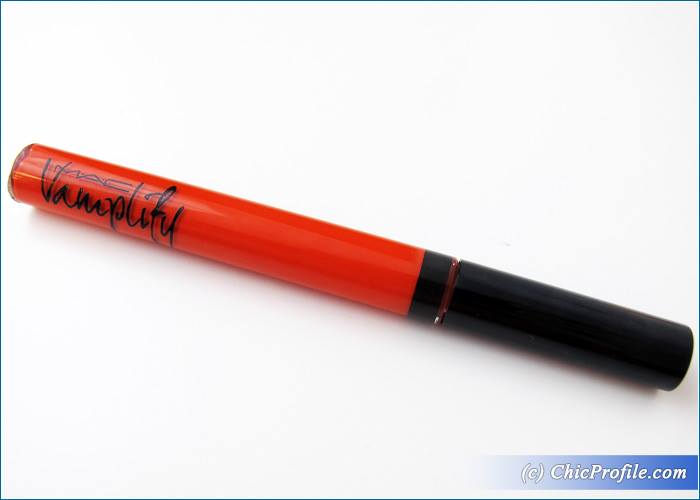 I truly believe MAC did an amazing job releasing this collection, the colors were absolutely gorgeous, strongly pigmented and with a great formula. I felt in love with this collection right there on the spot when I did the first swatches and I purchased right away MAC Vamplify How Chic is This (review, swatches) a color that was love at first sight for me. When I returned to the MAC shop after a few days, most of the collection was sold out, or at least the colors I was planning to get so I feel sad even now for not buying a few more shades on my first visit.
MAC Push Some Buttons Vamplify ($20.00 / 97.00 Lei for 5 ml/ .16 oz) is officially described as an intense orange-red. It's a bright, medium orange with warm undertones and a glossy finish.
It had an opaque color coverage in one swipe, very rich and pigmented. The doe-footed applicator glided effortlessly on my lips, delivering an intense color that didn't sink into my lip lines. It feels so comfortable on the lips, lightweight feeling, without being sticky or tacky.
I absolutely love the delicious shine finish, as it makes my lips appear fuller, not to mention it gives them a fresh plum appearance. The formula contains natural oils and moisturizes the lips so I haven't felt them dry for one second. The glossy colour wears on for hours on me, it looks intense and it's totally attracting some looks on the way.
MAC Vamplify Push Some Buttons is definitely a not meant for those who are color shy, but on the contrary for someone who likes to stand out in the crowd. For some reason I always felt more confident when wearing MAC Push Some Buttons lip lacquer and had this seductive attitude.
I had about 6 hours wear with this color and even after I had a meal, I still had a decent amount of color left on my lips without feeling the need to re-apply.
Enjoy more photos…