Hello lovelies!
MAC Padma Lakshmi 2018 Collection just been officially announced. I have a few promo photos for you waiting after the cut. The launch date is yet to be announced later on.
Beauty, brains, glamour and the fierceness to handle the world's spiciest foods – Padma Lakshmi's talents have taken her from actress to cookbook author extraordinaire, top model to host of Top Chef…and now, to designer of a M∙A∙C capsule collection!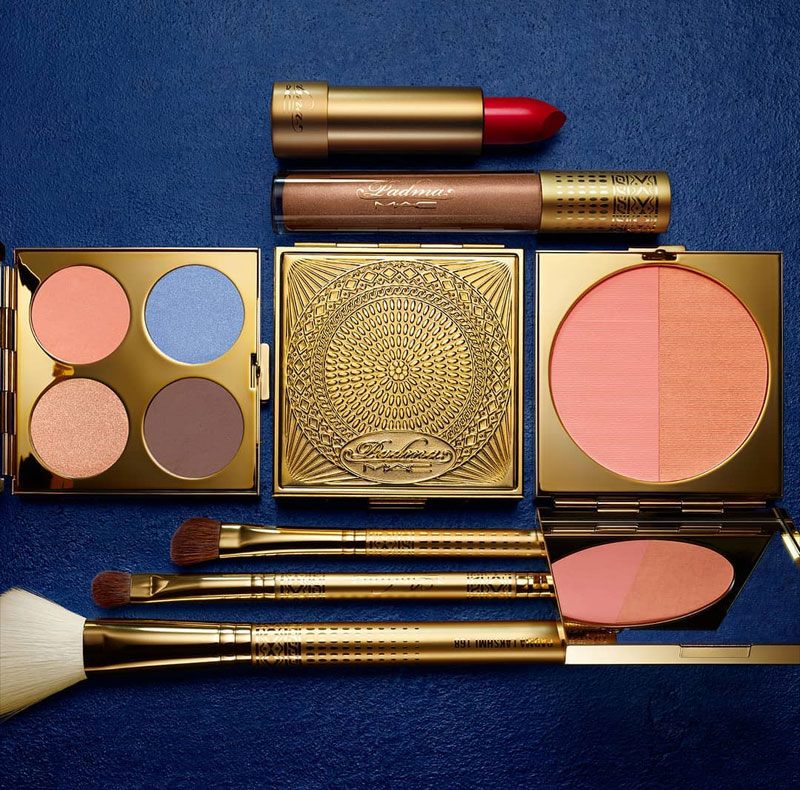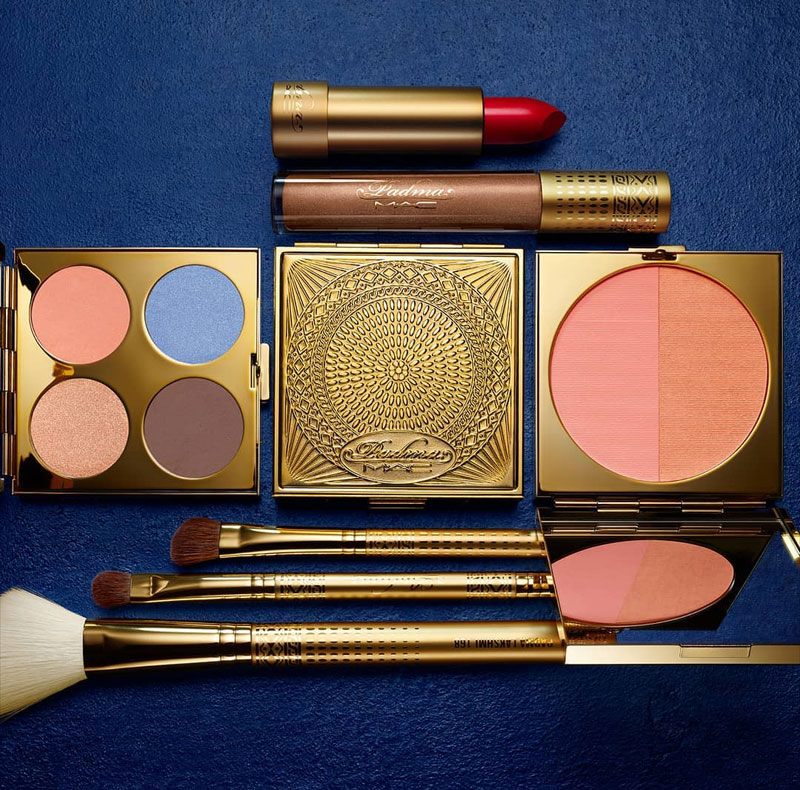 Availability
U.S. Launch Date – 15 March 2018 at MAC Cosmetics
MAC Padma Lakshmi 2018 Collection
The new MAC Collection will include a curated eye shadow palette and individual colours for eyes, lips and cheeks. They are designed to take you from day to deep night – and last through all the culinary adventures in between.
Everything I'll find out about MAC Padma capsule collection I will share with you on Instagram first. Make sure you are following me for all the juicy updates.
So far I've heard about lipsticks in blue-toned reds and muted purples, dual-ended eyeliner in blue and agree, limited edition brushes. Of course the center piece of this collection is the new Eyeshadow Quad palette in shades from light pink to icy blue paired with a duo blush.
Stay tuned for more details!!!
Desert Dusk Eyeshadow Quad – Limited Edition – $33.00 U.S. / $43.50 CAD
Indian Moon

Creamy gold with sparkle (Veluxe Pearl)

Shell Peach

Muted peachy pink (Satin)

Hopper Blue

Sky blue with white sparkle (Veluxe Pearl)

Natural Brown

Deep creamy brown (Matte)
70's Sunset Eyeshadow Quad – Limited Edition – $33.00 U.S. / $43.50 CAD
Sand & Clay

Mid-tone cool beige (Matte)

Cardamom

Cool light green with white frost (Veluxe Pearl)

Mumtaz

Coppery purple with gold sparkle (Veluxe Pearl)

All's Rosy

Mid-tone plum with gold (Matte)
Lipstick – Limited Edition – $17.50 U.S. / $22.00 CAD
Sunset Rose

Creamy brown with pearl (Cremesheen)

Nude Fudge

Mid-tone neutral (Matte)

Blue Blood

True red (Matte)

A

pricot Gold

Mid-tone peach nude (Amplified)

Mittai Pink

Hot fuchsia (Matte)

Sumac

Deep plum (Matte)
Cremesheen Glass – Limited Edition – $21.00 U.S. / $24.00 CAD (Online Only)
Nefertiti

Peachy gold with sparkle
Powerpoint Eye Pencil (Dual-Ended), $18.50 U.S. / $22.50 CAD
Iced Heather/Kerala Sun

Silver frost/Pure gold

Indian Ink/Mossy Green

Pure black/Deep green

Bordeauxline/Mole Brown

Deep plum/Cool brown
Powder Blush Duo, $33.00 U.S. / $43.50 CAD (Limited Edition)
Moon & Shine

Frosty highlight (Frost) / Warm beige (Matte)

Melon Pink

Bright peachy pink with gold sparkle (Satin) / Mid-tone orange (Frost)
Brush – Limited Edition
168SES

Large Angled Contour Brush ($35.00 U.S. / $42.00 CAD)

275SES

Medium Angled Shading Brush ($25.00 U.S. / $30.00 CAD)

213/219SES

Fluff Brush / Pencil ($35.00 U.S. / $42.00 CAD)