Hello sweeties!
MAC My Mini Extra Dimension Skinfinish was one of my top picks from MAC Holiday 2016 Mariah Carey Collection (info, photos) which was a limited edition release. I went for some light shopping yesterday at Sephora (they have sales btw) and I saw at MAC counters they still have products from this collection available. Like most of you out there, I was head over heels over the packaging of MAC Mariah Carey collection and since this gorgeous extra dimension skinfinish was announced as one of the star products, I had to have it. What really blew away customers, was by far the gorgeous glittery packaging and unique patterns on the products. I'm not really a sucker for limited edition packaging but I'd have to admit this collection really got me. What I find obscene at this product is the high price (extra $12.50) which doesn't really explain the packaging or the quality of the product, but I guess it's luxurious just like Mariah.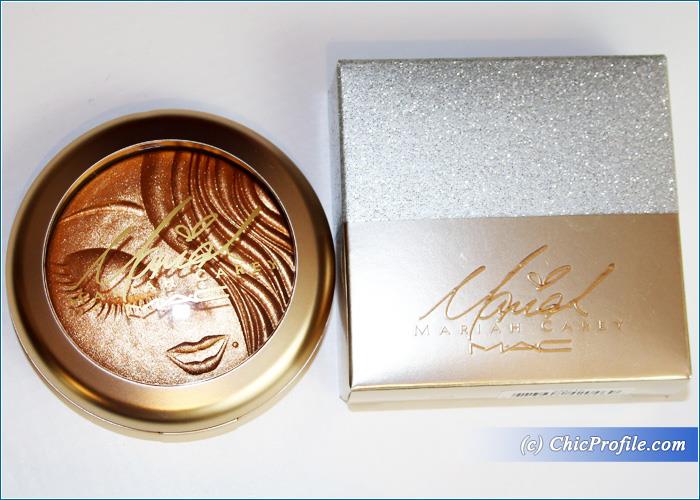 MAC My Mimi Extra Dimension Skinfinish ($45.50 / 193.00 Lei for 0.35 oz.) is described as a warm gold shimmer. I see it as medium coppery-brown with gold, sparkly shimmer finish. It had a fairly good color payoff, with a semi-opaque coverage.I won't make extra comments regarding the packaging as you can see it in the photos and it's absolutely beautiful…a golden compact with a transparent lid that snaps shut, and that pattern…oh my!
The texture felt very smooth and soft to the touch but at the same time had some dryness to it, especially when applied. It showed easily buildable coverage but more prone to separating  during the application and looking a little bit patchy overall. I would expect that for this high end price the overall formula and application would be good if not awesome.
I'm a little bit disappointed by how this product really performs, even the "long-lasting formula" was taking a shortcut. On me it lasted almost 7 and half hours when the brand promised at least 10. Light skin tones like mine would better use a light hand when applying this product as it can easily look to intense.
Enjoy more photos…