Hello pretties!
You already know about my picks from MAC Holiday 2016 Mariah Carey Collection so today I want to post my review for MAC I'm That Chic You Like Eyeshadow Quad. There were actually two eyeshadow quads released as a limited edition, part of this collection and even though they were both available when I entered MAC store, I decided to choose only this one. As you know the exquisite packaging had an impact on the price for this collection overall, so each item was more expensive that usual. I personally like the combination of brown and gold shades and this palette seemed like the best choice for something I'd wear in the evening or special occasions. I actually used the shades from this palette on my New Year's Eve makeup look as they lean to a shimmery finish and they are more suitable for a party or glamorous event.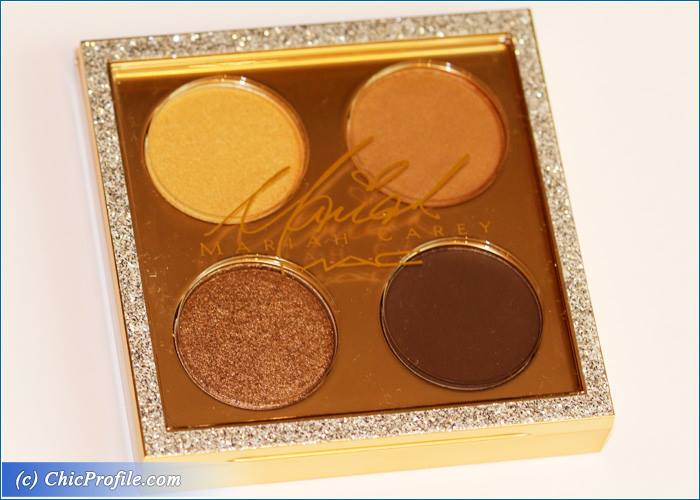 Where to buy:
Romania – Now at MAC Locations
MAC I'm That Chick You Like Eye Shadow x 4 ($41.00 / 184.00 Lei for for 0.19 oz.) is a set of four neutral shades with a shimmering finish. The limited edition palette comes in a glittery compact with a transparent lid and a magnetic closure. What I like about the packaging besides the fact that you can always see the shades is the fact that even though the edges are glittery they are super smooth to the touch. The shades from this palette are easily dupable so I understand why some of you were not really into this palette.
Whenever You Call Eyeshadow is a light gold with warm undertones and veluxe pearl finish. It has highly pigmented even though it's such a light shade. The swatches I made were on bare skin without any eyeshadow primer and you can see the beautiful frosted finish and yellow undertones. The texture was really soft and smooth to the touch and easily blendable. I absolutely love playing and wearing this shade, while combining it with shades of brown, black and purple. It adheres well onto the skin without any fall out during the application. I had about eight hours wear before it started to show signs of fading.
Can't Escape Me Eyeshadow is a light-medium peachy-brown with warm undertones and a satin finish. It had semi-opaque color coverage and was easily blendable. The texture felt a bit dry and not so smooth to the touch as the previous shade. It wore well for about seven hours on me before starting to fade.
Golden Petals Scattering Eyeshadow is a medium-dark, warm brown with gold sparkle and a frost finish. Unfortunately this shade was really disappointing as the the texture felt so gritty to the touch and had a dryness to it. It really was a pain to swatch it on bare skin, due to so much fall out. The sparkly particles seemed to separate during the application which ended in more fall-out during the application. I wore it over TFSI and UD primer potion and I didn't like how it performed. I had around 7 hours wear but with noticeable fall-out during the wear. Since it doesn't adhere so well onto the skin over a primer or a cream base, I think a tacky base would surely do the trick…something you'd use for glitter.
How You Thrill Me Eyeshadow is a dark coffee brown with neutral-to-cool undertones and a satin matte finish. It show a semi-opaque color coverage but it was easily buildable to a more intense color when applied over an eyeshadow base. When swatched the color disappointed me as it looked patchy and uneven but the application was totally different. The texture is smooth so it adheres well onto the skin and shows an even color. It's easily blendable. I had eight hours wear with this formula without any fall out.
Enjoy more photos…