Hello sweeties!
The holiday season might have ended but Dior Treasure Diorific Matte Fluid is still one of my top lip color choices. I was fascinated about Dior Diorific Matte Fluid launch as you know I blogged so much on this subject and even showed you lip swatches of all the shades long before the product hit counters. I was indeed super excited to try out the new formula and play with all the colors, minus the red Luxury shade which is not for me, but when I saw the retailed so expensive, I kind of stopped myself at only one shade. Now, almost two months later I feel like I want to buy one more shade and I was thinking of Marvel (002). Dior Diorific Matte Fluid Lip & Cheek Velvet Colour is a limited edition release part of Dior Holiday 2016 Splendor Collection (info, photos) and like the description says, you can use it both for lips and cheeks.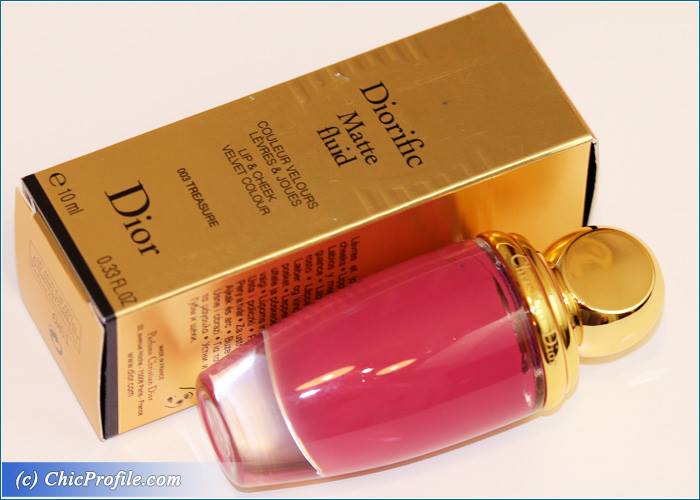 Where to buy:
U.S. – Now at Sephora, Nordstrom, Neiman Marcus
Romania – Now at Sephora, Douglas, Debenhams
UK – Now at Selfridges
Dior Treasure (003) Diorific Matte Fluid ($38.00 / £28.50 / 193.00 Lei for 10 ml / 0.33 fl oz) is a medium-dark rosewood with blue undertones and a soft matte finish. It has a good color payoff, but not a very rich and intense pigmentation that will look bright or totally opaque on the lips.It offers enough color that will change your natural lip color with a light texture and elegant feeling. Its formula delivers a delicately powdery cream that seems close to a velvety veil of radiant, matte color. As I was saying earlier when I reviewed Giorgio Armani Garconne Lip Magnet (swatches, photos), I absolutely like a matte lip finish but I dislike the drying and uncomfortable sensation. So after I tried the lip magnets, Diorific Matte Fluid has become my second favorite when it comes to matte liquid lipsticks.
It has a very thin and lightweight consistency that it is so comfortable on the lips, like you wouldn't be wearing anything at all. It doesn't sink into lip lines, not even after it dries down to a matte finish. It applies evenly and smoothly, leaving lips feeling smooth.
I feel that is has a forgiving formula as well and if you make a mistake when you a apply it, you can quickly correct it as it doesn't dry so fast like other matte liquid lipstick do. I always have a sense of lightness and elegance and I'm applying this product. You can intensify the color and apply up to 2 or 3 layers of color and give it even more opacity.
How to wear it:
Apply to the lips from the cupid's bow to the corner where the lips meet. For blush, smile and dab a touch of fluid on the cheek bones. Blend up the cheeks with circular movements.
It's so easy to apply it on the cheek bones as well, using it as a liquid blusher that will instantly give you a fresh pop of color. Treasure may seem a bit too intense for a light skin tone like mine, so you don't have to over do it. Dabbing only 2 dots of product is enough for me and if I want to make it even lighter I'll use my beauty blender and just sheer it out. 🙂
Now talking about how long wearing the formula is….I will say that it will last on your lips for about 2 to 4 hours tops and that's if you are not eating. After I had a meal the color is gone and I don't see a stain behind, even though I'd really preferred it. On my cheeks it behaves better and it's a nice touch of color, a nice formula to play with now during the cold season.
Enjoy more photos…