Hello pretties!
Many will agree that MAC Holiday 2016 Mariah Carey Collection was one of the most desired makeup collections of this season. For me personally it was an adventure to purchase these few products because most of the collection was sold out when I got to the counters. I had my wish list ready months before this collection launched, but so it came to pass that the launch date didn't match my salary date. 🙂 So basically when I was ready to start shopping, I had to call every MAC counter in my city and ask what products they still had available…unfortunately only these three came home with me. I admit I wanted the Loose Powder and another lipstick shades, but they were among the first products to fly off counters. MAC Mariah Carey Collection has definitely got everyone's attention with its bling-bling sparkling packaging and the beautiful butterfly pattern on the lipstick or don't even get me started on that gorgeous Extra Dimension Skinfinish.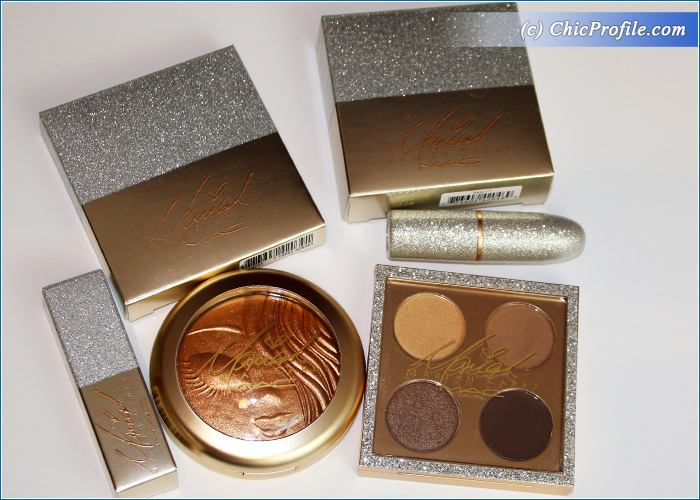 Where to buy:
International – Now at MAC Locations and online
Romania – Now at MAC Locations
MAC Holiday 2016 Mariah Carey Collection My Picks
In the end I was still happy that I manged to buy at least a few products and I got home and give it a try right then and there. So, I know I'll be a little behind on those reviews but I will still post them in the upcoming days.
MAC Extra Dimension Skinfinish in My Mini ($45.50 / 193.00 Lei) comes in a copper-brown with gold sparkling finish, which I knew it could come too pigmented on a light skin tone like mine, but I just couldn't resist not buying it. The price of this one seems extremely high to me, especially since I read the reviews before purchasing and they were not that positive, but I truly wanted to have it in my makeup collection.
MAC I'm That Chick You Like Eye Shadow x 4 ($41.00 / 184.00 Lei) features four neutral, warm-toned shades with satin, frost or veluxe pearl finishes. It comes in a special, limited edition glitter trimmed compact, with a transparent lid and a magnetic closure. The color variation is not that impressive, I found the shades to be easily dupable, but again…I just wanted to make it part of my collection and get to see how it performs overall.
MAC Dahhlinggg Lisptick ($20.00 / 99.00 Lei) is a pinky peach with a cremesheen finish which is well known to my taste. I particularly wanted to have two shades from this collection, the other one being MCizzle, a cool peach that was sold out instantly, obviously because of the glittery packaging which actually feels smooth to the touch and because the butterfly pattern had me falling in love with this lipstick. I thought a nude, peach would be something that I was missing from my lipstick collection, but honestly it comes incredibly light on my lips making me look very pale, like I'd have concealer on my lips…at least this is the look that I get when I'm wearing this lip color without too much makeup on, or a very light, natural eye makeup.
So this was basically what I came home with from my visit at three MAC counters and I honestly wish I could have gotten the rest of the items on my wishlist, but I'm still happy with what I got. 🙂
How about you lovelies? What did you get from this collection? In Romania the star products were sold out almost instantly and a week later you can hardly find some lip glosses, lip pencil and the eyeshadow brush. 🙂
Enjoy more photos…