Hello pretties!
I couldn't go buying Estee Lauder Holiday 2016 Blockbuster (review, photos) without getting the Estee Lauder Holiday 2016 Skincare Superstars (official info, promo photos) set as well. The fact is that last year by buying Estee Lauder Holiday 2015 Beauty of the Night Collection (review, photos) I discovered some really great skincare products and I said to myself I'll try and take advantage of this year's holiday offers as well and get me more Estee Lauder skincare. It's true that some of these products were already known to me, while others were included in the holiday 2016 blockbuster as well, but I wanted to give away some of these goodies as a holiday gift to a dear one.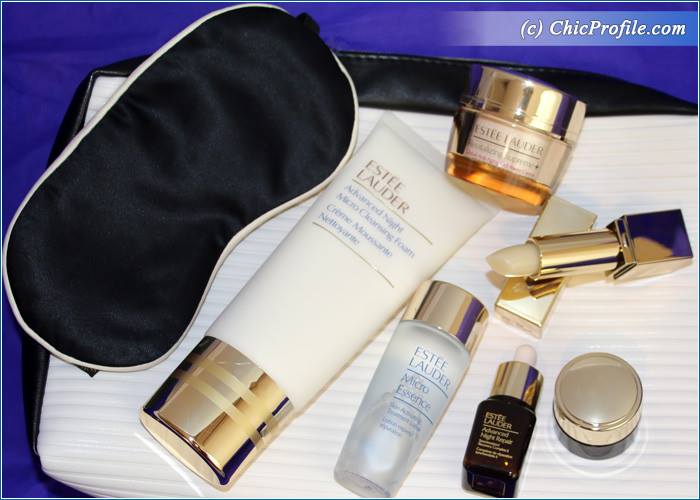 Availability
International – Now at Estee Lauder counters and online
Estee Lauder Holiday 2016 Skincare Superstars – Limited Edition – £40.00
This high-performance skincare collection includes:
Deluxe gift-size Revitalizing Supreme + Global Anti Aging Cell Power Creme, 15ml
Full-Size Advanced Night Repair Micro Cleansing Foam
Advanced Night Repair Synchronized Recovery Complex II, 7ml
Advanced Night Repair Eye Recovery Complex II, 5ml
Micro Essence Treatment Lotion 30ml
Lip Conditioner (Full Sized)
Eye Mask
Travel Bag
Even this morning, right after my skincare routine, I applied the lip conditioner which actually does a pretty good job in keeping my lips soft and moisturized on these cold winter days. I see it like a luxurious lip balm and obviously the golden packaging is "to blame" for that, so it's a real pleasure to carry it with me in my bag.
The ANR travel size serum was a nice addition to this set and an amazing skincare product that you should definitely give it a try sometimes. I already had it in full size included in the blockbuster holiday 2016 collection so I preferred to give it away so someone else could try it and be amazed by what it can do. ANR eye recovery complex was also known to me from last year's skincare set and I must say I used it with pleasure for a month or so, but I didn't see those outstanding results so I was a bit disappointed. I was used with La Mer and La Prairie eye cream so when I came to using Estee Lauder afterwards, the results were obviously not as great as I was used to.
I kept the Revitalizing Supreme + Global Anti Aging Cell Power Creme for my mom, as I've been already using another face cream at the time I got this set, so she's enjoying it a lot at the moment. Actually the only product I didn't get to try yet and still waits patiently in my drawer is the Advanced Night Repair Micro Cleansing Foam in full size. I'm actually not very fond of foam cleansers but I do use them a couple of times a week and I like to keep them in my bathroom and apply them before taking a shower. At the moment I'm friends with Perfectly Clean Multi-Action Foam Cleanser/Purifying Mask which has been great to my skin and did a good job (not great though) in removing my makeup (definitely a no for waterproof makeup).
Make sure you are following me on Instagram if you want to be updated on the latest beauty releases but also to check out the products I purchased lately and what's coming up for review on the blog. I admit I don't always find the time to post about everything I purchase but I always will give you a sneak peek on Instagram. 🙂
Enjoy more photos…