Hello cuties!
I won't have time to post the reviews for Dior Spring 2017 Colour Gradation Collection (official info, photos) this year but after the sneak peek and unboxing video from Instagram the other week, I though a couple of swatches will give you more perspective. These were my top three picks from this collection, but I'm hoping I'll get more items in January, just for the sake of reviews and because I know some of you are interested in the eyeshadow palettes as well.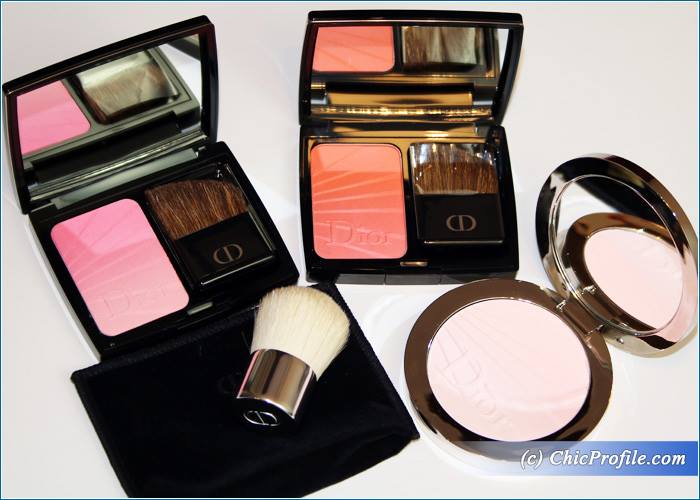 Availability
U.S. Launch Date – January 2016
I personally purchased all the items, they were not sent to me by Dior PR or someone else, as I'm trying to keep a few Dior favorites in my collection. I also did a bit of shopping from Dior Spring 2016 Glowing Gardens Collection (info, photos) but I wasn't that satisfied with Dior Rose Garden Palette (review, swatches) and Dior Blue Garden Palette (review, swatches).
I was fascinated right from the start by the pink color gradation of the Dior blush and Diorskin Nude Air bluring powder that I just couldn't resist getting them. Honestly, the Diorskin Nude Air in Rising Pink has become my go to face powder, as I've been using it everyday since I bought it. I kept my makeup to a minimal for the past two weeks (well except Christmas) so I've been applying it all over my face, after I followed my skincare routine. To me, it's a must-have, a powder that is not only bluring imperfections, evens out my skin tone and gets me ride of that redness, but it also mattifies my skin and gives it a luminous, radiant and very light pale-pink fresh touch. I'm happy with how my complexion looks like with just one simply buff of powder all over my face and ready to go outside without any foundation or heavy makeup on.
I also like to use it as a highlighter, but is not very luminous so if you're expecting that effect is not meant to be very potent I believe. I personally see it as a similar variation of Guerlain Meteorites Perles Compact (review, swatches) only that this one has a matte finish.
That gorgeous pink blush is exactly what my light skin tones appreciates and I can swirl my brush into the light color during the day and choose the more pigmented pink for a night time makeup. With the Coral Shift shade, things are a little more pigmented, at least for me, so I have to use a very light hand and a fluffy blush brush to make it wearable. The shade is pretty intense and pigmented so those with medium and darker skin tones will definitely go for it.
That's all for now, until I'll return with those individual reviews next year. 🙂
By the way, I heard the collection is already available for purchase in Taiwan, so maybe in arrive soon in other countries as well. 🙂 Let me know if you spot it at your local counter and if you are getting anything.
Enjoy more photos…