Hello beauties!
I want to introduce you to the world of Melkior makeup. Who wants to come with me? These are my new products that I'm currently testing and once I'm done you will know all about it in my individual reviews. This summer Melkior suggests crazy intense shades as they unveiled their new Indian Summer Collection (info, photos) so I thought of trying out some new shades, different than the ones I'm usually wearing.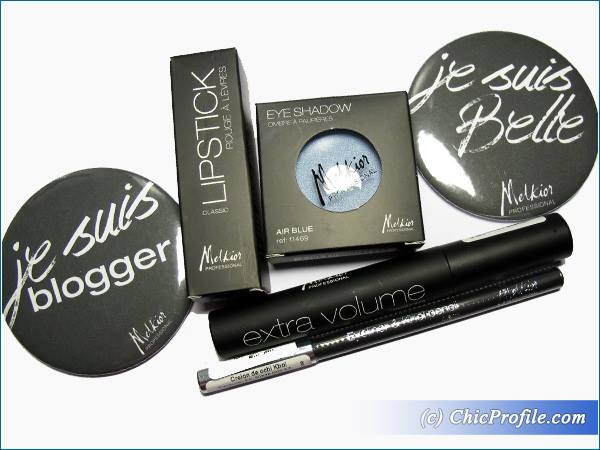 Availability
Romania – now at Melkior Shops and online @melkior.ro
So far I only got to try Melkior Air Blue Eyeshadow (27.00 Lei for 3.2 g/ 0.11 oz) and Melkior Ozone Classic Lipstick (39.90 Lei for 4.5 g/ 0.16 oz). Even though I'm not into blue shades I must admit I was quite impressed with the smooth texture of Air Blue Eyeshadow so I really convinced it deserves to be in my next makeup look. Now, regarding Ozone Classic Lipstick, this is a shade that will definitely select only some of us, because this light lilac with cool undertones is not for everyone to wear. It looks washed out even on me who I have a light skin tone so I bet it will definitely be a daring and provocative shade to wear for those with medium and dark skin tones. I have an idea in mind how I can pull of this Ozone shade, so I'm thinking ombre lips, probably on the same tutorial with the blue eyeshadow just to spice up things and make the entire look a bit more different, crazy and summer appropriate.
I also got Melkior Extra Volume Mascara (29.90 Lei for 9.5 ml/ 0.32 oz) in black along with Melkior Black Eyeliner & Khol Pencil (19.90 Lei for 1.14 g/ 0.04 oz) but I didn't open these products quite yet. I'm currently testing a couple of new mascaras so I don't want to open a new one until I finish at least one of my old ones, so a review of Extra Volume Mascara will have to wait for now.
I will be posting reviews for the eyeshadow and lipstick in the upcoming days so stay tuned even for a crazy summer makeup look with these shades. I just wanted to give you a quick peek of the makeup products I'm currently testing and ask you if you lovelies have tried Melkior and what are your favorite items? 🙂
Enjoy more photos…