Hello beauties!
Laura Mercier Magic Hour Face Illuminator Palette is the one that got me in trouble for no reason when I posted a sneak peek on Instagram a few months back. So this time I wanted to hold on to my review until he palette became available for purchase, which is currently the case. As part of Laura Mercier Holiday 2018 Collection, this highlighter palette comes in a limited edition.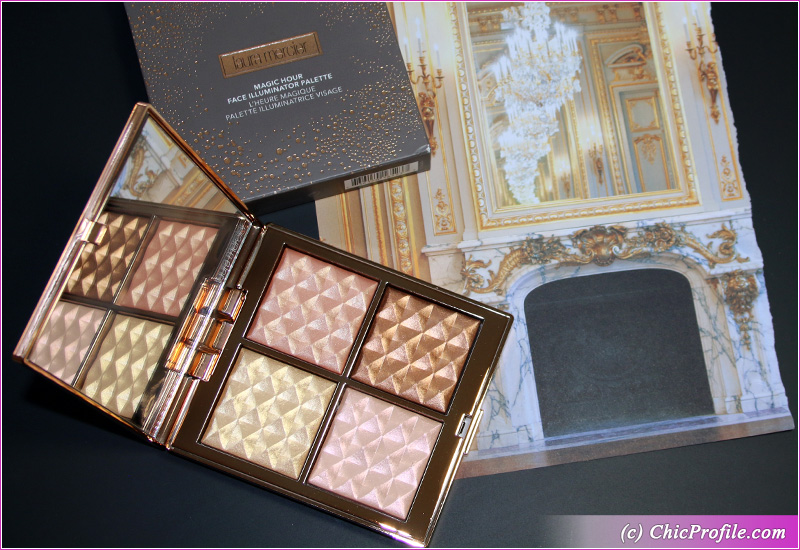 Availability
U.S. & Canada Launch Date – Now at SEPHORA
UK Launch Date – October 2018 at SpaceNK, Selfridges
Laura Mercier Magic Hour Face Illuminator Palette General Impressions
Laura Mercier Magic Hour Face Illuminator Palette ($58.00 / £41.00 for 4 x 6g / 0.21 oz) is a limited edition collection of long-wearing, buildable, and versatile highlighting powders that provide a natural-looking, radiant glow.
The palette features four highlighters which are flattering for every skin tone. The illuminating powder highlight the skin with pure light-reflecting pigments for a color-true, multidimensional and luminous finish.
Basically you are getting four highlighters but as a light skin tone I just can't use all of them. Based on my preference this palette allows me to use only two shades (top right and bottom left). During the day I'm wearing Ambition while in the evening I'm choosing Reflection. I'm not into gold or yellow highlighters but if you are a light skin tone and that's is your preference you can definitely work the Addiction shade as well.
If you just want a bit of a glow then this palette is right for you, but if you expect an intense highlight you may want to pass. The colors can be used on the eyes as well so that's what I'm doing with the Addiction and Seduction shades. 🙂
Let's talk packaging!
The palette comes in a nice and big golden compact with a matte gray color on top sprinkled with gold. The packaging has a vibe of holiday season but not to the extreme. I'm personally not impressed about the packaging to be honest but again this is just my personal preference. The lid snaps on shut and the palette doesn't seem heavy. It comes on with a big mirror which is a plus and can be extremely handy if you want to use it to do or retouch your makeup.
Laura Mercier Magic Hour Face Illuminator Palette Review
Addiction is a light gold with warm tones and a luminous finish. It has a good color payoff, showing off even on bare skin. You can easily build up and intensify the color if you prefer it. As a light skin tone I'm skipping this shade as a highlighter and choosing to wear it on the eyes.
It has a smooth formula, adheres well on the skin and doesn't have any fall out. I bet this shade will look wonderful on darker skin tones as they are wearing gold highlighters so much better than fair skin. 🙂 On bare skin this color faded on me after one hour but when I had a proper makeup on lasted for about six hours.
Reflection is a medium coppery orange with warm undertones and a slightly shimmery finish. The color had great pigmentation, even in one swipe on bare skin. It adheres well onto the skin without any fall-out during the application.
The color is easily buildable so for me is my choice for a evening / night time highlighter. On my skin it comes it does show off quite strong even on bare skin so I try and blend it as much as possible. If you want a more intense look you won't have any problems layering the color.
The formula was smooth, non drying and very easy to work with. On bare skin this color faded after and hour and a half but on a full face makeup it lasted about six hours and a half on me.
Ambition is a light pink champagne color with pink shift and a bit of shimmer. This is the lightest color from the palette and my favorite. Basically is the only shade from this palette that I feel comfortable wearing because it complements my light complexion.
The formula is just as smooth and easily blendable as the others. No fall out during the application and it doesn't emphasizes my skin texture. It gives me a luminous glow without being too strong or super pigmented. The smooth and creamy formula is so easy to work with it doesn't flake or crumble.
I got around six to seven hours wear with this color.
Seduction is a medium-dark coppery bronze with luminous, slightly metallic finish. It has a great color payoff with a smooth and creamy formula. It is easily buildable and has not fall out during the application.
This shade is ideal for those with darker skin as a highlighter. Otherwise you can use is as an eyeshadow and will look just as beautiful. Is not the kind of highlighter that will look super beaming and intense, but it will add luminosity and a beautiful glow.
LIVE SWATCHES!
If you are curious for live swatches of Laura Mercier Magic Hour Face Illuminator Palette head over to my #igtv channel and check out my video. Since I came back to the beauty world after a summer break I'm posting on #igtv as well so make sure you are following me on Instagram so you won't miss the sneak peeks. 🙂
What it does:
Laura Mercier Face Illuminator Powders highlight the skin with pure light-reflecting pigments for a color-true, multidimensional, and luminous finish that complements all skin tones. Its non-dusting texture allows for excellent color payoff and applies smoothly and evenly onto skin without dragging. The unique formula brings natural-looking radiance to the complexion for an instant glow that lasts up to eight hours.
Enjoy more photos…