Hello beauties!
I'll give you the naked truth. It's well known that Lancome Tresor is one of the most popular fragrances in the world and a best-selling but for me it wasn't love at first scent. My experience with this warm oriental-flowery Eau de Parfum goes beyond first impression. Created in 1990 the nose behind this scent is Sophia Grojsman. A real treasure for the olfactory sense Lancome Tresor impressed me with its 17 notes.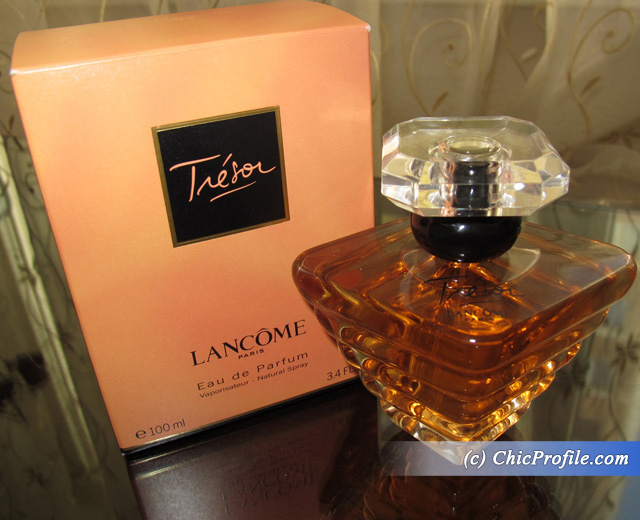 Availability
Now at Sephora, Douglas, Nordstrom and online @lancome.com
Lancome Tresor EDP ($98.00 for 100 ml/ 3.4 fl oz or 382 Lei for 50 ml) inspires romance, love and elegance while it surrounded me from the first second with strong notes of peach, apricot and rose. It's a complex fragrance which combines fruity and floral accords into a strong and deep scent, very powerful at the first sniff. As I said before, I was not attracted by Tresor at first but once the scent sunk into my skin and the base notes started to come to life I discover its real treasure. I just had to give it time (in my case the olfactory pleasure began after 2 hours) and let the top notes surprise me with their sweetness in the first 10-15 minutes while the heart notes were preparing a floral symphony. I anxiously expected the revealing of the base notes, as they are always my favorite and in this case they are wonderfully combined in woody accords without letting me for one second forget about that strong peach which is present in both top and base notes.
Because Tresor Eau de Parfum opens with strong accords of peach, pineapples, rose, apricot blossom, lilac, bergamot and lily of the valley is perceived as a sweet, deep and intense scent. In my opinion the peach is the conductor of the entire fragrance and those who like its accords will surely love it from beginning to end but for others like me who are not very fond of the fruit might find its smell to be too intense and permanent. Apricot and Rose were the second best most felt notes while the sweetness of the pineapple and lovely bergamot and lily of the valley were harder to distinguish.
If you test this fragrance in a beauty shop for the first time as I did many years ago and you are not a fan of the fruits chosen as top notes then you won't consider Tresor among your favorites, but if you'll give it a chance to do its magic and let yourself carried away trough each note you may discover that its real treasure stays hidden in the base notes. This is just how I feel about Lancome Tresor.
As middle notes, iris, Jasmin, heliotrope and rose were chosen. Lovely flowers with an intense scent but in this case the rose was the most noticeable letting the others be felt in combination with the woody accords.
Some of my favorite base notes are featured here and I'm talking about musk, amber and sandalwood but peach, apricot and vanilla are also present to end this scented symphony in sweet accords. I can say I felt most of these base notes right after the top notes of peach and rose skipping the floriental accords from the middle notes and positioning them among the last distinguishable.
As I conclusion to my review I must admit that my nose was intrigued by the entire combination of notes but I just had to learn to be patient if I wanted to get to the best part which in my case were the base notes. I would have preferred that peach and apricot were not that strong and perhaps I would have got ridden on the vanilla as I feel this to be a heavy fragrance and a bit too sweet floriental but I guess this is just what makes Lancome Tresor such a veritable, well known and loved fragrance by so many out there. This is definitely a fragrance that I would choose to wear between fall and winter on the second part of the day until late at night and especially to a romantic date, a dinner or any special event that would require elegance and romance.
It's a very persistent scent which lasts for hours on end and gets easily impregnated in your clothes. The second time I worn Lancome Tresor I just spray it in the air and walk into, just a little something I usually do when I find the scent is too strong in the beginning. This way the fragrance persisted on my skin the same amount of time but with more weighted scent of the top notes letting me enjoy them in a more discreet ambiance.
Tomorrow I'll be also reviewing the new Lancome Tresor Lumineuse Eau de Parfum so if you want to find out my honest and personal opinion about the new scent vs the classic one be sure to not miss the article.
Enjoy more photos…