Hello pretties!
It wasn't a secret that I was going to buy Huda Beauty Bronze Sands 3D Highlighter Palette. I know the drama that was created around this palette and I just can't agree to that. Huda Beauty has released several 3D Highlighter Palettes that are more than suitable for light and medium skin tones. Huda Beauty Bronze Sands is her first release truly dedicated to darker and tanned skin tones and I totally support it.
You know how light my skin is, but I'm totally happy that she came up with a palette dedicated to darker skin. Why does every launch have to be about white skin? I bought the palette anyway. I got it for myself because I can use it in so many ways but also for review purposes and to support the brand. I'm pretty sure there are lots of Huda Beauty fans out there that were waiting for way to long for a palette with this kind of shades. Now let's see how the new Huda Beauty Bronze Sands highlighter palette performs.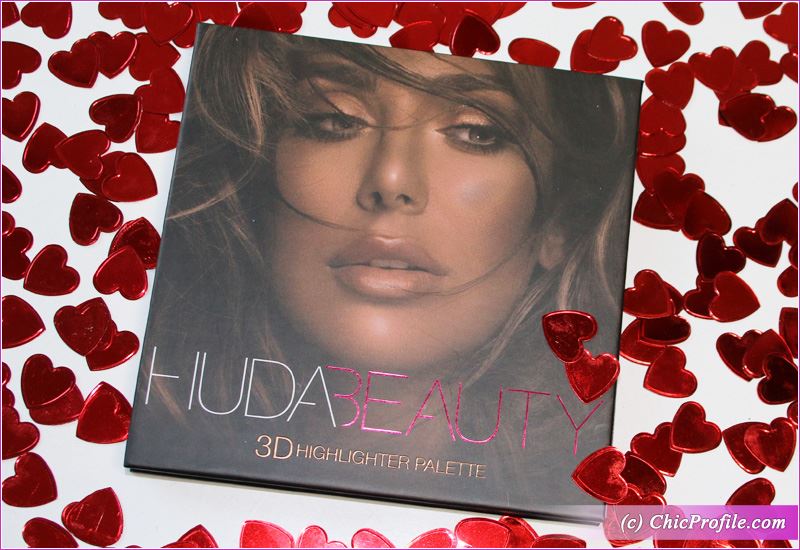 Where to buy:
U.S. – Now at Sephora, Cult Beauty (free world wide shipping)
UK & International – Now at Cult Beauty, Selfridges, Harrods
Huda Beauty Bronze Sands 3D Highlighter Palette Review
Huda Beauty Bronze Sands 3D Highlighter Palette ($45.00 / £40.00 for 3 x 8 g/ 0.28 and one 0.21 oz.) is new and permanent and dedicated to richer and tanned skin tones. Just like the other Huda Beauty 3D highlighter palettes, this one contains a cream shade and three powder highlighters.
Even thought the palette was designed for deeper skin tones, I think it can be worn by anyone, depending on how they like to use it. I'm a light skin tone and I still felt I needed to get this palette. I might not wear it as a highlighter now, but I can definitely try in the summer when I have tanned skin. Meanwhile I can play with the shades however I want. I can use them on the lids, I can combine them with other products and even gently apply them on my cheeks. It's up to you how you want to use this palette, but as a highlighter it definitely complement darker skin tones.
I'm huge fan of Huda Beauty products and I think most of you know that by now. Since I moved to London and I finally had access to this brand, I started trying out all of their products. I really liked to see the products in person for the first time before I tried this brand. Ever since you can definitely say I purchased almost everything she launched so check out my Huda Beauty reviews. I do admit I still own products that I didn't have time to review yet. I'll definitely try to review the rest of my Huda Beauty makeup collection soon. We are talking about permanent products here so you can find them on the counters anytime.
Huda Beauty Bronze Sands 3D Highlighter Palette Shades Breakdown
I personally kinda enjoyed the entire palette and loved how pigmented all the shades were. Check out my Instagram HERE for Live Swatches. Make sure you are following me on Instagram as tomorrow I'll be posting a makeup look wearing this palette. This way you can see how I made this palette work on my light skin tone.
The cream highlighter I like to wear it as a base on the lids. It looks extremely nice on the cheeks as well, especially underneath the powder highlighters. This combination is too intense for me (at least at this time, when my skin is so white) so I'm trying to wear the shades as light as I can.
Barbados Cream Highlighter is an intense, bronze-gold with warm undertones and a metallic-pearly sheen. It has a good color payoff, being easily buildable to full opacity. It has a creamy but thick consistency which makes it a bit harder to spreak across the skin. I felt for me it work better as a creamy eyeshadow honestly. I like to apply it on bare skin as it adheres better. Over foundation it tends to gather the product, making my foundation look at bit streaky and patchy. I don't really like the effect it has when I apply it over my foundation. The only way it worked for me on the cheeks, was applied with a dampened sponge, very lightly, just patting it on the skin. I didn't try to blend it afterwards, just simply applied a lighter highlighter on top. On me it lasted for almost 7 hours.
Maldives Powder Highlighter is a warm toned gold with a metallic finish. It has an amazing color payoff with intense pigmentation in one layer. The consistency is very smooth and creamy while the formula is easily blendable. You can definitely intensify this color without emphasizing your skin texture. It has a gorgeous metallic finish which I think it will look amazing on darker and tanned skin. I'm a bit envious that my skin is so light right now. 🙂
I don't like wearing it as a highlighter as it's too yellow of my skin tone, but I'll definitely try it in the summer. On the eyelids it looked really good and I think this is the only way to wear it for me until summer. It lasted on the cheeks for about eight hours before it started to fade noticeably. When I tested this shade on my cheeks I stayed home for the entire day. 🙂
Aruba Powder Highlighter is a deep bronze with slightly reddish undertones and a metallic finish. The color payoff was excellent, showing a rich and opaque pigmentation in one layer. It has the same creamy formula, very easily blendable and buildable. It didn't emhpasize my pores or skin texture and looks very well. Darker skin tones can definitely intensify this shade with 2 or 3 layers if they feel like it, as it will not change the way it performs. I got around eight hours wear.
Bora Bora Powder Highlighter is a medium, copper with warm undertones and a natural sheen. The color was very intense, rich and pigmented in one swipe. I feel that this is a shade that I can wear even now. I'll post tomorrow on Instagram how this shade looks on me. Make sure you are following me on Instagram and check out my Instastories. I just love how it gives me this sun-kissed look with a subtle rosy glow effect. I use it a fluffy brush but also with a beauty blender.
The trick is to apply it very, very light. I barely dip my brush into the pan and I make sure to tap off before slowly touching my cheeks. This is probably my favorite color from the palette and the one that can give me a bit of that sunny-beach vibe. It takes me to almost nine hours wear before starts fading.
SHOP THIS POST