Hello beauties!
The news about Lancome Proenza Schouler Collection burst yesterday so I'm here to show you all the new products. We are looking a fun, vibrant Lancome Proenza Schould Fall 2018 Collection and I couldn't be more excited. I mean just look at those bright fuchsia and orange colors on the packaging. This Lancome x Proenza Schouler collaboration should be launching earlier in the summer not at the end of it.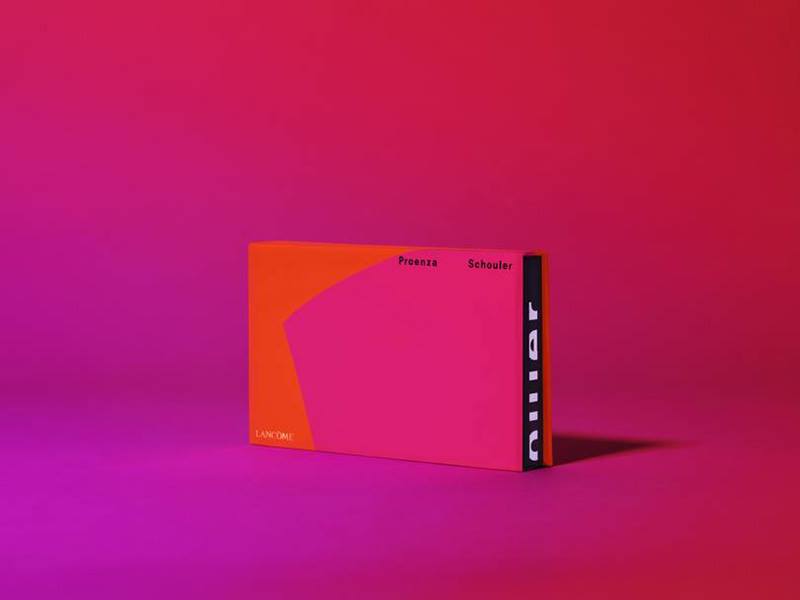 Availability
UK Launch Date – 29 August 2018 exclusively at John Lewis
Lancome Proenza Schouler Fall 2018 Collection
Launching in the autumn of 2018, this limited-edition make-up collection promises to be a reflection of the boldness and modernity that drive these two creators. In just a few years, they have established themselves among the most talented of their generation, taking inspiration from the work of painters with a unique approach to colour, such as Ellsworth Kelly and Carmen Herrera.
"Borne by the radical approach of Jack McCollough and Lazaro  Hernandez, Proenza Schouler fashion is the manifesto of a strong, free femininity. The idea of 'empowerment' is at the heart of their values, just as it has always been at the heart of the Lancôme philosophy" Françoise Lehmann, General Manager of Lancôme International.
"Lancôme has always represented the epitome of luxury beauty products so it is like a dream come true to be able to collaborate with such an iconic and historic brand" Jack McCollough and Lazaro Hernandez, co-founders and designers of Proenza Schouler.
We are getting a new Lancome Eyeshadow Palette which features 10 shades from orange and bold pink to blue and brown. I do actually like the selection of shades, as we have some neutrals there to play with. There are different finishes, but I'm spotting some mattes in there as well which can be used as transition shades. 🙂
I'm just going to give you the scoop for now and post the color story later on when it becomes available. So far we are looking at four shades of L'Absolu Rouge lipstick in No.103, No.106, No.110 and No.111. There are three shades of Lancome Matte Shaker coming up as well in No.185, No.187 and No.193.
Basically the entire Lancome Proenza Schouler Makeup Collection ranges from sunset pinks, red or coral shades for the lips. If we are talking about nails then we are looking at three nudes and a bright pink.
In the picture there's also a cushion compact, along with two shades of Lip Kajal and Ombre for eyes. I'm definitely in love with the packaging, I love bright colors so they already got me interested.
I'm really curious about the new Eyeshadow Palette as it's been some time since I was focusing only on Lancome lip products and nothing for the eyes.
Keep an eye on my Instagram as well for the latest sneak peeks and don't forget to check out my Instastories! If you like this collection or have any questions, please place them in the comment box bellow. 🙂
Enjoy more photos…