Hello beauties!
Dolce & Gabbana Italian Zest Summer 2018 Collection is inspired by joyful and vivid colours. Italian Zest Make Up Collection brings you to the coast of Capri, where the fresh blue of the sea meets the golden shades of the sun.
This new collection includes a variety of unexpected tones to create a vibrant palette of playful looks.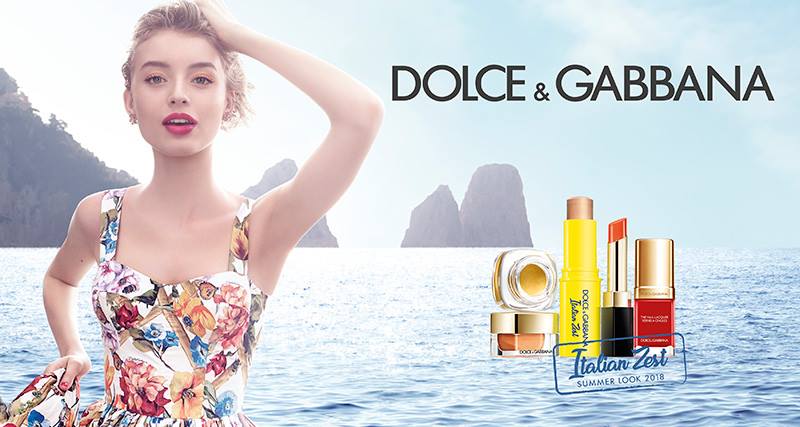 Discover the Italian Zest Make Up campaign, shot along the coasts of Capri in front of the Faraglioni, starring the Sicilian model Giulia Maenza who brings her luminous beauty to the sensuality of the Estate Italiana.
Availability
U.S. Launch Date – late May 2018 at SAKS
UK Launch Date – Now at Harrods (for perfumer) | end May 2018 at Harrods for the Color Collection
Dolce & Gabbana Italian Zest Summer 2018 Collection
Perfect Mono Eyeshadow – Limited Edition – $38.00 / £27.00
35 Gold Sand
41 Copper
50 Bronze
Passion Eyes Mascara Waterproof – $32.00 / £28.00
Italian Zest Healthy Glow Stick – Limited Edition
Miss Sicily Lipstick – Limited Edition – $38.00 / £27.00
420 Angela
120 Antonia
130 Gaetana
600 Maria
Nail Lacquer – Limited Edition – $27.50 / £21.00
612 Anguria
714 Anice
606 Mandarino
In Italian Zest, a pure explosion of fresh bergamot boosts Light Blue Pour Homme's signature contrast of coolness and sensuality. Citrus Bergamia grows exclusively in Calabria and has the shape of a small yellow orange. The essential oil is obtained by peeling the fruit, then cold-pressing the peel to protect its complex, delicate aromas.
Top Notes: The fragrance opens with a chilled cocktail of grapefruit and mandarin, enriched by the essence of fresh bergamot.
Heart Notes: Combines pepper and juniper facets that add a spicy tang to the rosemary and rosewood notes.
Base Notes: The powerful base combines vibrant incense and musk notes.
Dolce & Gabbana Light Italian Blue Zest EDT – Limited Edition
Limoni primofiore, extracted from the tree's first bloom for their more intense taste, are added to the fruity and floral signature scent of Light Blue, flourishing in a rich olfactive experience.
Both the zest and pulp are sensitive to the heat and need to be squeezed according to an ancestral cold pressing technique called "sfumatrice", producing a true-to-nature essence with gourmand facets.
Top: The fragrance opens with Light Blue's signature notes of Sicilian cedar and Granny Smith apple brightened by a generous dose of tangy primofiore lemon.
Heart: The radiant heart melts notes of glowing white rose with tender jasmine petals.
Base: The base offers a lustrous combination of ambery notes and warm musks.
SHOP THIS POST