Hello pretties!
Over the past few weeks I've been addicted to my new Lancome Juicy Shaker Meli Melon, one of the 20 shades launched in early spring. I've posted so many articles about Lancome Juicy Shaker that I feel like I have nothing new to tell you, since with each post I brought you new info and photos, but today I'm giving you a detailed review of No.301 Meli Melon shade.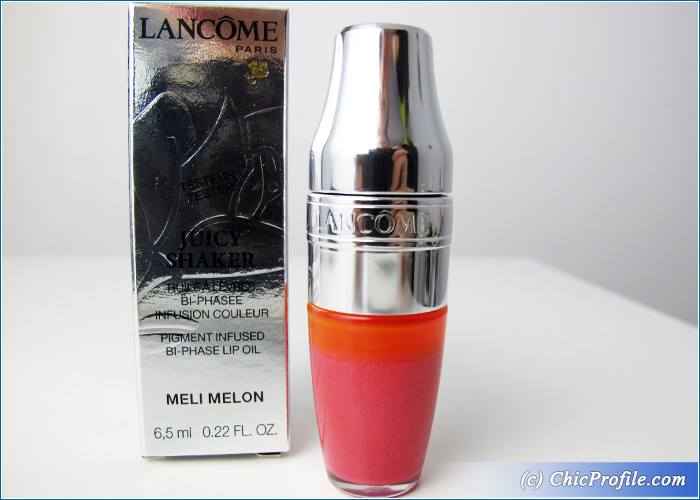 Shake it up with the latest innovation: Juicy Shaker's bi-phase technology delivers the first pigmented lip oil with 2 distinct phases. The first phase is a transparent oil phase for a comfortable non-sticky shine. The second is the pigment phase for a shot of color. Shake Juicy Shaker like a cocktail shaker to mix the pigments and oil. The cushion applicator enhances application by delivering the perfect 'shot' of addictive non-sticky shine and a sheer tint of color to your lips that is simply irresistible.
Availability
International – Now at Nordstrom, Macy's, Selfridges and online @lancome-usa.com
Romania – Now at Douglas, Sephora, Debenhams, Marionnaud, Kendra
Lancome Juicy Shaker (301) Meli Melon ($21.00 / 105.00 Lei / €24.00 for 6,5 ml / 0.22 fl oz) is officially described as pink melon. I see it as a soft and juicy nude pink with a sweet melon scent. It has a semi-sheer color coverage, very slightly buildable but at least in my case it won't go up to a medium coverage on the lips.From a first look, the packaging will definitely whisk you away, as it is an absolutely new one, something I don't think you've ever seen before. It comes in the shape of a cocktail shaker and if you take a moment to think about all the nourishing oils that its formula has, you'll see it just like it is… a bi-phase lip oil with a formula that combines the comfort of nourishing oils with revitalizing power of color pigments.
Color of Lancome Juicy Shaker can vary in pigmentation, as I did swatch plenty of them at Lancome counter when the product launched, so if some of them are looking more sheer and towards a natural color coverage, others are more intense and much more pigmented.
The formula is super lightweight, just like a very liquid nourishing oil (without being greasy) that glides gently and effortlessly across your lips, covering them in a soft hue and caressing them with its hydrating ingredients.
The cocktail blend of 5 nourishing oils treats your lips like a lip balm. Peach kernel oil; a well-known emollient softens lips while Sweet Almond oil conditions and Cranberry oil provides rich anti-oxidant properties. Muscat Rose oil is rich in essential fatty acids and helps to soothe lips. So addictive, you won't be able to resist applying it over and over.
I absolutely love shaking the product so I can mix the product inside and when I open it to apply it on my lips a sweet scent of melon gets me mesmerized. I'm admitting that I'm getting addicted on Lancome Juicy Shaker as I always have it in my bag and get to use it almost everyday now.
I reach for my Lancome Juicy Shaker Meli Melon not only when I want a soft hue on my lips but also when I need that extra care, moisturizing feeling or whenever I feel my lips are beginning to feel dry.
The formula is so comfortable to wear, it doesn't sink into lips lines, it doesn't feel sticky, oily or greasy in any way…just perfect. It doesn't stain lips and the melon scent will linger for a few minutes on the lips after I apply the lip oil.
It's not the kind of product that will give you a long lasting color, as in my case it disappears from my lips after 2 hours. It's a pleasure to shake the product and reapply the color everytime, so that's why I like to keep it close by on my makeup table or in my purse whenever I'm out.
Enjoy more photos…