Hello sweeties!
I'm bringing hot news about new Lancome summer 2015 makeup products. Only a couple more days until we'll get to check out in person the new Lancome Hypnose Volume a Porter Mascara along with new eye and brow makeup products. Once again we see Alma Jodorowsky, actress, fashion model and singer, featured in a Lancome campaign as she recently appeared in French Innocence Spring 2015 Collection (info, photos).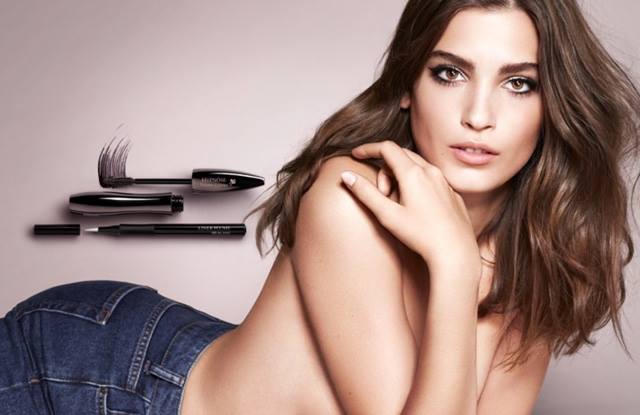 Availability
U.S. Launch Date – June 2015 at Nordstrom, Macy's and @lancome-usa.com
International Launch Date – June 2015 at Sephora, Douglas and Lancome doors
Romania Launch Date – August 2015 at Sephora, Douglas, Marionnaud, Kendra
Lancome Hypnôse Volume à Porter – New & Permanent – €29.29 / 159.00 Lei

The packaging resembles the previous editions of Lancome Hypnose mascaras, luscious black and the classical and elegant shape. The 306 conical bristles of the brush allows you to coat lashes repeatedly without getting that undesired spider lashes. The short bristles coat lashes from root to tip, while they spread the formula to the finest and tiniest lashes. The newness about this mascara and a good news as well is the nourishing effect it has on the eyelashes. Thanks to a cell extract from the Lancome Rose lashes are more supple and resistant within a few weeks, so this makes it a great daily-use mascara.
The black color intensifies your lashes giving them that glamorous look while the special Hypnose Volume a Porter brush ads volume. It has a formula with rapid adhesion, leaving a smooth layer of product which gives your lashes a cashmere effect.

Ombre Hypnôse Stylo – €27.35
These new Lancome eyeshadow pencils have a creamy formula with pearlescent pigments and smoothing agents, which gives an intense and metallic color. Lancome guarantees a 24 hours wear formula without smudging so this is something to consider especially in the summer.
Shades:
01 Or Inoubliable: a delicate gold
02 Sable Enchanté: a light copper
03 Taupe Quartz: a gray pink champagne
04 Brun Captivant: a warm bronze
05 Erika F: khaki classic Lancôme plate
06 Turquoise Infini: a golden sapphire
07 Bleu Nuit: a crackling navy
08 Violet Eternel: a vibrant amethyst
Lancome Liner Plume – €33.00
This new Lancome eyeliner has the finest tip which allows you a precise application for a perfect, crisp cat eye.
Shade
Lancome Gel-Crème Sourcils Waterproof
Shades:
01 Blond: a slightly khaki and ashes to keep a cold reflection elegant nuance
02 Auburn: a coppery hue to enhance a freckled complexion
03 Taupe: a warm brown with golden tones highlight to gently clear skin tones
04 Châtain: a cold brown shade for a winter brown tone on tone
05 Brun: a dark to light brown with coppery complexion tanned reflexes
06 Noir: A black dark brown coal for more or darker skin tones
Restructurant Sourcils

27 Brush
Enjoy more photos…